Thistle Cottage Studio Hosts Jasmin Zorlu's Hatblocking Workshop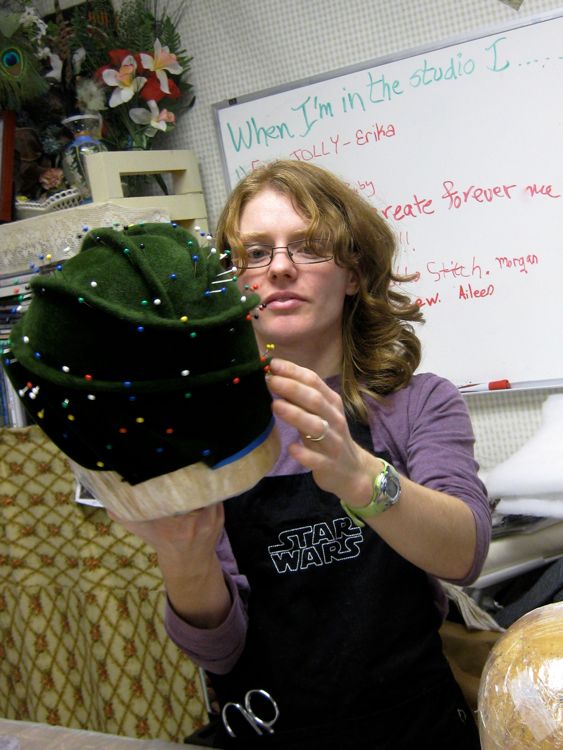 A to-do checklist a mile long, and the adrenalin was pumping with excitement and anticipation, for the weekend of Jasmin Zorlu's arrival, and the two day Freeform Hatblocking Workshop, which was held at
Thistle Cottage Studio, in North Providence, RI, this past weekend (Dec. 3rd&4th). Once again, our studio was buzzing with creative energy, and four students, including myself, were anxiously looking forward to learning a new hat blocking technique with a master milliner of 20 years.
We were so very lucky to have had Jasmin come to Rhode Island to teach this workshop. She is considering moving here or, to NYC soon, from San Francisco. Born in Germany, to a Turkish father, and an American mother, Jasmin has been a globetrotter since birth, having grown up and lived her adolecent years in Japan, Turkey and Iceland. She has learned and honed her craft from teachers at FIT in NYC, and mentors from all over the world along the way. She is off again in January, to teach another workshop in Australia.
In attendance including myself, were Michelle Norkum, from Maryland, who works as a milliner at Andrea's Hat Shop in D.C., our own MOE member Jaya, of Green Trunk Designs, from Carmel, NY, and Kate Ferguson, a local polymer clay artist. Each participant found overnight lodgings at the Biltmore Hotel in downtown Providence, a beautiful Victorian B&B in Woonsocket, RI, and a special thanks goes to my good friend Chris Auxier, for extending her hospitality to Jasmin. Everyone was treated both days to a full brunch with corn muffins, bagels, gluten free toast, apple pastries, cream cheese, wild blueberry jam, handmade butter from Maine, hardboiled organic free range eggs, coffee and an assortment of teas, yogurt, and a gorgeous fresh fruit bowl. No one went hungry, including Jaya's very patient husband Tim, who went spent his time sight seeing, and working on his laptop in a comfy wingback chair, in the display room.
Jasmin began the workshop by having the group members introduce themselves, and then went over a detailed supplies list, and a demonstration of the technique. Her portable steamer was set up on one cutting table, and TCS's professional Jiffy steamer was set up near the other table. Two students comfortably shared each of the tables and steamers, as the project progressed. The blocking and pinning, sculpting and stretching of fur velour on wooden hatblocks went easily, as the steam turned the fabric to butter! Hats sat on the blocks to dry overnight when the day one was done. Day two, was spent with Jasmin demonstrating the invisible sewing technique to hold the folds of the hat in place, making the hat able to withstand years of wear. Students hand stitched the rest of the afternoon, and were also given a demo on how to steam and stretch one side of the hat sizing band, or petersham ribbon as it is known in the industry. This is done so that the ribbon molds to the shape of the hat, and does not ripple or wrinkle around the interior. A lining was recommended, and most of the students will put their linings in when they return home. The results were amazingly individual and diverse!! Now the dilemma is, to embellish or not?
More workshops are in the planning stages, and Jasmin is welcome anytime to repeat her workshops at TCS!! Students who were unable to make it this time, have already requested one in the spring. I will be doing a spring workshop in cut and sew hats with buckram and wire frames, using various stiffeners that I've been experimenting with this year, and one on making fascinators.
Anyone interested in millinery workshops, fashion design/sewing, pattern drafting, or fashion sketching, please give the studio a call at 401-231-4343. Please remember to leave your name and number clearly if you get our machine!! And don't forget to stop by and check out our Etsy shops for that special one of a kind holiday gift, with TCS at orsinimedici1951.etsy.com, Green Trunk Designs.etsy.com, and the MOE team on Etsy too!!
Buying handmade is good for the economy, as you are supporting Made in America, and handmade is also good for the environment!!
Happy Holidays from Thistle Cottage Studio!!
Hats off to you!!