The Renaissance of Millinery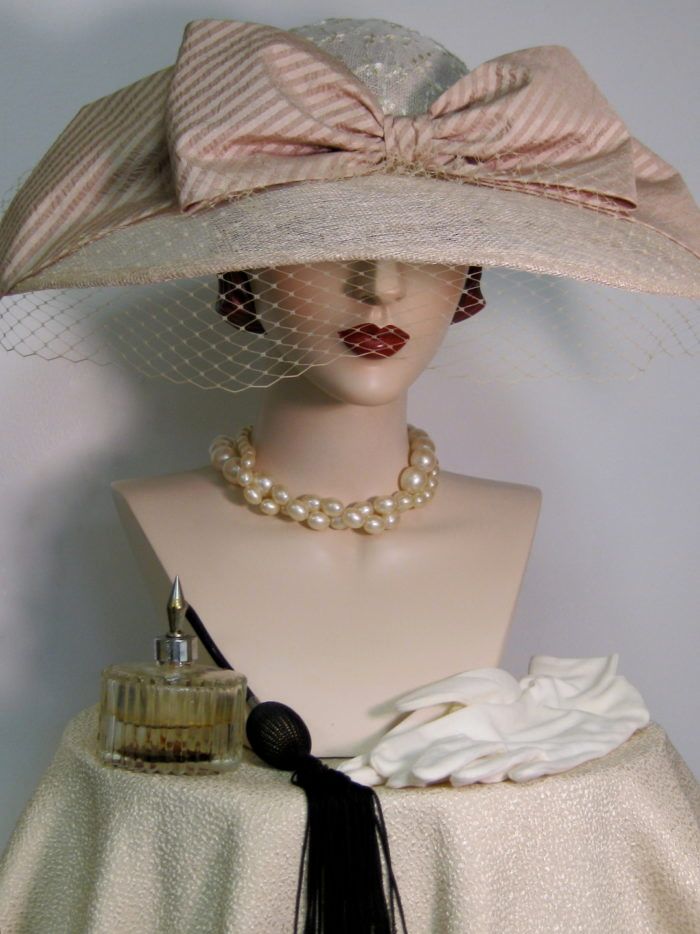 The Renaissance of Millinery is Alive and Well!
Posted 10:00 AM April 10, 2012
  There's a tempest brewing not in a teacup, but in a cloche hat!!  It's a quiet revolution determined to bring back the popularity of wearing hats around the world!! " A hat on every head, everyday", is the motto being heard by professional, semi-professional, and up and coming milliners from all corners of the globe!! It's a revival of a nearly lost art, with untold employment opportunities in all related industries. European countries like England, Ireland, Scotland, Spain, and as far away as Japan, and Australia, are frontrunners in the perpetuation of the hat. One only needs to think of the elegant insouciance of the Duchess of Cambridge, and her regal carriage of any chapeau she chooses to perch on her lovely head! Designers like Philip Treacy, and Stephen Jones have become household names in England. Who can forget Treacy's outrageous statement piece worn by Princess Beatrice to the Royal Wedding, or his fabulous acorn hat worn by Sarah Jessica Parker on the red carpet in London? Even the iconic luggage and handbag design label of Louis Vuitton of Paris, staged a spectacular runway show this spring, complete with a steamer train chugging down the center of the runway!! A steady stream of models stepped off the train, each with their own impeccably attired porter, carrying their LV baggage, and very avant garde, oversized hats atop each head!!  It was nothing short of spectacular!!  Check it out on YouTube!!  Not just for aristocrats anymore, the hat is a transforming element of fashion, that up until the 1960's, was a necessary finishing detail to any outift!! America, on the other hand, in my humble opinion, has become fashionably lazy in its' attitude towards the hat. Resorting to it for practical purposes of sun protection, and warmth in cold weather, and it goes without saying, the obligitory, uniform, utiltiarian baseball cap. Apart from these, the hat has become a superfluous accessory, accused mostly of creating a dreaded malady called "hat hair"!!    Fortunately, American designers like Ralph Lauren, Donna Karan, and Calvin Klein have incorporated the hat into their runway collections, further raisng the awareness of hats as a statement piece!  Designers, like my favorites Louise Green, Jill Courtmanche, Suzanne Newman,  and Amy Hamilton, are busily creating new collections each season, selling across the country, and creating bespoke hats for discerning clients, including hats for the races.   The trickle down theory seems to be  working, as we see mass market chains like T.J. Maxx, Target and Kohl's, offering adorable fedoras, fascinators, and trilbys for their spring accessory lines. And just a brief word about fascinators!  They are perfect accessory for those who claim that they are not "hat people", which is an imagined persona, perpetuated by those who have yet to come to terms with the attention they will receive, or have yet to find the right hat for their particular shaped face!! I prefer to think of them as the "cupcake" of hats, and would be the perfect appetizer for those just getting their feet, pardon me, heads wet with the idea of putting something fun and fashionable on it!!    Thank heaven for the Kentucky Derby and the races at Saratoga, otherwise the hat in America would be nearly extinct!!  Church hats are also still very much alive and well, and of a breed all its' own in parts of the country.  And, lest we forget the Red Hat Society, whose members relish in oversized hats, with mountains of feathers, and a limited palette of red and purple.  Be that as it may, they are still official cheerleaders of the wearing of hats, albiet with wreckless abandon!!  When I am old, I shall wear purple (and red) sparingly, and not necessarily together!!  Online hat magazines like HatTalk, How2Hats, and HatLife, are great resources for raising millinery conciousness, as is the millinery group I belong to, The Mad Hatters Society on Facebook, and also sponsors millinery contests. We have just completed our first ever hat making contest on MHS, and are still awaiting the results of the winner.  It is being judged by the editor of HatTalk magazine! Will keep you posted!  I have recently entered one with How2Hats magazine in celebration of Queen Elizabeth's Diamond Jubilee.  It is a worldwide competition open to anyone who makes hats.  The lucky winner will win a week long millinery workshop with the well known milliner, Dillon Wallwork in the south of France, at the historical Chateau Dumas!!  My fingers are crossed!! Voting starts on May 4th!!  Please dont' forget to vote for my Heliotrope Hat, pictured above in lavender, with the faux feathers (ALL hand frayed!!). Please copy and paste to your browser.  Here's the link: http://www.talenthouse.com/creativeinvites/preview/ad303bf75543d4dcb37639d8c89bfdc7/520 Speaking of workshops, Thistle Cottage Studio will host its' second series,  Millinery Workshops Marathon in the months of June through August.  We will be teaching basic millinery skills for beginners and intermediate students.  All classes will be held for two days, on Saturdays and Sundays, starting in June.  Please call for exact dates, as they will depend on the incoming students' convenience. We will try to be as flexible and accomodating to your schedule as possible!! Those traveling to RI from out of state, will be supplied with a researched list of affordable accomodations.  A full brunch both days will be served.  The workshops will begin with "Building a Buckram and Wire Framed Hat".  Students may design a period or contemporary hat or fascinator.  Basic millinery supplies like buckram, stiffener, elastic, and millinery wire will be included in the tuition.  Decorative materials such as fabric, trimmings, brooches, andfeathers, will be provided by the student.  Tuition for this workshop, including full brunch for both days, and basic materials is $300.00.  More information on elective materials, at the time of registration will be discussed with each incoming student.  Space is limited for each workshop, so we recommend registering as early as possible to secure your space.  Our studio is small and intimate, and can accomodate 4 students comfortably, per workshop. We are working on possibly renting a bigger space in the same location, but that will  be announced at a later date. The second workshop will focus on working in sinamay (straw).  Purchased by the meter, sinamay is a flat, lightweight straw fabric, which comes stiffend or not. We prefer working with it pre-stiffened.  When lightly sprayed with water, sinamay will soften, and can be blocked over wooden hat blocks. This workshop will focus on fascinators and  the classic cloche shape.  Free form blocking of sinamay will also be touched upon.  Materials will be including in the cost of this workshop.  Both workshops will be repeated throughout the summer, as demand requires.  Tuition for both days, incuding materials and full brunch is $300.00.  Further workshops for Fall/Winter 2012 are in the works again, with the return of milliner, Jasmin Zorlu, who gave her freefrom blocking workshop last December.  We'll keep you posted as those dates firm up.Those wishing to purchase hat supplies of their own choosing, may try one of my favorites suppliers, www.hatsupply.com, and tell them Elsie sent you.  Sandra Leko is a wonderful, and helpful shop owner, and a master milliner too!! These workshops will also be publicized on her blog.    Please contact Thistle Cottage Studio at 401-231-4343, if you plan to attend, or have any questions about these workshops.  No prior experience making hats is necessary.All hats pictured are the work of Elsie Collins for Orsini~Medici Couture Millinery.Please stop in and see all of the collections at www.orsinimedici1951.etsy.com.  We happily ship internationally.
Get the latest including tips, techniques and special offers straight to your inbox.