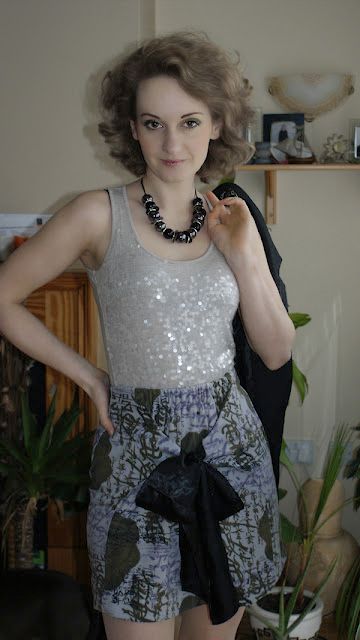 Inspiration: originally made by Rachel from 
House of Pinheiro
, based on 
Betty Jackson Paper Bag skirt (Ready-To-Wear AW 2009/10 collection)
 ,
Pattern:
 As you know I have only started seriously working with CAD pattern drafting, and I have encountered a few issues with drafting on the screen. To start with as it looks quite scaled, it is much harder to judge the measurements and distances. So what you "draw" on the screen can be different when it is printed out in real size. I had to alter the pattern three times before the final version. I probably had all those alterations avoided if I was drawing on a piece of paper.
I started with a basic straight skirt sloper, added a self facing on the waist. The back is fitted with two darts, the front is slashed into two panels. The middle one is extended to create that fullness under the belt, and the shaped belt "flaps" are added to both front panels on the connected seam line. I have taken about 15cm from the bottom, just to make it a mini skirt, but I left the original knee length in the pattern to play with.Here is a pattern drawing:
Does it resemble the original: I think in general it looks more like Rachel's version than the original. To make it resemble the original Betty Jackson's skirt, I think the following could be considered:
The fabric must be a suiting fabric, e.g.: wool blend, flannel, etc
The ribbon must be no wider than 4cm, and it should be sewn ON the right side of each flap, about 3-4 cm into it, and not into the seams of the flap, like mine. Also my ribbon is way too large- i am going to look for a more suitable one and will change it later.
The folds on the top, might be created by adding narrow elastic, just at the level where the ribbons tie on the inside
Fabric: 70cm of 150cm wide  jersey (medium thickness)
Time spent sewing: After the pattern was printed and taped together, about 1-1.5 hours
Conclusion: The skirt turned out much better than I expected. Just like Rachel's my Betty J skirt started as a muslin, but was surprisingly quite good at the end. I am sure it will see the outside of my wardrobe much more often than I even expect!
   I am very happy to offer yet another PDF pattern and I would absolutely love to see more versions of Betty J skirt! So if you decide to whip yourself up one of them, you can upload your Betty J project and connect it to me on Burdastyle.com (just choose "based on existing project" Betty J Paper Bag Skirt ) or you can upload it on Sewing And Style on Facebook.
Get the latest including tips, techniques and special offers straight to your inbox.