Creative Fashion Design Final Project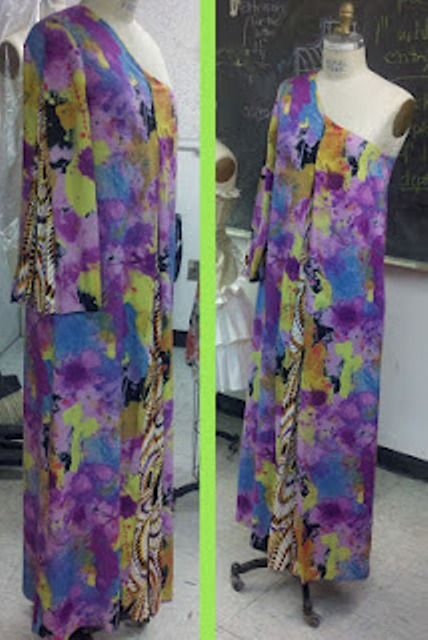 Here's the final project for my Creative Fashion Design class at MassArt this spring. Challenge was to design a garment inspired by a fabric selection and have the garment maximize the fabric's properties.
When I saw these two fabrics, especially the splotchy print, I thought of summer evening parties, when your body is warm from being in the sun all day and the air is cool. I wanted a elegant dress that would show off a little skin, move in the evening breezes, and be cool while covering.
I was also inspired by current summer trends of maxi dresses and print mixing. I LOVE both these very bold prints and wanted to find a way to combine them in a single dress. Love the throwback to the 60s/70s, too — Prints make me think of Mad Men.
The fabric is rayon challis, an absolute dream to work with. The pleated insets were remarkably easy to make (many thanks to teacher Donna-Marie Cecere for the technique), very responsive to a good press. The sleeve pleat came out perfectly – it opens with movement, then closes up again on its own … like buttah. The longer front pleat is a little more recalcitrant and will probably benefit by top stitching on either side of the opening to give it some more support on its long run to the floor.
This was the first time I had ever taken a garment from concept to sketch, through modifying a sloper to final garment. I've worked from commercial patterns my entire sewing career. I feel really good about the result and can't wait to do more. Going back in September for Pattern Drafting and maybe, later this summer for Fashion Illustration.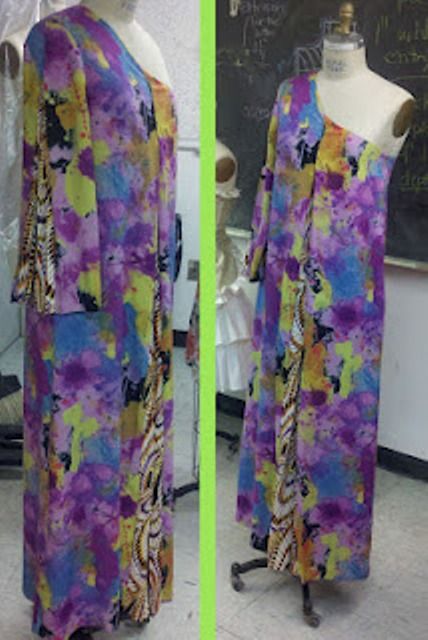 one-shoulder summer maxi dress