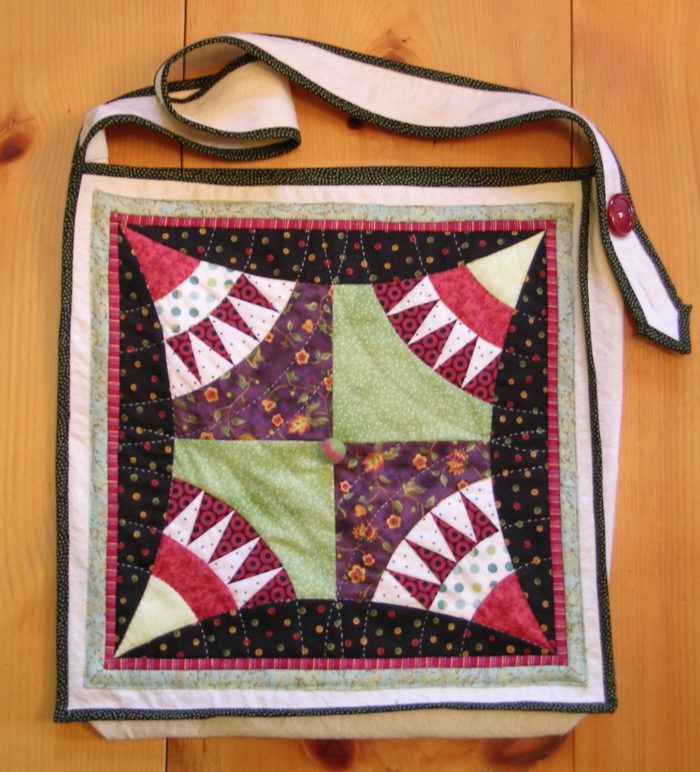 This tote bag was inspired by seeing a photo of a guild hand quilting a project for a charitable raffle. I loved the block they were using and set out to find it. A similar block is pictured in the book Quilts of Tennessee. I re drafted the block with some changes  to make a block of the size and details I wanted for my tote.
My Tantalizing Tote is definitely a scrappy project using at least 15 different fabrics that I chose from my stash. I hand quilted my blocks with heavy white hand quilting thread and thin cotton batting.  I designed the tote myself building the bag on light weight natural canvas and applying one quilted block with a narrow frame to the front and the back.
Before I layered on the quilt block I sewed custom pockets to the inside of the front and back canvas pieces. I devised a construction method that assembles and binds the bag all in one step. The gusset and strap are all one piece, the strap length is adjustable and the bag holds it's shape. My bag measures approximately 14 x 14″ with a 2 and 1/2″ gusset. A nice size to hold folders and projects.