Dressing Gown made from old silk shirts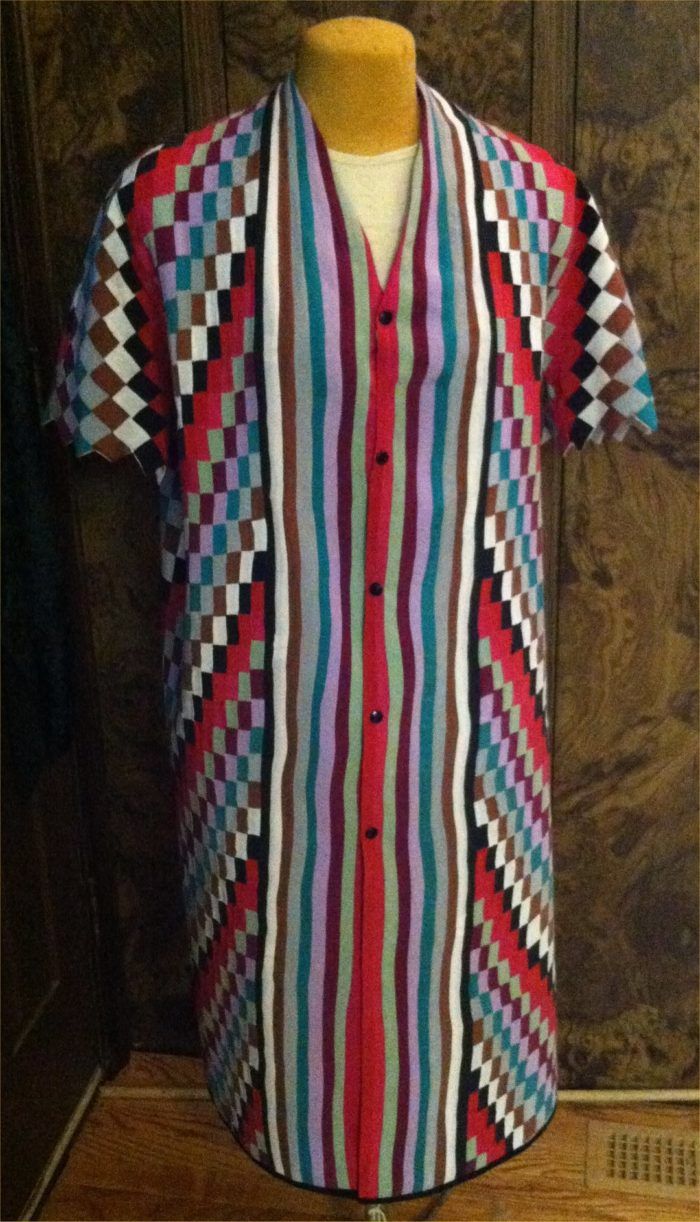 The Quilt My Stash contest gave me inspiration (and motivation) to do something with my collection of old silk shirts. They were out of fashion and well worn but I couldn't bring myself to get rid of them, so they have been sitting in a drawer for more than a decade.  I was looking through a book of quilt designs for something that would make use of all the different colors I had, and found a picture of a Bargello quilt, which was perfect. I decided to make a dressing gown – I know the contest rules are looking for a "party ensemble" – but I look at this as either a "getting ready for the party" or maybe "morning after the party" ensemble!
I only started working on it at the end of April, so I did have to use a few shortcuts like fusing instead of stitching the lining (machine quilting it would have been a nightmare on my 26 year old Kenmore) (hint, hint), plus fusing strengthened the patchwork, which was rather fragile because the silk was thin and there were so many seams.
I took all the pictures with my iphone, and created the merged images on my computer.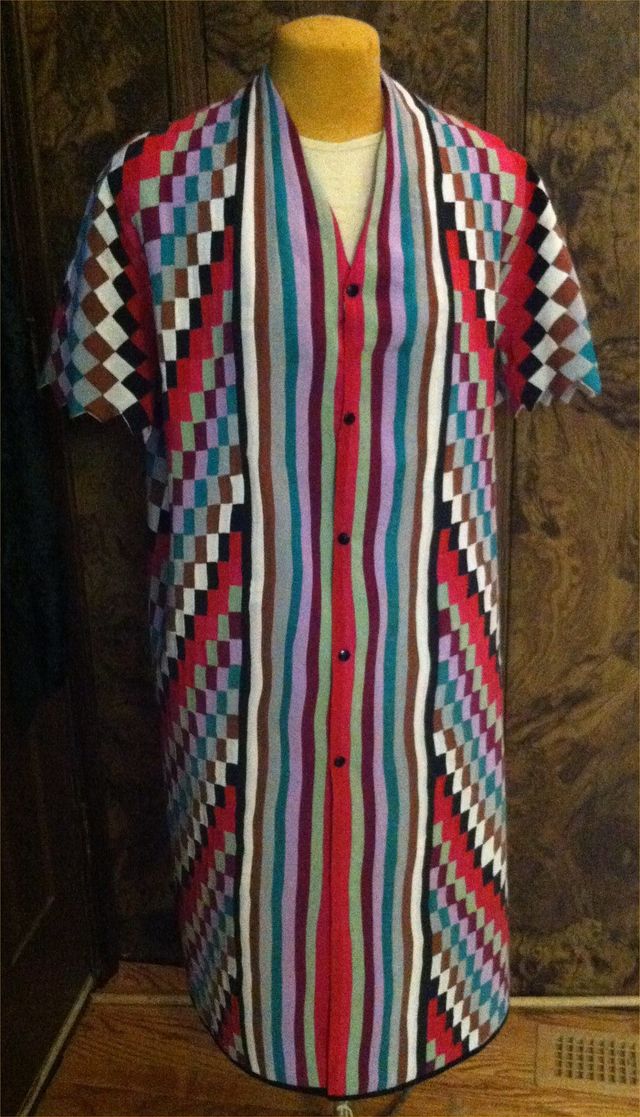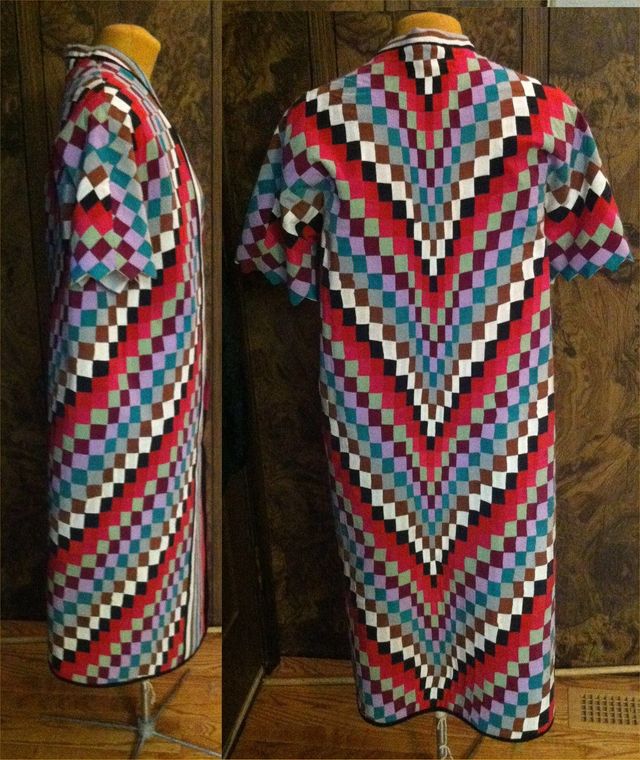 Side and Back views. I basically just made one huge square, and wrapped it back to front, then finished the lapel and front with long strips. For the sleeves, I left a slit on each side, and extended the pattern of colors until the sleeve was long enough.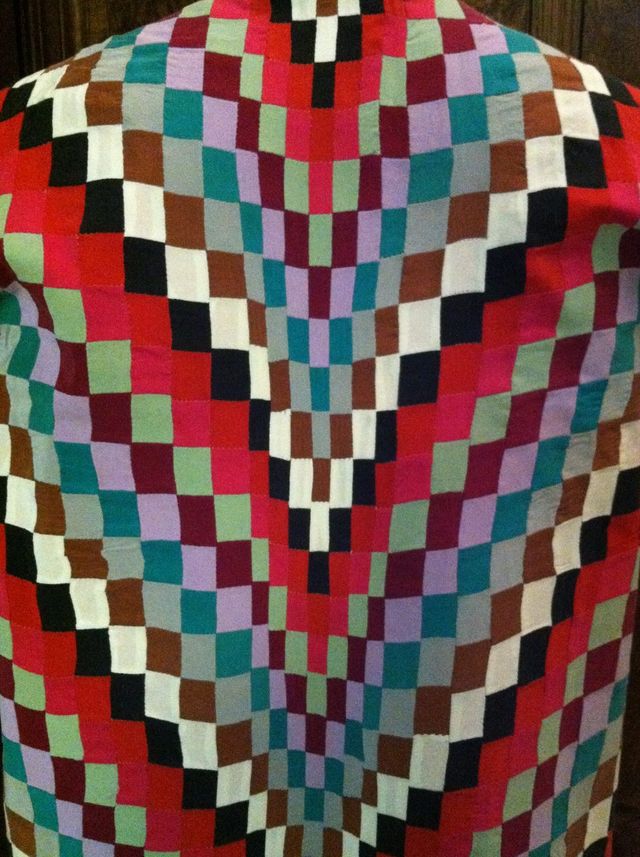 Close up of the back. The center strips are 3/8 of an inch wide, then it goes to ¾, then 1 1/8, then back down to ¾ and 3/8 as it wraps around the front.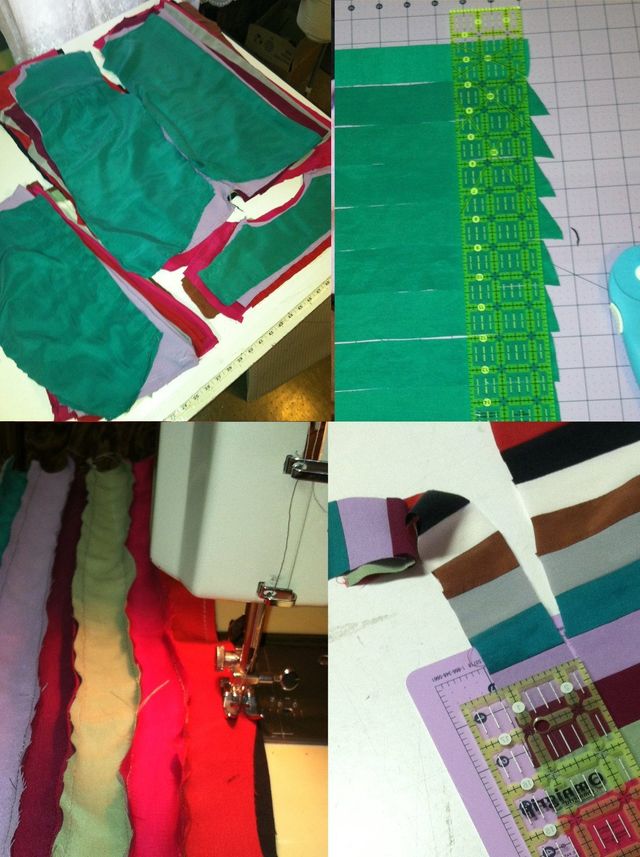 The first steps were to take apart the shirts, then cut them into 1.5 inch wide strips (1/4 inch seam allowance); then sew the strips together lengthwise, then cut them crosswise at various widths.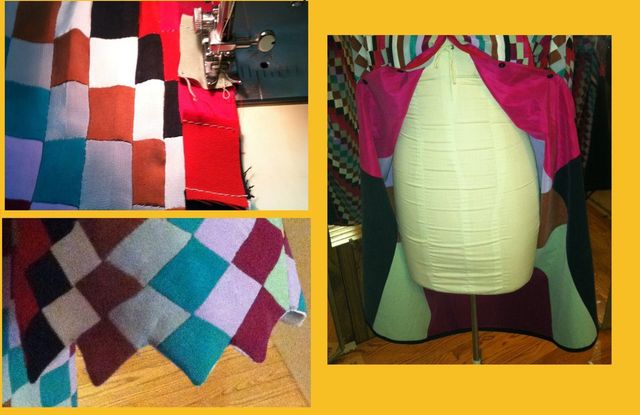 The upper left picture shows sewing the crosswise strips back together. This was the hardest part because the lengthwise stitching comes apart very easily, and in my case, the silk was very stretchy and didn't always match up very well. The other pictures show a close-up of the sleeve, and for the lining, I made symmetrical blocks using the largest pieces from the shirts. I ended up using all but a few square feet of the silk!