Steampunk Witch and Vampire…very stylish!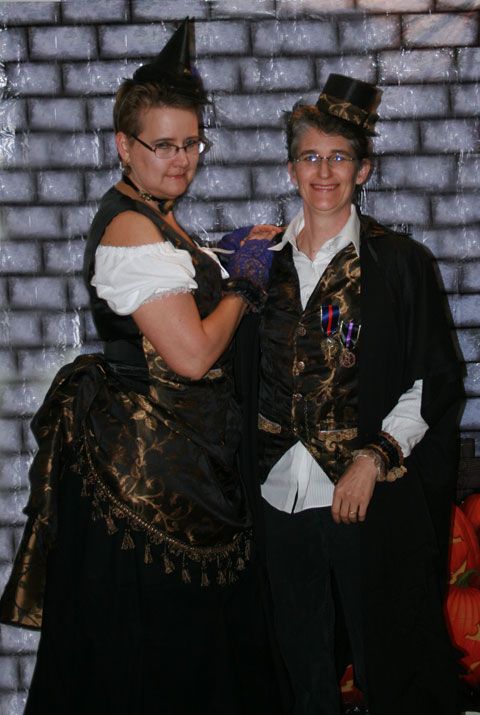 I actually started this project with just the wrist cuffs. Then a hat and the next thing I know, I had a complete costume plus another costume for my Vampire side-kick. It is always good to have a vampire for a friend.My rule for Halloween costumes is to make them as cheaply as possible. The petticoat is an old white sheet. The over skirt a cheap polyester bargain bin curtain. Everything else was hand-did as an aunt used to say.
The cuffs were made with zippers, ribbon and lace remnants with metalic acrylic paint added to age them. I even painted the buttons to look metalic. I purchased the clock parts, but I made the buttons by printing clock or compass faces and gluing to buttons, then mod podging them.
The vests were made from an online vest pattern, modified for a v-neck and points at the bottom ( http://m-sewing.com ). The smaller vest needed lots of modification to fit smaller breasts. I added welted pockets to hold the witch's key ring and the vampire's compass. I made up the skirt patterns from scratch. The over skirt was made from the curtain's false valance. I love the dangly trim. The bustle was a small pillow with ties sewed to the corners for tying around my waist. See http://steamingenious.blogspot.com/2011/04/how-to-make-bustle-pad-and-why-you.html.The hats were fun. Years ago I made hat boxes and used many of those techniques for these hats. Glue guns and fusible interfacing are wonderful accessories. I researched making my own top hat and then just made up my own hats. There are many good tutorials out there. I love the Internet. I fused the black satin to the hat pieces cut from poster board (cereal boxes would work well here too) and glue gunned them together. Plastic head bands held them on very comfortably. I wore mine all day on the 31st. For a party, I vamped it up with a tucked up skirt and off-the-shoulder chemise. For a Sunday "Day of the Dead" service (costumes welcome), I let the skirt down and wore a more staid blouse. One must be proper!
For Halloween I wore the vampire hat and cuffs, witch's vest with a purple shirt and black pants. Hard to work in a bustle!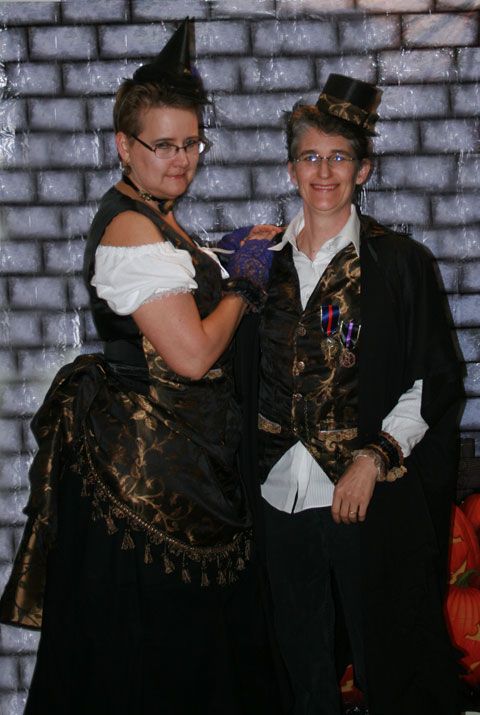 Steampunk Witch and Vampire ready for a night out looking for victims.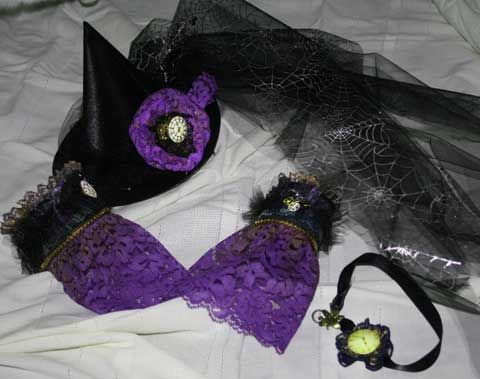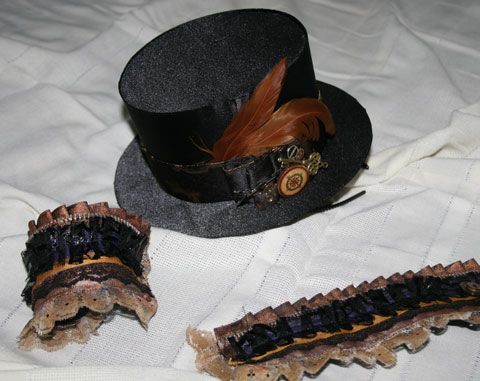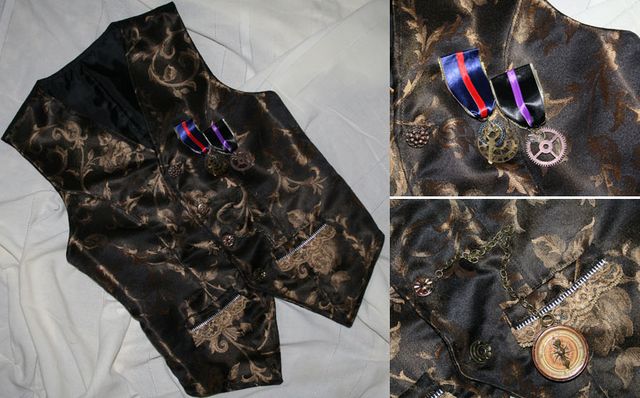 Vampire vest, medals and compass...to find her victims easier!

Witch with vest, bustle and all the details