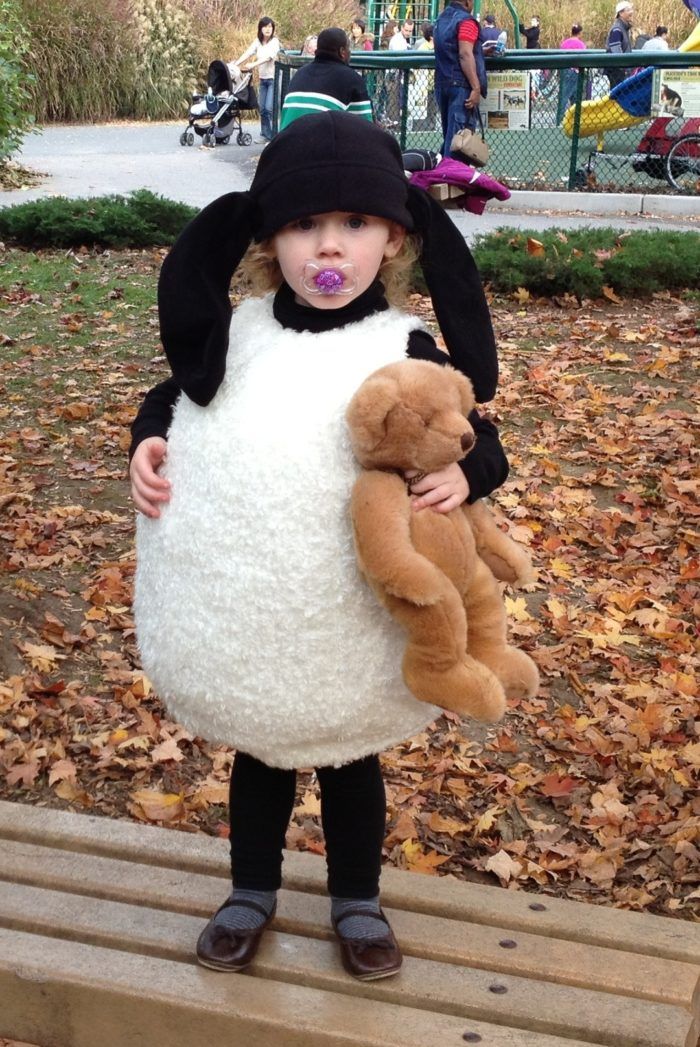 My 2 year old daughter, Penny, insisted that she wanted a "Timmy" costume this year  .  Timmy is the baby from a British claymation show called Shaun of the Sheep.  I figured this would be a great way to get my husband in on the fun and whipped him up a Shaun costume while I was at it.
I made their bodies out of low-pile curly faux fur.  For the little one I had to get it really round so I followed a tutorial online for making plush toy balls and used the math (pi! yikes!) to figure out the measurements for six panels.  Then I attached them to a muslin lining which I cut using one of her tshirts to make the pattern.  I elasticized the neck and bottom thinking she would pull it over her head. Then I stuffed it like crazy with polyfiber fill.  But the little thing didn't like squishing her head through so thankfully the neck was wide enough to step into.  She wore it over a black turtle neck and leggings that she already owned.  She said wearing it was like getting a "big hug" and insisted on wearing it to every activity the week of Halloween. 
My husband's "Shaun" costume was much easier since Shaun is much less poofy.  I just made a sleeveless tunic out of the same material using one of his tshirts to make the pattern with some fusible fleece in between the lining and outer fabric and added a tail stuffed with polyfiber.  Somewhere along the way my cheapo serger completely jammed while finishing his costume which is why I really want to win this contest!  Both loopers are bent and I could buy a new machine for the amount it costs to fix it!
I used fleece hats from old navy to attach the ears, which I made with a freehand pattern, black velvet, medium interfacing and fusible fleece.  I handsewed the ears onto the hats and then used a big pile of wool roving and needle felted it loosly together before hand sewing it on for Shaun's tuft.  Then it was 3 a.m. and I swore I would start making next years costumes in January!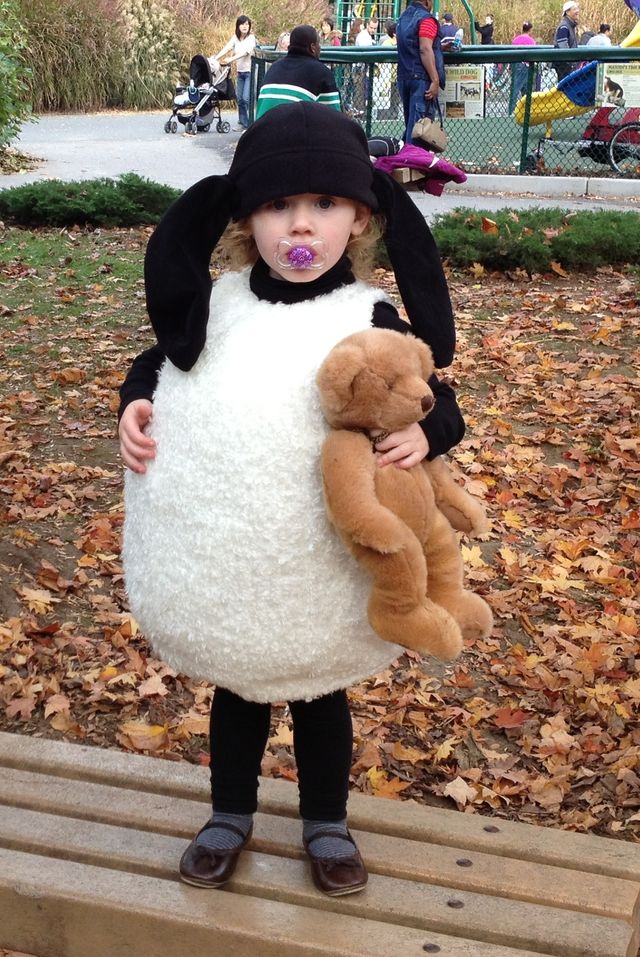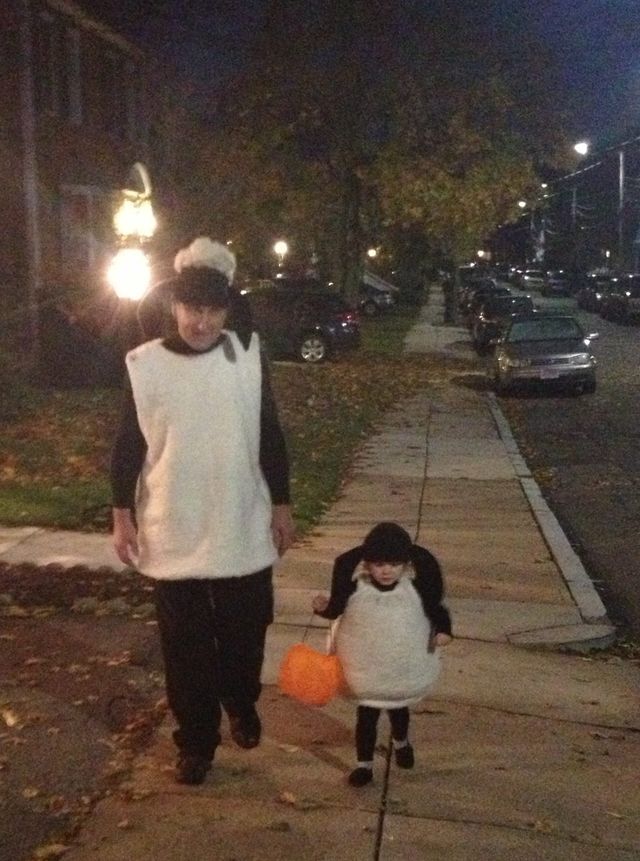 My daughter insisted that her costume be Timmy from Shaun of the Sheep.  I convinced my husband that Shaun was necessary for context :-)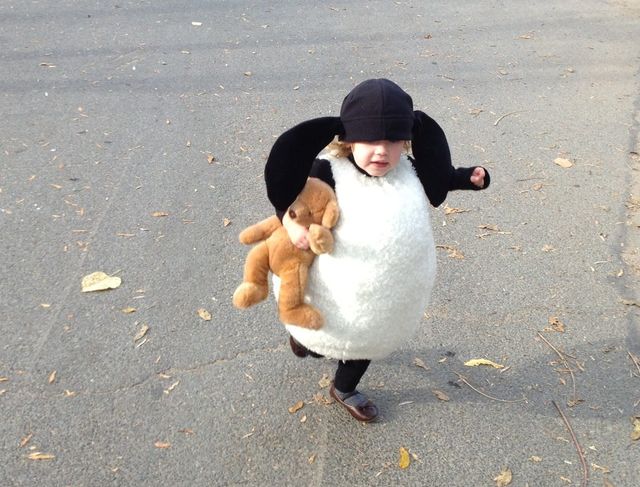 When she wiped out while running she practically bounced right back from all the padding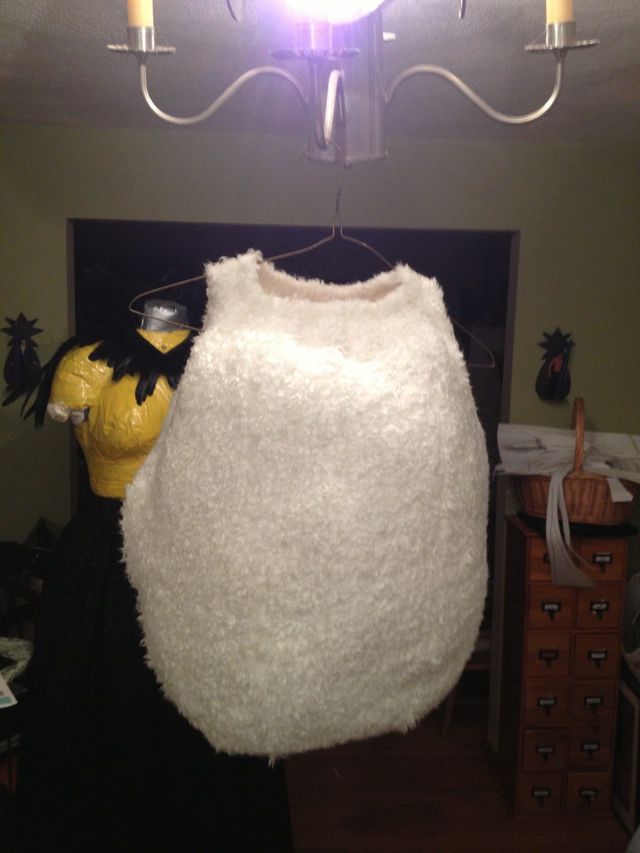 It looked like a cocoon hanging from my light fixture- what do my neighbors think is happening in here?