Chloe Inspired Snakeskin Pants & Kimono Styled Jacket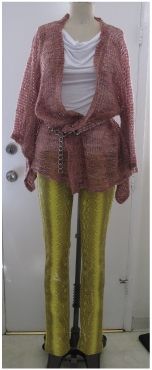 Inspired by the snakeskin prints in Chloe's collection.  The yellow faux snakeskin pants are made from BurdaStyle.com pattern, #6006 Anita.  The fabric is a 4 way stretch and feature double topstitching and rivets.  The sleeveless cowl shirt and wrap around Kimono styled jacket were drafted by myself.  The Kimono wrap around jacket is hip level and is made from an open loose Novelty sweater knit.  The sleeveless cowl top is made from 100% bamboo rayon.  There is also a matching self made belt that goes with the jacket.
Get the latest including tips, techniques and special offers straight to your inbox.