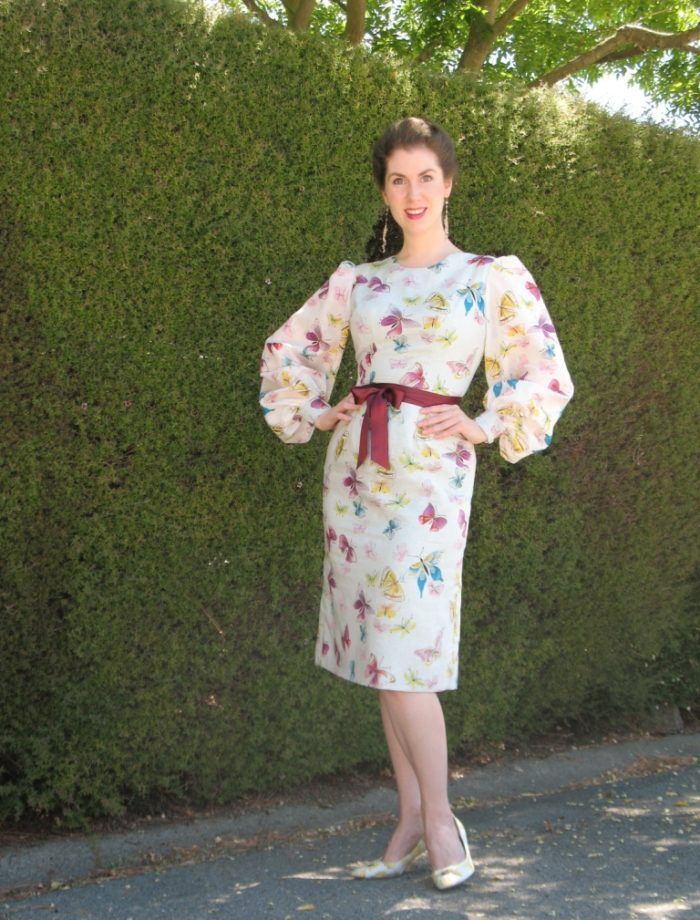 This dress started with the fabric. It was an unexpected find at my local JoAnn Fabrics. A lovely linen and cotton blend with some pretty butterflies winking at me was just too fabulous to leave behind, even though all I went in for was a zipper!
I purchased a few yards with no particular project in mind.  And before I made it home, I had an idea for the print. I decided to use McCalls 5106 and add the sleeves from McCalls 8358.
The dress pattern was a size too small, so a muslin was necessary. Not only was there the size issue, but I wanted to be sure that two separate patterns cobbled together would work before I cut into this lovely fabric.
This linen/cotton blend is extremely sheer. And while that works for many designs, a slim fitting dress is not one of them, in my opinion!
I decided to cut the fashion fabric first, since it is more stable than the rayon underlining, and hand stitched the pieces together before constructing the garment.
The sleeves have French seams since they are not underlined. And I added a strip of silk organza to the zipper opening edges for stability.
Even with the long sleeves, this frock is deliciously cool.  And because the arms are covered, it works very well in an air conditioned office building.
I am quite sure that I will be using this sheath pattern to make myself another dress! There are a few ideas banging around in my head, one or two of which include fabric already in the stash. I see an altered neckline, and a different sleeve, and all sorts of minor alterations to the original design. 
Basic patterns can create a never ending stream of inspiration!
More pictures may be found over on my blog, Lilacs & Lace.