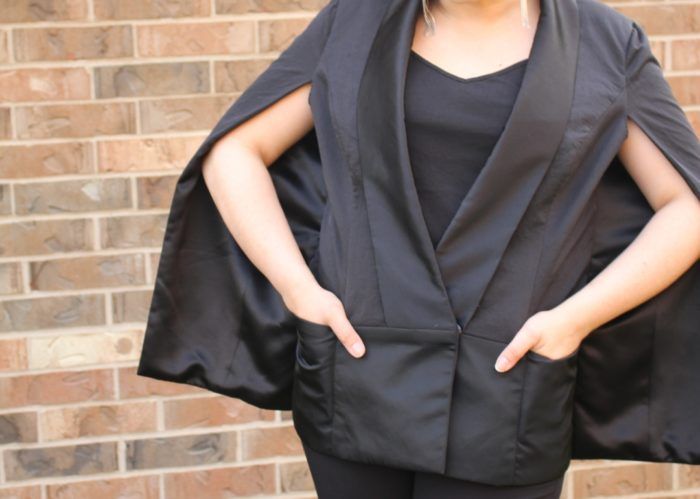 For this jacket I was inspired a cape jacket designed by VICTORIA BECKHAM. 
Net-a-porter describes the garment as: "A cutting-edge fusion of a cape and tuxedo jacket, Victoria Beckham's wool and silk-blend crepe cover up tops our wishlist. This sleekly structured design boasts gleaming satin lapels and defined shoulders."
I was immediately drawn to the design as it appears to be a challenge. And although my version is not in a luscious silk and wool blend, it also does not carry a thousand dollar price tag. 
Fabric:
Main body of my cape jacket and outer "sleeves" – poly suiting 
Inner "sleeves" and upper collar – satin
Under collar and lower front band and pockets – Satin twill
To achieve the look I decided to manipulate an existing pattern, 
Simplicity 1781
. Having previously used the pattern to make a blazer, I knew to fit was not as I desired for a blazer but would be ideal for outerwear. This omitted pattern fitting modifications, leaving only aesthetic manipulation of my pattern pieces to copy cat my cape jacket, I describe my process
here
.  
Construction was a dream; aside from a bit too much hand sewing due to the fact that I could not bag the coat lining as the under portion of the armscye was exposed.