Crinkled Taffeta Jacket for Fall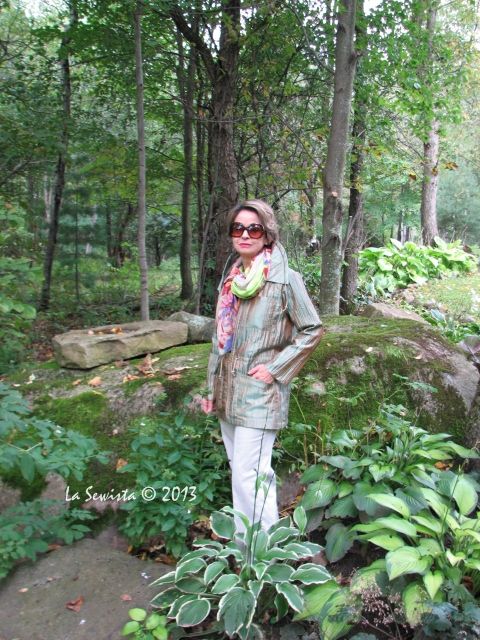 I needed a fall jacket, something lightweight but lined before the need for heavy winter clothing set in. Simplicity 2153, an anorak style jacket, was made from crinkled crosswoven polyester with a lining of 100% cotton batik. I used the technique of flatlining, something I learned from Threads many years ago, to give a totally finished interior. It's a technique that lines the garment and binds the seams at the same time. It takes a lot of "pre" work before actually starting to sew the garment but is well worth it. The yoke is clean finished "burrito" style as is often used in finishing pillowcases as well. Grommets were installed instead of the suggested machine buttonhole as an entrance and exit for the cording at the waist and neckline. To end the cords and insure they did not return into the recesses of the jacket they were fray checked, knotted and beaded with a large "pandora" style bead. The zip is a traditional metal separating zip. I thought the colors worked perfectly. This pattern is unlined but I love the color and pattern and how the batik works with the fashion fabric. The sleeves were not flat lined but were lined traditionally and bound at the armscye.
Because I used processes not specified in the pattern I did not follow it's directions. I will definitely make this jacket again and really like the classic design. If you would like to see more of the details of this jacket and how the construction proceeded check out : http://lasewist.blogspot.com/2013/09/the-deets-on-simplicity-2153.html There are a total of six posts covering the process from muslin to completion.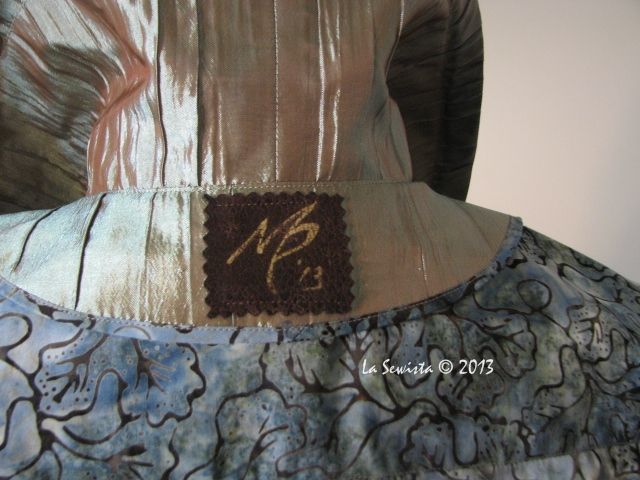 View of the clean finishing on the facing and yoke and my label.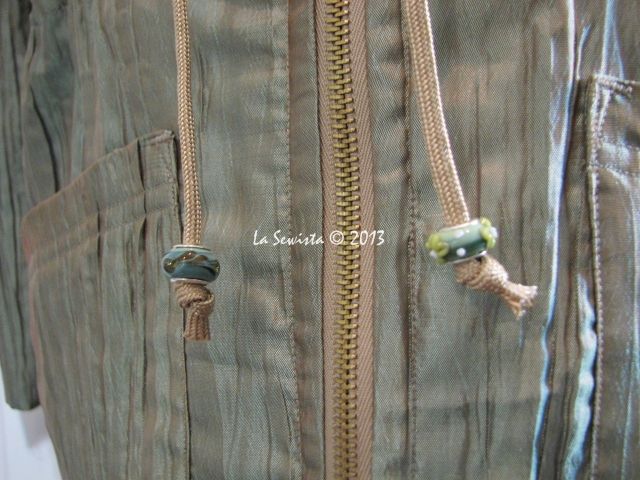 Cording finished with "Pandora" style craft beads.The cord will not slip back through the grommets and into the jacket.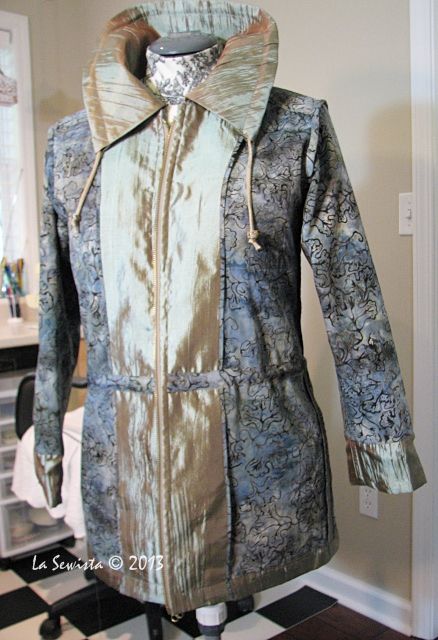 Inside of garment, flat lined and bound on all seams. Yoke is done "burrito" style and enclosed.