Using Marfy 2137 I made this stunning mother of the bride dress. The fashion fabric was a fuchsia silk jacquard with silk organza underlining, and a china silk lining. I used china silk because it is a lighter weight then charmuese and I didn't need or want to add any additional bulk to the bodice. The bodice has a lot of pleats and gathers.
With Marfy patterns, there are no instructions. There is a beautifully hand marked pattern in 1 size. The pieces do fit perfectly. The entire process of this dress was 2 steps forward 1 step backwards. I'd do something, and then realize I needed to do something else first, so had to rip out and re-do. It really helped to think about several steps at a time and how they all fit together. I first made the muslin and fitted it. I had to take a lot of fabric out of the bust as there was enough fabric for someone with at least a C cup. I did this with 2 "dead" darts which are darts in the pattern, but not on the finished dress. All notations, notches, grain lines, and stitch lines were put on the muslin and then transferred to the silk organza which became my pattern when cutting out the fashion fabric and lining. Match points to other areas are labeled alphabetically on the pattern and there are notations where things are pleated or gathered. When making this bodice, I just followed those notations on the pattern and it all came together perfectly and fit to the rest of the garment nicely.
The most difficult part of the dress was the draped shoulder. Trying to figure out what went where and how with only the picture. I decided not to underline the drape so that it would fall nicely. I did a lot of hand sewing on this dress and the drape and bodice to get it just right. The back center zipper was put in by hand using waxed thread and a small back/pick stitch. However, if I were to make this again, I would put it in the side as I think it may be a bit distracting in the back.
I really liked the style of this pattern and thought it would look beautiful next to the wedding gown I made for my niece. My sister in law looked beautiful in it.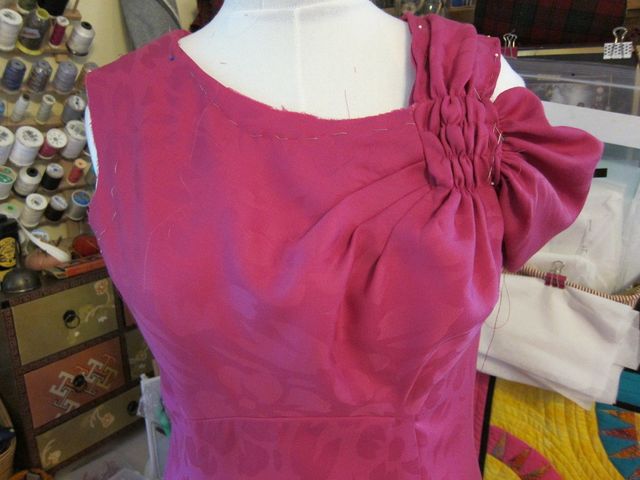 bodice close up details before lining and embellishment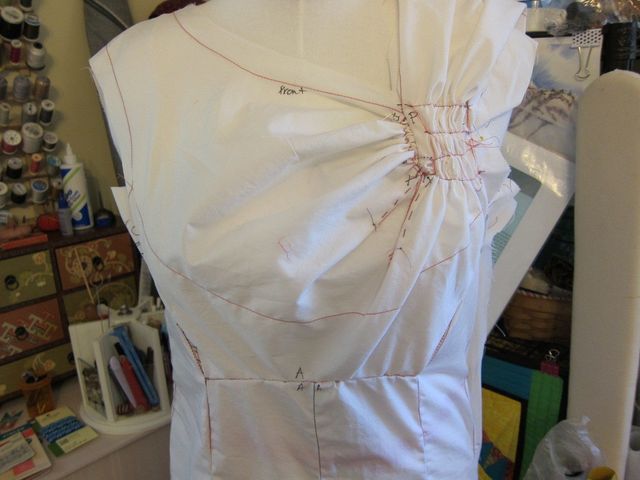 muslin fitting and markings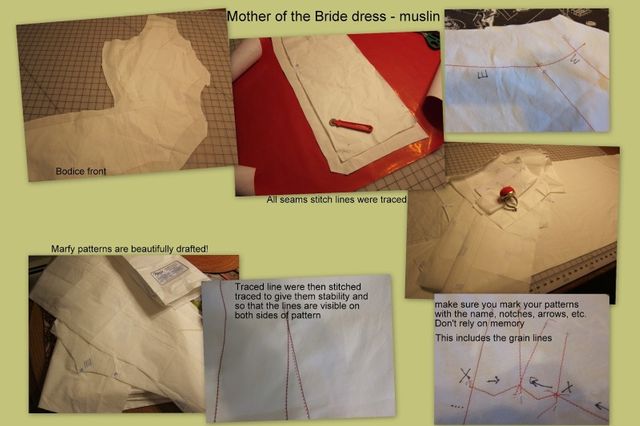 muslin details.  There was a lot of adjustments on the bodice.  making a muslin however made it easy to piece togther the final.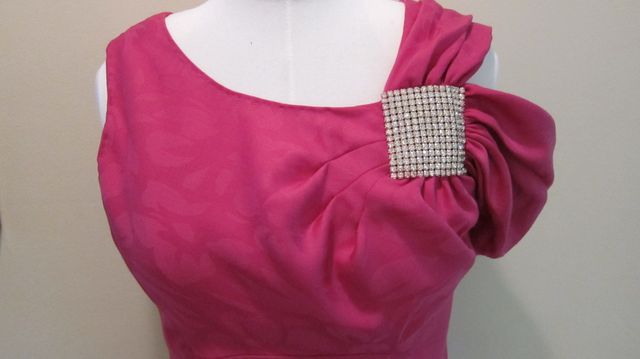 finished bodice with bling