Silk Charmeuse al la Vionnet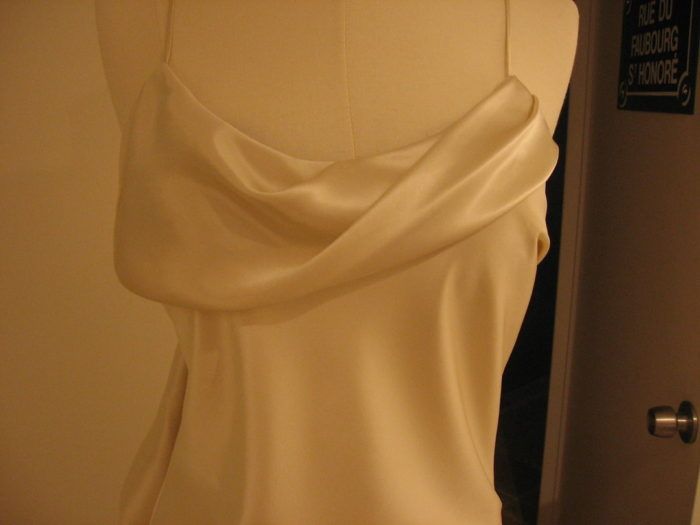 The bride requested a slinky, flowing gown in the style of the 1920's and 30's. I immediately thought of creating a design in the style of Madeline Vionnet. I found it easiest to follow Vionnet's method of designing which was to drape on a half-scale mannequin. The 4th photo shows the design draped on a half scale form. I discovered how much easier it is to create bias cut designs this way.
Before removing the fabric from the form it is imperative to carefully mark all match points, tucks, darts, etc. because the pattern pieces will make absolutely no sense when you lay them flat. The 5th photo shows the pattern pieces I had.
I then draped the design full scale and made a muslin which was fitted on the bride. Any changes were made and the design details finalized. Fortunately I was able to find 54 inch wide silk charmeuse so piecing was not needed. My goal was to have the gown appear virtually seamless. The tucks at the front below the waist hide a seam. The back skirt seam is hidden by the short draped train and the folds of the skirt.
A grosgrain ribbon waist stay was hidden inside to prevent the gown for shifting while worn and silk crepe de chine lining was tacked at the top edge but allowed to hang freely so as not to interfere with the drape of the gown. Narrow bias strips of fabric covered rattail cording to form the criss cross straps. A short invisible zipper was hidden in one of the hip seams to allow the bride to step into the dress.
I enclosed drapery chain weight in a bias strip of muslin and basted that to the hem and allowed the fabric to hang for several days. This is a technique Vionnet used often and is the secret to a bias hem hanging evenly. The hem was marked and a narrow hand rolled hem finished the hem of both the gown and lining.