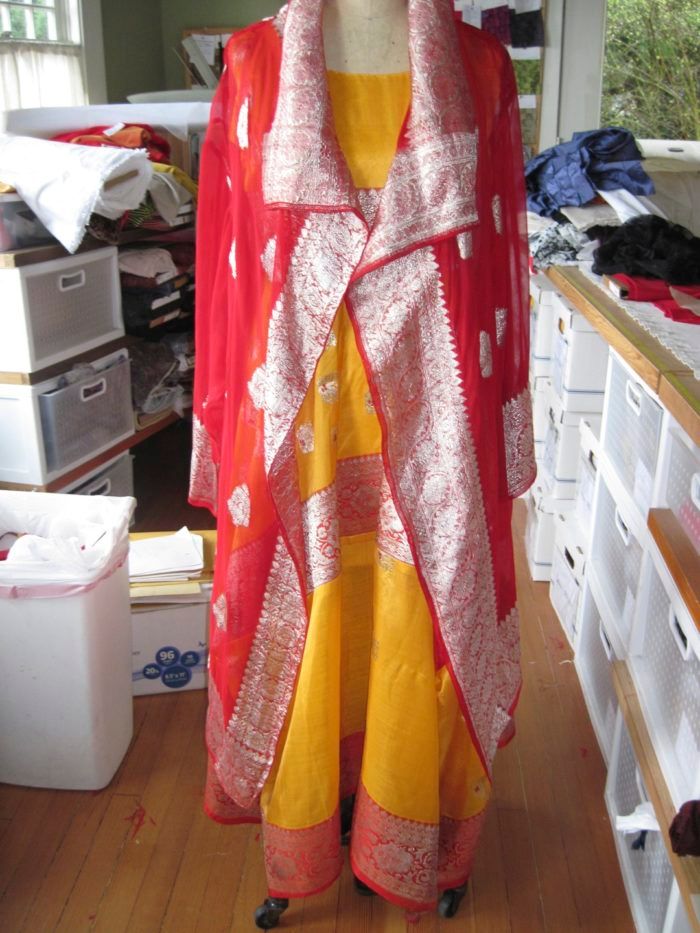 I wanted to share my Oscar Party red-carpet dress and jacket which I just finished two days ago!  Every year our local art-house movie theater sponsors a catered, formal wear, red-carpet Oscar Party.  We always go to watch the live-streaming Oscars event AND, of course, to take advantage of an opportunity to dress up.  Every year, I make a new outfit.
This year, I had planned on using two Saris I'd collected over the years; a gold/red/silver emboirdered edge one, and a red silk chiffon one which ALSO has a silver embroidered edge.  Of course, life is busy and so I only gave myself 3 and a half days to decide on the design, cut, sew, finish both pieces.  As it turned out, the gold, china silk Sari was so sheer I ended up having to make some undergarments for the sake of modesty.  Luckily I had some sheer red knit mesh on hand so I made some "pantaloons" to go under the dress and edged them with the left over silver embroidery from the red chiffon Sari.  I also made a long red mesh slip.  The Pantaloons just "peek out" from the bottom of the uneven hem-edge of the dress.
Of course, I had to work diligently to get all four items done in time for the party (I work best under pressure).  I was SO happy to see the article on sewing Sheers.  Who doesn't need a refresher course when tackling something like this.  Your timing on the "How to Sew Sheers" article was PERFECT .
But the amazing thing is, you had an article (same issue) on sewing fabrics with borders.  This dress and jacket (made from Saris) was ALL about the borders and how to capitalize on using them well.  I think you must have been reading my mind when you put that issue together.  These two articles were the perfect combination for me to read before tackling this project.
THANKS for the PERFECT issue for the PERFECT project!
RhondaRenee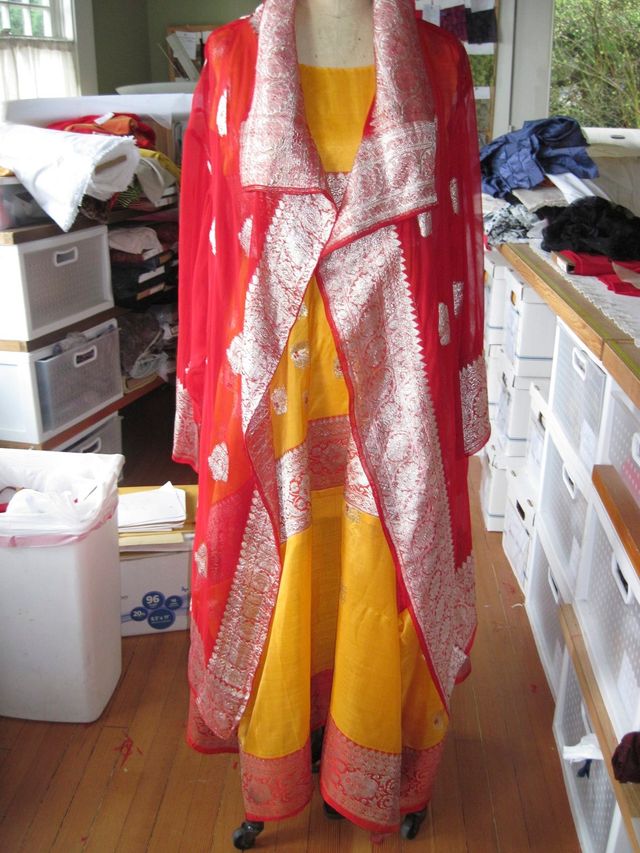 Two Saris make an Oscar Party, red-carpet ensemble.
RhondaRenee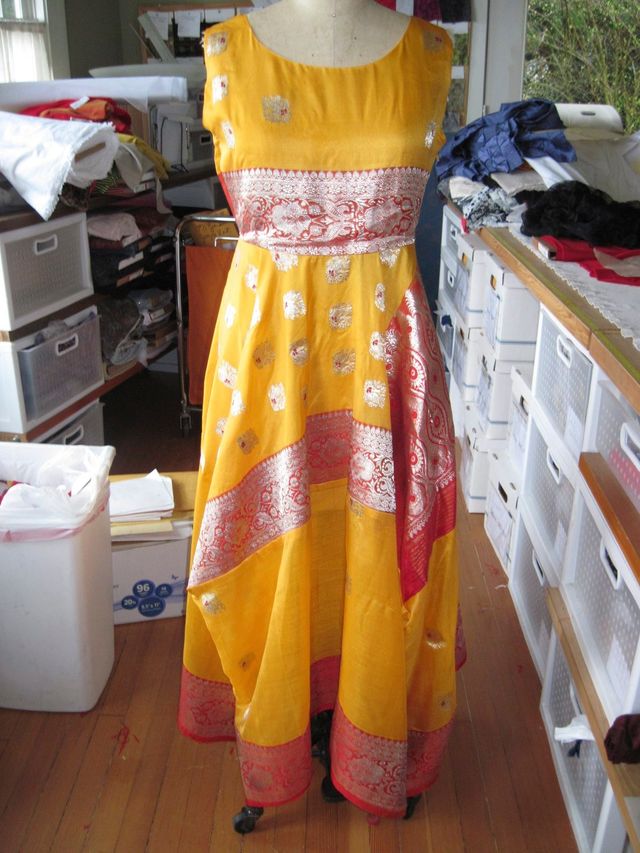 Dress, gold and red silk, sort of a china silk weight, with a silver metallic embroidered edge.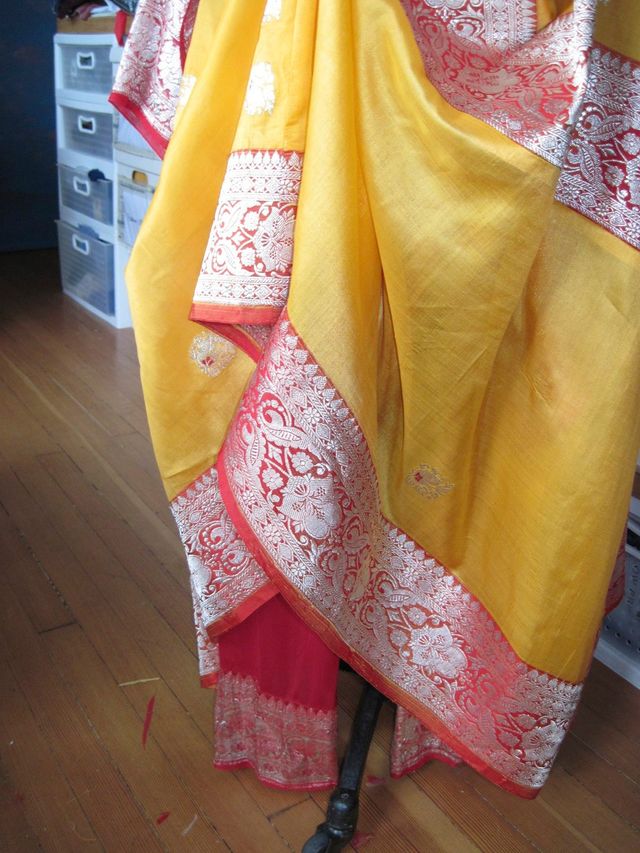 Show the Pantaloon with the embroidered edge.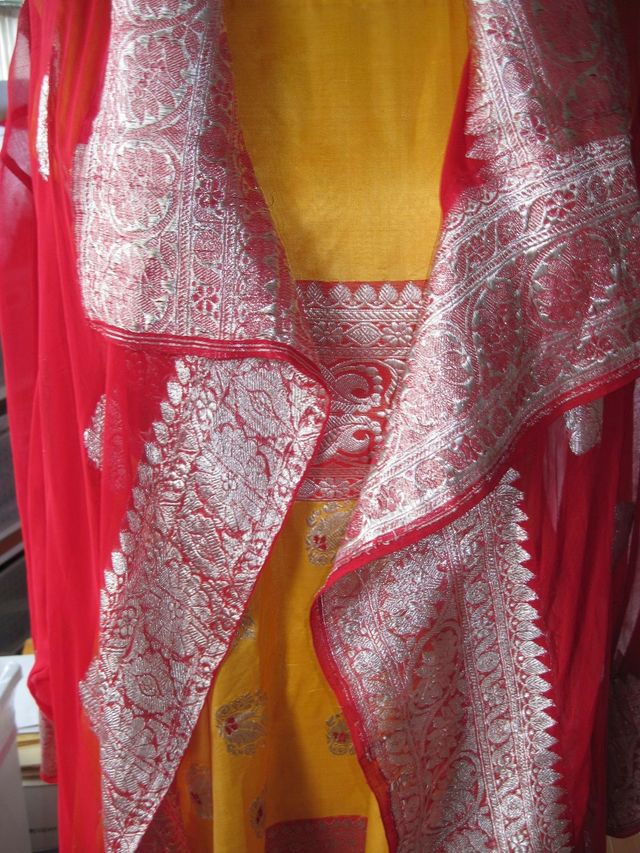 Front of Red chiffon Sari Jacket, showing silver embroidered edges (used to give the front opening body and elegance).