Elsa Ice Queen Gown – inspired by Frozen for American Girl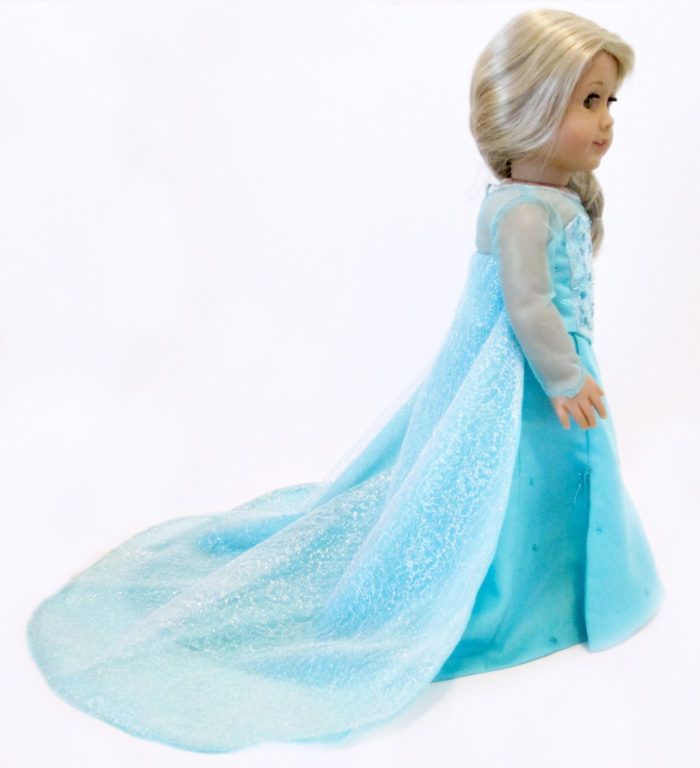 ♥ Elsa Ice Queen Gown  Costume for American Girl Dolls ♥ 
~The first in a series of outfits & patterns inspired by  the move Frozen by Disney.~
As I sat watching Frozen with my older kids who, like me, still love Disney I was immediately thinking of recreating the costumes. They are based on Nordic, specifically Norwegian ethnic designs although highly stylized. I create designs for American Girl Dolls, offering my sewing patterns for sale via my Etsy and Craftsy shops and yet I have plans to branch into clothes for children later this year.
I've been making costumes and special occasion clothes for over 20 years. This design was more challenging than it first appeared. Despite the simplistic lines, there is some complexity to it. Plus, it needed to retain the original design's sleekness while suiting the chunky-ish shape of AG dolls. 
Here is my finished design, and I invite you to my shop to see enlarged views. Thank you so much for looking 🙂  http://www.etsy.com/shop/DollhouseDesigns 
To make: ♥ Long Dress ♥ Bodice w/ Attached Train / Cape ♥ 
Recreate scenes from the movie with your favorite doll!Make your own Winter Outfit for Elsa. It features a super long train and beautiful fit, just like Elsa's own gown. From my cutting table to yours…✿ Looks just like Elsa's Ice Queen gown from the movie Frozen✿ 2 Pieces – Super Long Gown and Bodice with attached Train✿ Long Sleeves end in elegant points over her hands✿ 5-gored Skirt -Make it with or without side slit✿ Skirt of dress is extra long in back, forming a long train behind her✿ Make top with Sheer Mesh Knit or optional woven version✿ Make it as grand or as simple as you like. ✿ Very dramatic dress train stretches several inches behind doll ✿ Both pieces are tailored perfectly for newer American Girl dolls (2010 Lanie is the model)✿ Dress Opens in Back, Bodice Opens on one Side✿ Intermediate Pattern to SewIncludes Design options14 Pages of Patterns28 Pages of Instruction, Glossary, Photos, & Information, including Hints for Beginning SewistsREQUIRES:1/4 yard sheer stretch or woven fabric 1/4 yard fabric (or remnant) for bodice1/2 yard lining fabric 3/4 yard fabric for skirt1 yard sheer fabric (like chiffon, organza) for trainTrims, Sequins, or Fabric Paint for embellishment (amount varies)Desired Closures (Velcro, snaps, buttons, etc)Matching ThreadReuse to make w/ other colors or trims Print Pattern Pages @ 100%Instructions can be printed in booklet style to reduce printing, or read along on your laptop or tablet.Note: I have no affiliation with American Girl, Disney, or Mattel except as a consumer that enjoys the quality & charm of their products.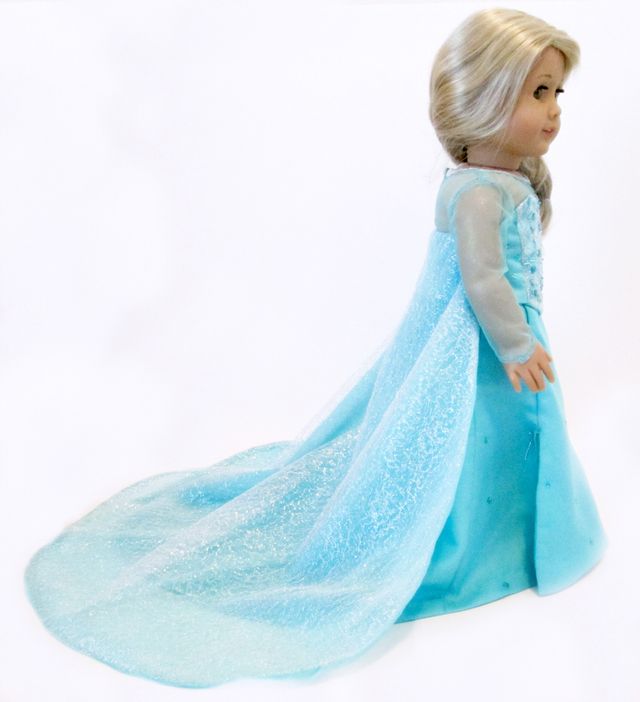 Elsa gown for American Girl Dolls - pattern available in my Etsy shop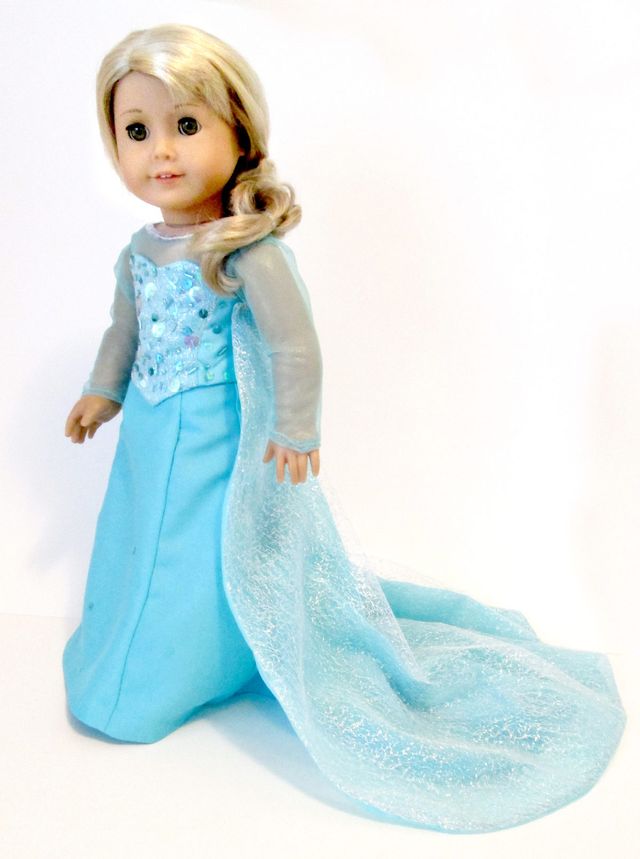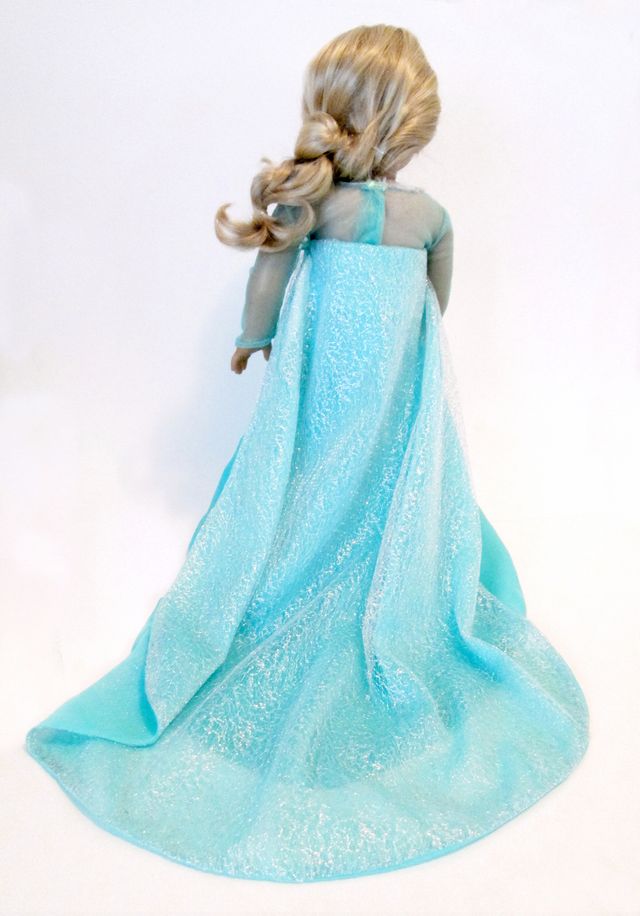 Elsa Train created in chiffon with mesh overlay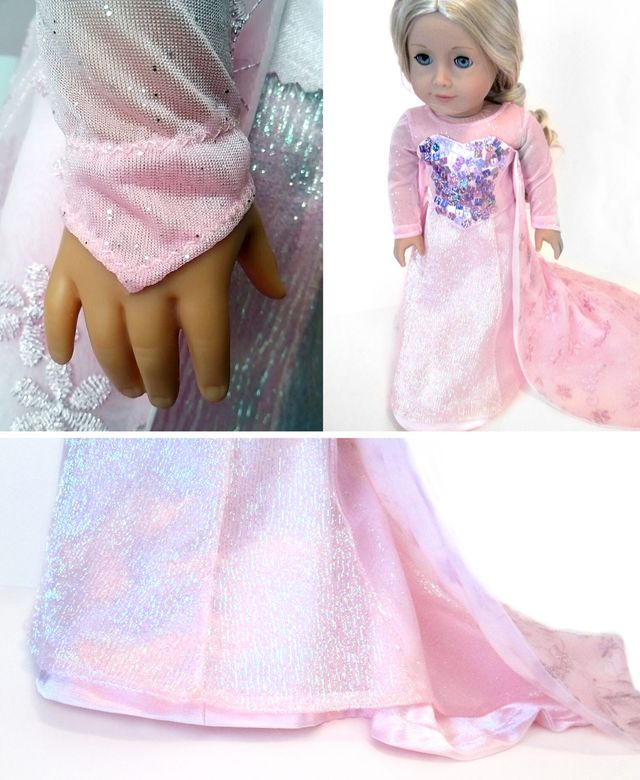 Pink Springtime version of Elsa's gown called "Break of Dawn". The title comes from a line in her song "Let it Go"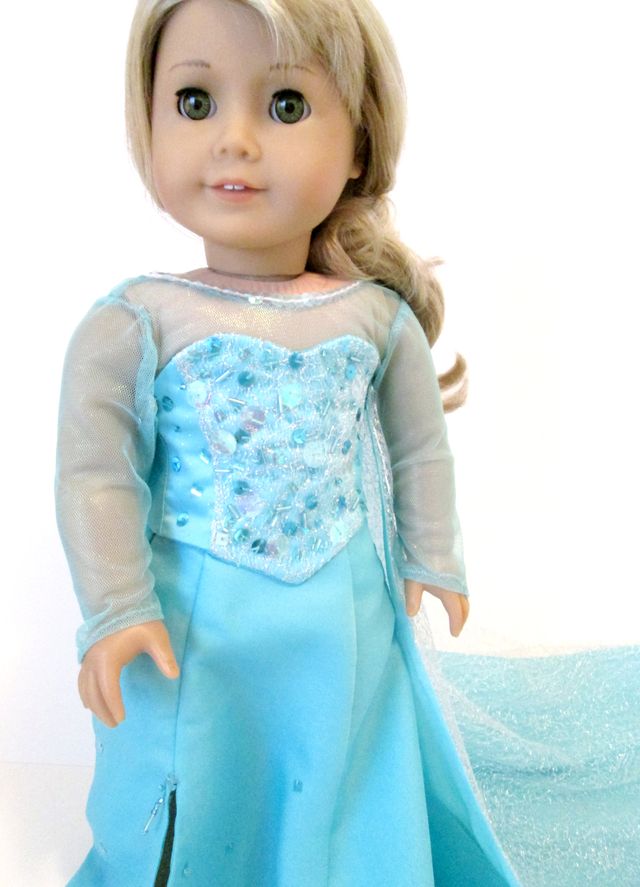 Elsa closeup
Shows sequin and bead detailing on bodice and skirt