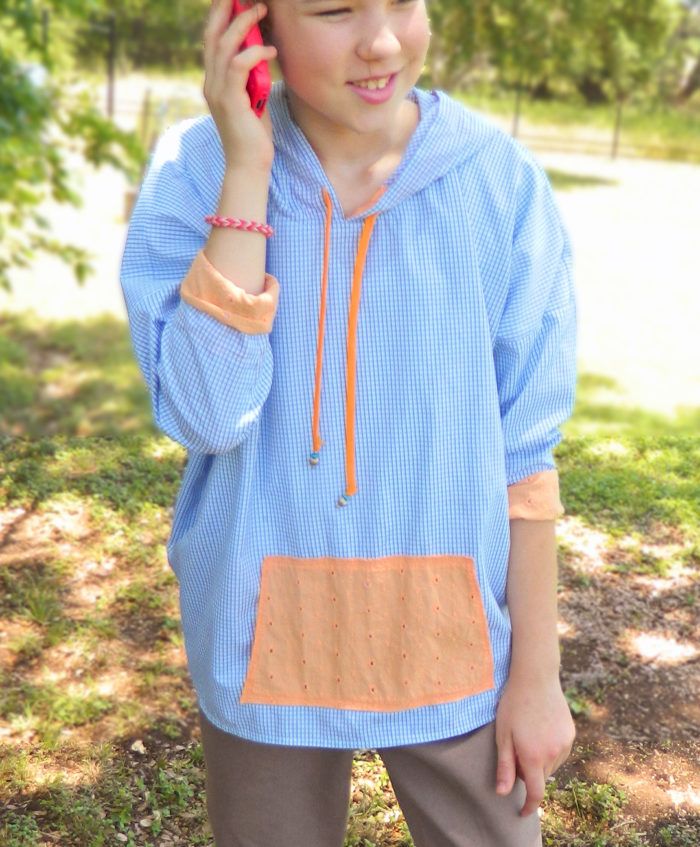 Middle school fashion is tough enough: it seems like you have to satisfy everyone else's criteria (school, parents, the other kids); your body is changing every day, so you're never sure how things will feel or look; and you just want something comfortable & stylish that reflects YOU. Then you discover that your scoliosis has gotten worse, and now you need to wear a Boston brace 20 hours a day to straighten your back. Overnight everything is all wrong: your clothes are all too tight or reveal too much – there's no overlooking that brace.
Nevertheless, you are brave; you will face this thing head on: you will… GO SHOPPING! Where… you find the jeans are mostly low-cut – without a hipbone to hug, they slide right off the slippery brace. The pants that fit your brace's large waist sag around its small hips – and at the very bottom, where your own extra-small bottom sits, it looks like you have no bottom at all! Up top is not much better; the brace doesn't add much girth, but it does stick out, especially when you lean over. Let's face it, you have weird proportions, new angles, and ready-made is definitely NOT ready for YOU!
This is the dilemma my daughter has been facing this year. Lucky for her, right now is actually a good time, fashion-wise, to wear a brace — tops are longer & billowy; scarves, cardigans & vests are in style. If we could just resolve that problem of her pants sliding off, she could rock a look like nobody's business. Her luck continues: her mom can sew!
Although I liked the blue & white 80% poly/20% cotton shirting fabric, I thought this top seemed a little bland, so I made good use of some scraps I had from my earlier pajama project (another entry) to trim it. In addition to the making the pocket from these scraps, I embellished the pattern to add the orange fabric at the cuffs and hood edge. These accents draw the eye and give the garment a playful pizazz. A couple of silver & turquoise baubles snipped off some fancy trim I found in my stash added a fun, finishing touch to the hoody ties. The hood and generously relaxed styling go a long way to help to camouflage my daughter's back brace. This lightweight pullover is a favorite top layer on those spring days that go from cool to warm and back again.