Pretty On the Inside Jeans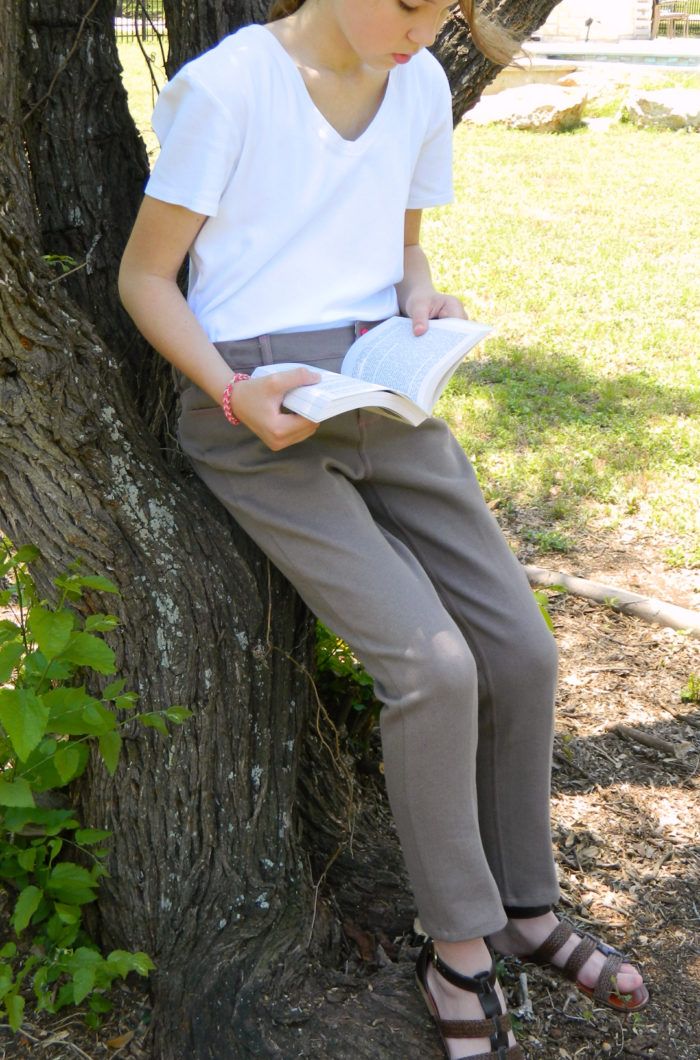 Middle school fashion is tough enough: it seems like you have to satisfy everyone else's criteria (school, parents, the other kids); your body is changing every day, so you're never sure how things will feel or look; and you just want something comfortable & stylish that reflects YOU. Then you discover that your scoliosis has gotten worse, and now you need to wear a Boston brace 20 hours a day to straighten your back. Overnight everything is all wrong: your clothes are all too tight or reveal too much – there's no overlooking that brace.Nevertheless, you are brave; you will face this thing head on: you will… GO SHOPPING! Where… you find the jeans are mostly low-cut – without a hipbone to hug, they slide right off the slippery brace. The pants that fit your brace's large waist sag around its small hips – and at the very bottom, where your own extra-small bottom sits, it looks like you have no bottom at all! Up top is not much better; the brace doesn't add much girth, but it does stick out, especially when you lean over. Let's face it, you have weird proportions, new angles, and ready-made is definitely NOT ready for YOU!This is the dilemma my daughter has been facing this year. Lucky for her, right now is actually a good time, fashion-wise, to wear a brace — tops are longer & billowy; scarves, cardigans & vests are in style. If we could just resolve that problem of her pants sliding off, she could rock a look like nobody's business. Her luck continues: her mom can sew!
At this point, I must confess to a certain fear of sewing-to-fit. I consider myself an experienced & talented seamstress: I am undaunted by complex patterns, fearless in the face of expensive or difficult to handle fabrics, and there is no project too large to tackle. However, I have never properly learned to alter patterns to achieve a better fit.  I have never done much sewing for other people precisely because the entire fitting process made me nuts, and when I did, it was often a flop. I had a collection of patterns that worked for me, and I never faced up to my knowledge deficit. The issues posed by the back brace were downright intimidating to me.  However, if my daughter is brave enough to deal with the back brace, surely I can get over my fear of fitting and learn a thing or two!
That was my impetus for these Pretty on the Inside Jeans. I bought this stretch denim remnant for cheap at a yard sale, and although drab, it seemed like just the ticket to work out the tricky fit of jeans over a back brace. I used Butterick pattern 5682 to fashion a pair of jeans with a size-14 waist, size-8 hips, and size-6 legs. The size-14 waist was too large, but the size-12 waist was too small. Although I could compromise in the middle, I decided that a better solution would be to make the waistline adjustable by inserting buttonhole elastic, as one often sees in children's clothing; this has the advantage of allowing the jeans to be worn even without the brace.
At the start of this project, the jeans were not exactly a hit with my daughter; she found the taupe color unappealing. So, I added some bright pink topstitching and a sparkly pink button to perk things up. Asymmetrical topstitching on the back pockets added some whimsy. Then I added a jaunty print for the pocket and waistband linings — of course, nobody can see that, but it makes me smile knowing it's there. Now that the jeans are completed, my daughter has warmed to the them, but she's looking forward to the next pair in HER color. I always tell her that it's what's on the inside that counts; I hope these jeans remind her that no matter what she has to wear on the outside, she is always beautiful to me — on the inside, where it counts the most.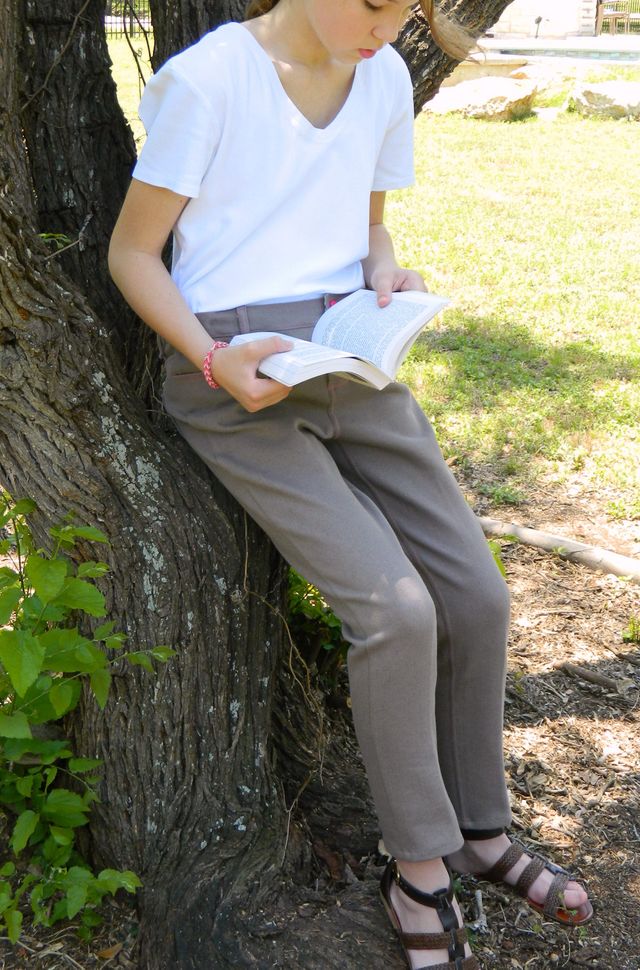 Pretty On the Inside Jeans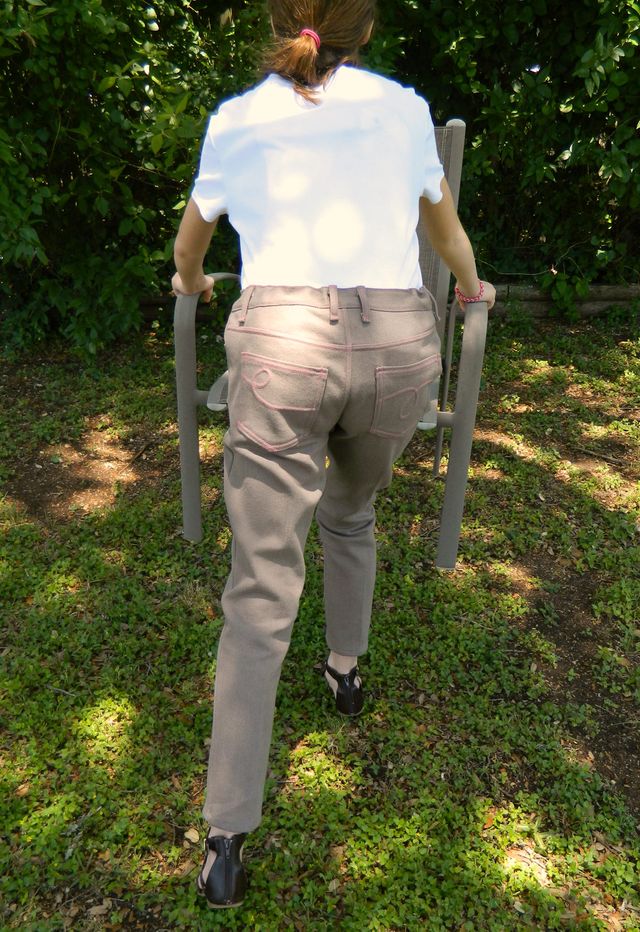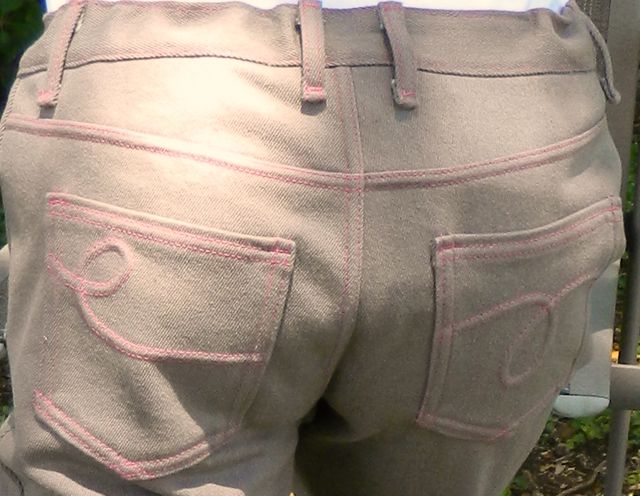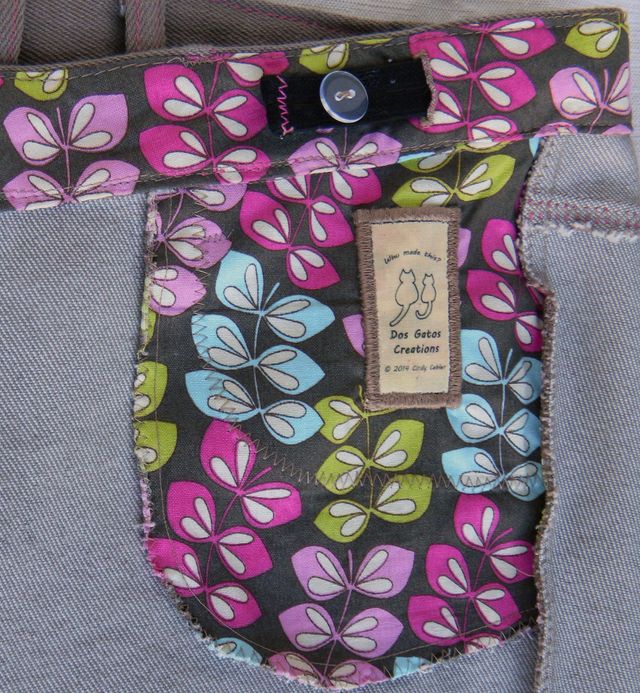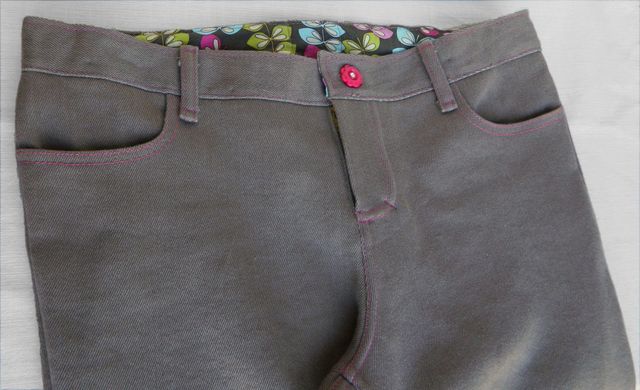 Pretty on the outside, too