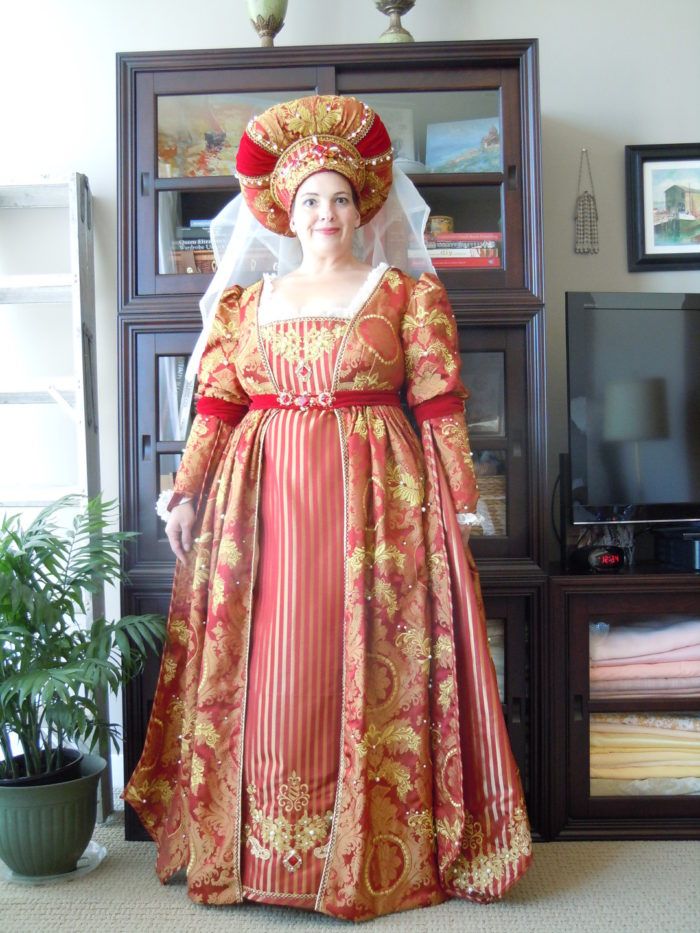 My Halloween costume this year is an Italian Renaissance inspired hat and gown:
 ·         Fabric
The dress is made with two different fabrics.  The outer skirt, sleeves and bodice are made with a brocade and the underskirt is made with a matching stripe.  Both pieces were bought from the home décor department and sat in my stash for several years waiting for the perfect project.  The outer skirt, bodice and sleeves I embellished with freehand circles of aprox 4″ diameter using two different decorative stitches (narrow satin stich and small circles in a chain).  I also used machine embroidery in three different designs (manipulated by me with software to fit the preexisting brocade design).  Both the free hand circles and the machine embroidery were stitched out in Gold Metallic thread….Yes, the metallic thread kept breaking….Ugg!  I then embellished the designs with individually sewn on pearls in three different sizes and plenty of rhinestones (lesson learned: never sew pearls on any part of the garment you will be sitting on…ouch!).  The underskirt and center front of the bodice was embellished with more machine embroidery, pearls, and rhinestones.  The dress was finished off with a red velvet belt, organza with a small lace trim ruffled around the neckline and wrists, and three different gold trims around the edges.
 ·        Construction – Dress
The dress is my own pattern.  The bodice is lined with medium weight muslin and structured with several steel corset bones.  The back has grommets which are laced up, like a corset, for closure.  The outer skirt is cartridge pleated and hand sewn on to the bodice.
 ·         Hat
The hat is also my own pattern.  It is constructed out of buckram, millinery wire, and a fabric donut.  The hat uses the same fabrics as the dress and is embellished with embroidery and pearls.  As I ran out of the trim I used on the dress, I had to use different trims….I hope no one noticed!  I then added several metal findings (normally used for jewelry) which I soldered together and embellished with….yes, more rhinestones.  When it comes to rhinestones…"more is never enough".  The finishing touch is a veil made out of organza; hemmed with a tiny zigzag stich using a wing needle.
Getting into this dress was a comical adventure as I was by myself and found that lacing grommets behind one's own back a significant challenge.  Needless to say, I have posted no pictures of the back of the dress.  I estimate the total dress consist of over 15 yards of fabric, 10 yards of trim, 8 spools of metallic thread, two bloody fingers and 300 hours of my labor.   Total cost….priceless!