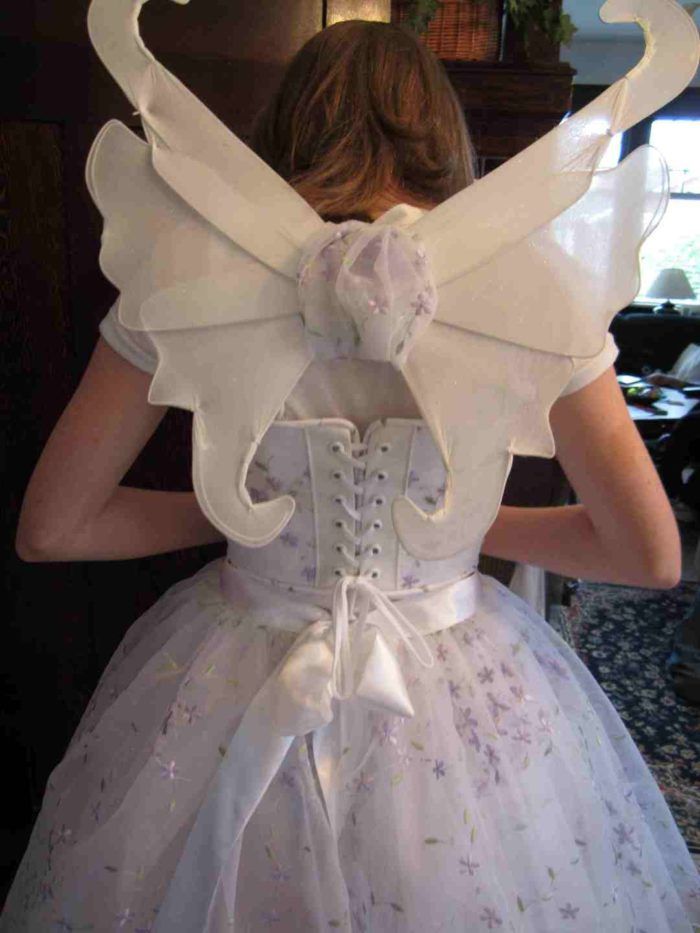 Elizabethan Fairy
The Story
My youngest stepdaughter, Sarah, wanted to be a fairy for Halloween. On a trip to one of our local fabric stores, she was excited to show me a lovely white sheer embroidered with purple flowers and green leaves. She asked if I could make her a skirt from it. Simple! When I asked what she would wear on top, she said, "How about a top like that one you made for the queen?" — a boned Elizabethan bodice that I had done as part of a full court ensemble for "Elizabeth Rex" at one of our local theatres. But this time, even a hidden front zipper wouldn't do: it had to be fully boned and laced in back. And so it was!
Fabrics
The sheer was a drapery weight and easy to work with, but of course needed backing for the bodice and the piping. The final bodice was made of white canvas, two layers of soft white cotton, the sheer, plastic boning, and a double canvas layer as grommet beds on either side of the back. The piping was twisted white cotton cord. The skirt started with a white cotton panel, to which I stitched numerous layers of white netting and a final layer of white tulle just under the sheer. The waistband was wide white grosgrain overlaid with a second grosgrain, to which I had pre-stitched the white blanket edging, leaving the ends long, as ties.
Patterns
I based the bodice on previous versions for theatre, which originated with Margo Anderson's "The Elizabethan' Lady's Wardrobe, Pattern No. 002." I just made up the skirt.
Construction
I cut basic shapes and draped them on Sarah for the bodice, then freely adapted as I went, matching the basic embroidery designs on both sides of the bodice as much as I could, and adding some gathers across the bust (underset by another row of piping), to introduce some fullness there for a young figure and flat-boned fashion. I sewed the boning channels into the canvas and first white cotton layer, and final-stitched the piping by hand on the inside. I added some of the sheer to a pair of purchased fairy wings, to tie them into the costume.
Result
Sarah was thrilled to pieces with this costume. She had requested no sleeves, and she wore a T-shirt under the bodice … dubious as Elizabethan, but she was delighted!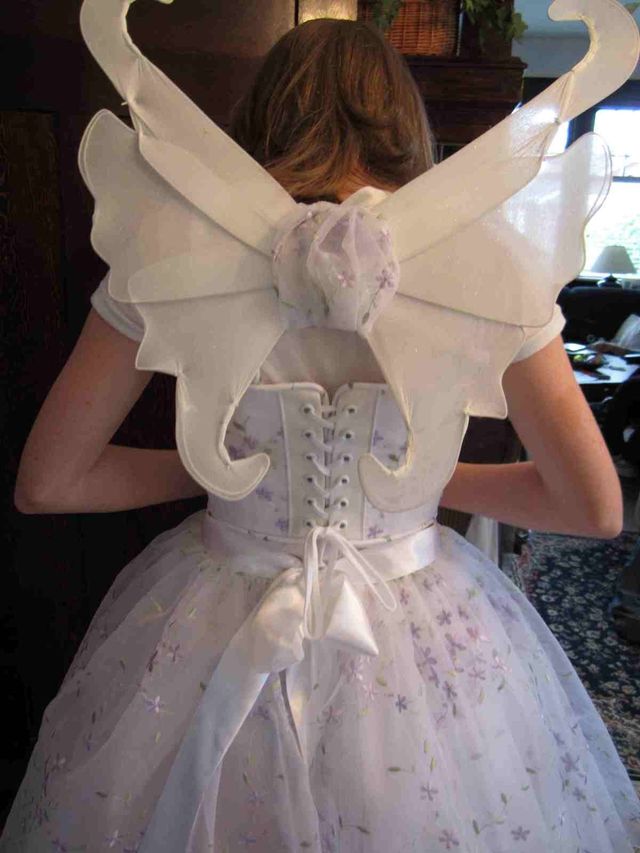 Back view including purchased wings.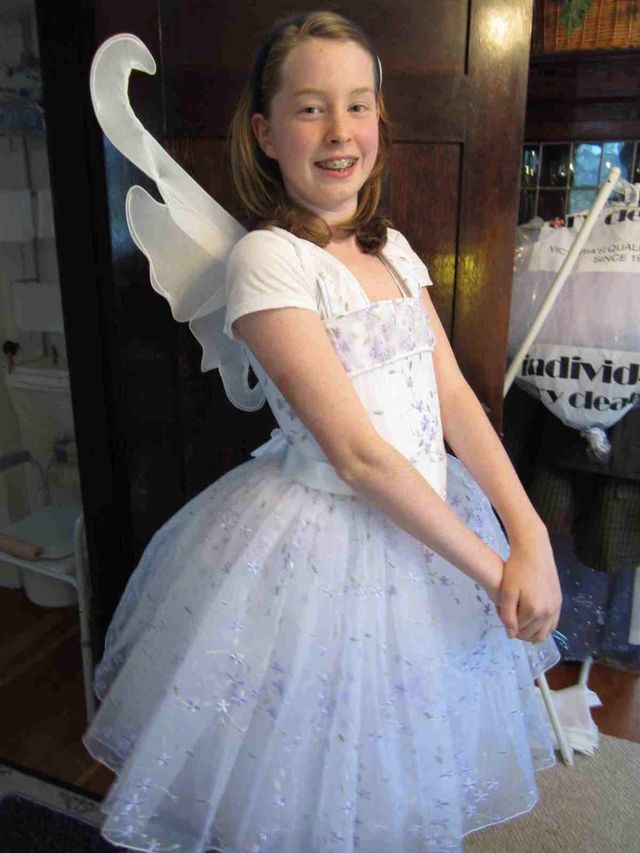 Happy fairy at the final try-on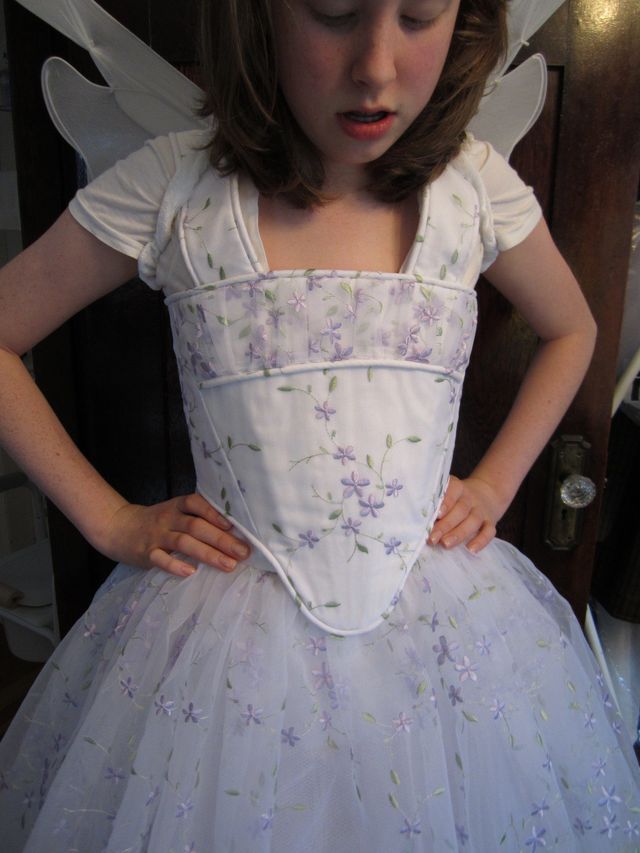 Inspecting all things fairy ...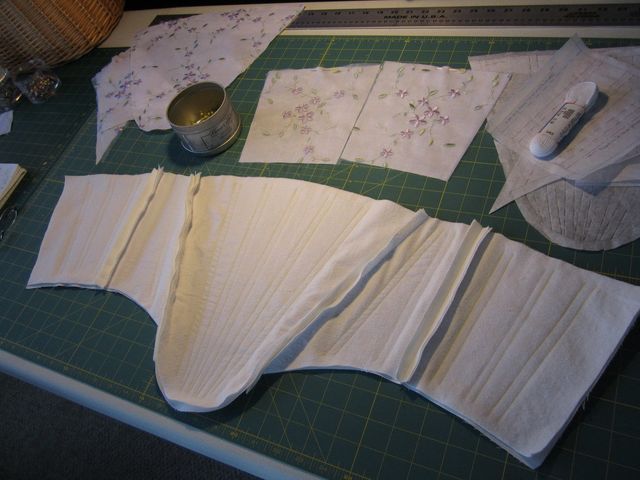 Bodice under construction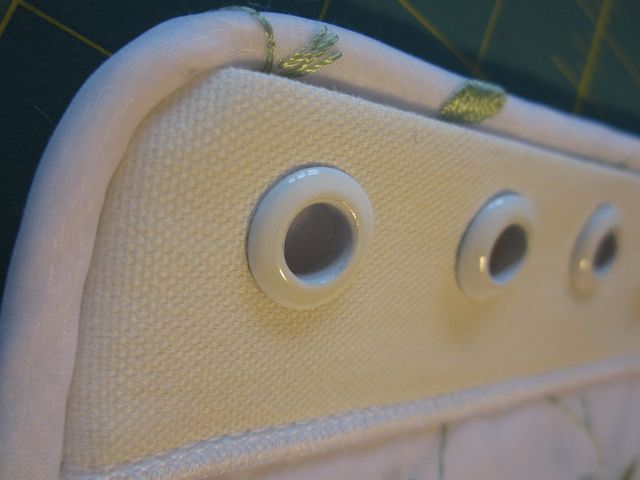 Closeup of back grommet panel