Culotte Jumper – Frankenpattern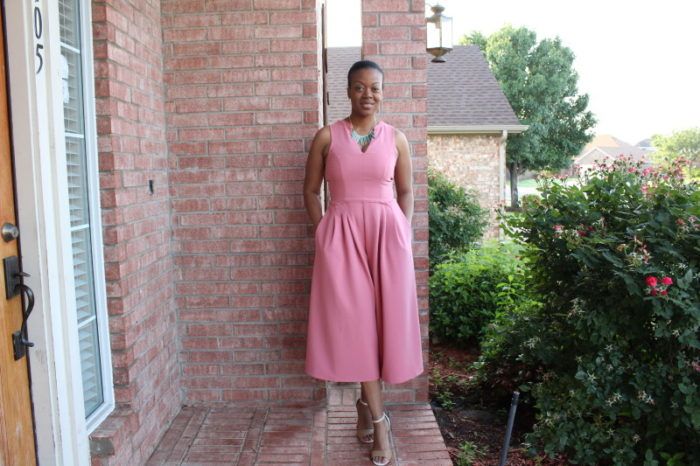 Vogue 9075 has been making the rounds in the sewing community lately because culottes have come back around on the style circle of life.
I admit, I wasn't a huge fan of this pattern and I really couldn't figure out why. After looking at numerous projects from other people and staring at this pattern on the Vogue patterns website, I finally figured out what was turning me off. It was the bodice.
So, I decided to make a different bodice using Vogue 8993 with these bottoms and I just love the way it turned out and I strutted and twirled all day in it! Gosh, I love making my own stuff!
I cut a size 12 in the bodice and took it in at the underarm seam just about an inch just for the top 1.5 inch of the seam. I just tapered that adjustment down into the original seam line. Everything else fit perfectly.
I cut a size 14 in the pants. Ah, that tricky pattern sizing! I'm usually a 12, but per the envelope, I was a 14. After a quick tissue fit, I realized I still needed to add 1 inch width to the front pant pattern piece. I added it between the pleating and side seam. Easy peasy.
Honorable mention goes to the crotch. It is shallow, so if you are long waisted (is that a word?), I suggest you measure your pattern piece against your crotch length and depth or you may be in for a chronic case of wedgie.
The sewing instructions for both the bodice and pants were super easy. If you are comfortable with lined bodices, you probably won't even need it. The pants you can sew with your eyes closed.
I loooooove that these pants have pockets!
I used a mauve colored stretch crepe I've had in my stash since last fall. It's from Low Price Fabric. They sold out in this color, but they have another beautiful teal. Find it here. The fabric cuts and sews very easily. I serged my seam allowances.  I lined the bodice with some tan mystery knit I had in my stash.
Thanks for clicking on me! Feel free to visit my blog for more pics and my DIY projects!