From a Warm Blanket to a Cozy Coat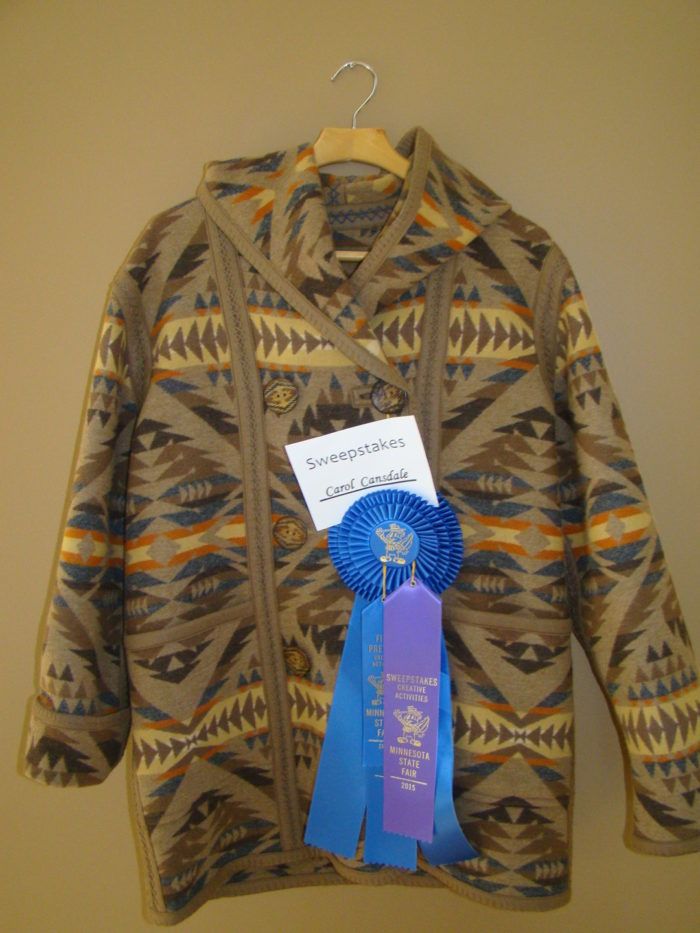 It gets pretty cold here during a Minnesota winter so many of my sewing projects are coats or involve wool.  My absolute favorite wool is Pendleton, and I'm in love with all of their Native American prints.  For this project  I used a piece of Pendleton's Diamond Desert Dark print, available at their Woolen Mill Store in Portland, Oregon.  (Yes, they will mail-order!).   The Pendleton prints are beautiful on both sides, and it's always difficult to decide which side of the fabric to use.  The Native American prints are also very trendy right now.  I'm always looking for a sewing pattern that will allow both sides of the fabric to show. 
Long time Threads readers might recognize the source of my inspiration for this coat.  I often save articles from Threads and file them under 'sewing inspiration' and for this coat I referred to Threads issue #49 from October/November 1993.  The author, Rochelle Harper, used a Pendleton print to craft a similar coat made from a Pendleton print, and used a different construction technique which I also incorporated.  Basically, all the individual pattern pieces are cut without seam allowances, and then bound with wool binding (also available from Pendleton).  After this step, all the pieces are zig-zagged together, and then finished with decorative hand stitching using wool thread.  The handstitching can be tedious to some sewists, but I found it relaxing  and allowed my artistic side to shine.   The result is a stunning garment that looks handsewn and is also reversible! 
For my coat I used Kwik Sew 3197.  A few adjustments were made to the pattern so it would be totally reversible.  I made the pocket that the pattern called for on the outside of the coat, but added an inside bag to the existing pocket and a welt opening to the 'inside' of the coat.  The buttonholes were made from pieces of the wool binding and reversible and the front lower edges were slightly rounded to allow a smooth binding finish.  Just for fun I used an amber colored wool thread for the decorative hand  stitching on one side, and an indigo blue color thread for the other side.  Lots of pre-planning is needed before cutting such a large print so the large design lines up well and even with checking and double checking of my work,  I'm a nervous wreck when I cut into expensive fabric!  In addition, careful thought should be given to the order of construction because the wool binding will cover many seams that are traditionally sewn in a different manner.
The icing on the cake came when I won the Adult Sweepstakes with this coat at the Minnesota State Fair this summer, achieving a perfect score and a rave review from the judge!  I couldn't be prouder and excited to start my next sewing project.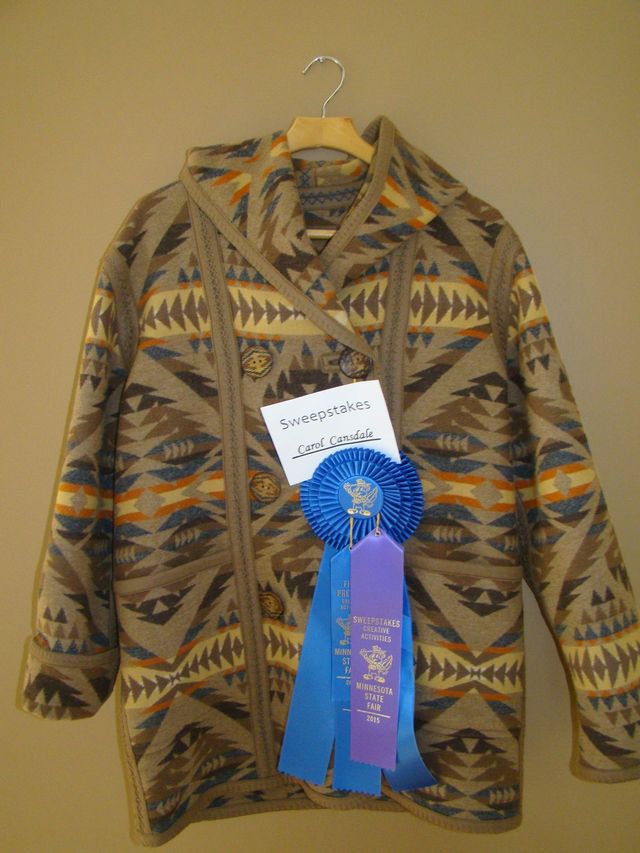 The finished coat - it won the Sweepstakes in Adult Garments at the Minnesota State Fair this year!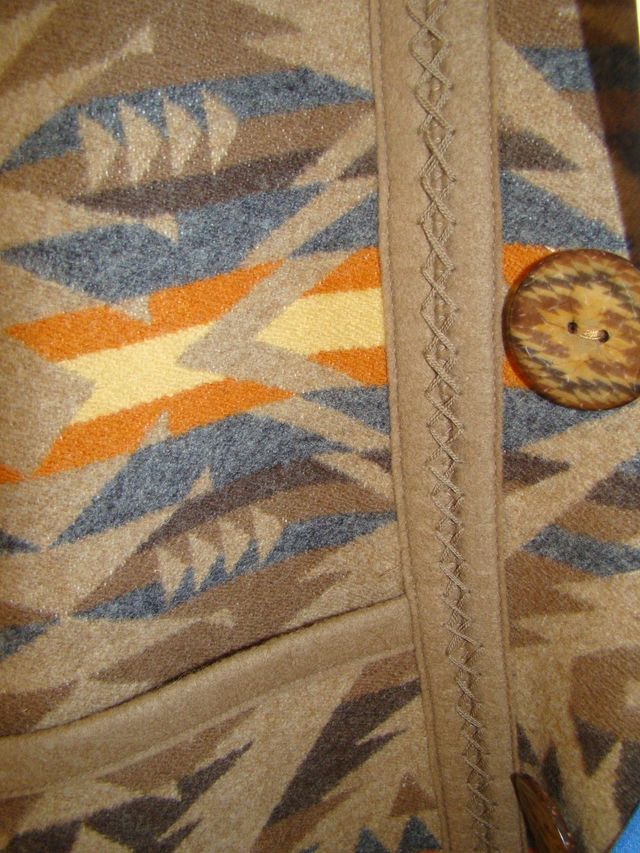 The pattern pieces are finished with wool binding and zig-zagged together, then finished with decorative hand-stitching.  This is a view of the front with the pocket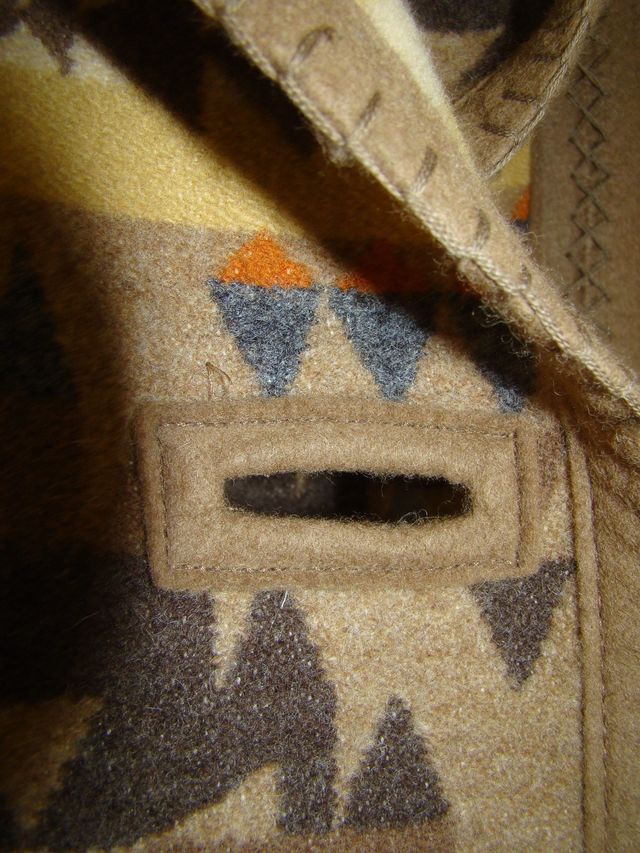 I used pieces of the wool binding to make different type of bound buttonhole.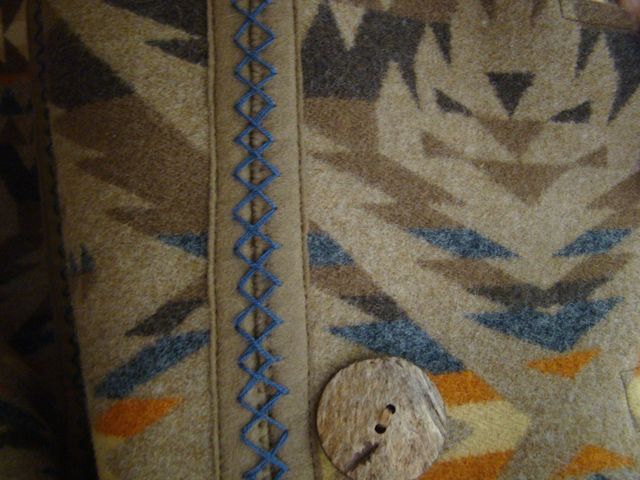 The opposite side of the garment has indigo blue decorative hand-stitching and different buttons.  The garment is completely reversible.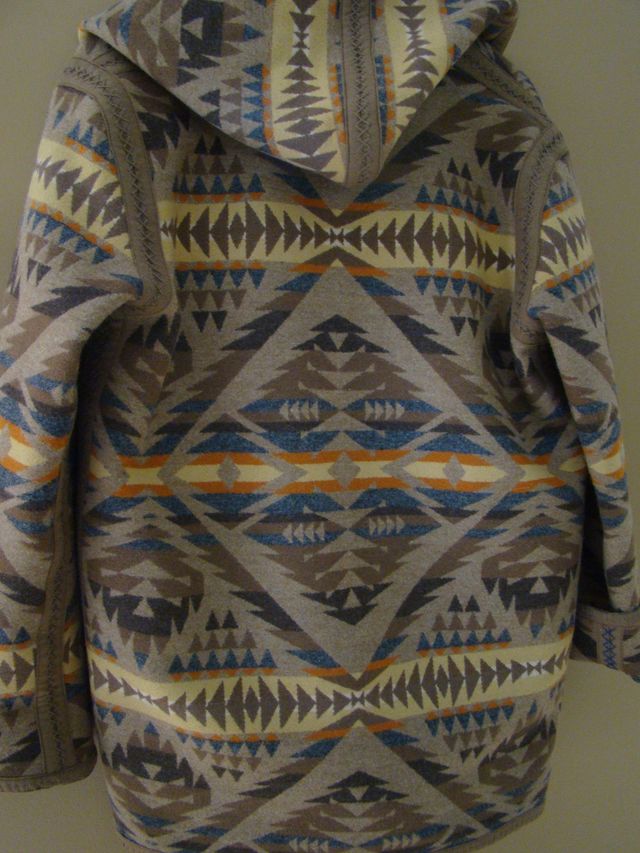 Careful thought should be given to the print before cutting, to ensure that all the designs match up as much as possible.  This is a view of the back, which is cut from one piece.