Assimilated Cyborg / Robotic Machine Cybernectic alien species / Human Collective seeker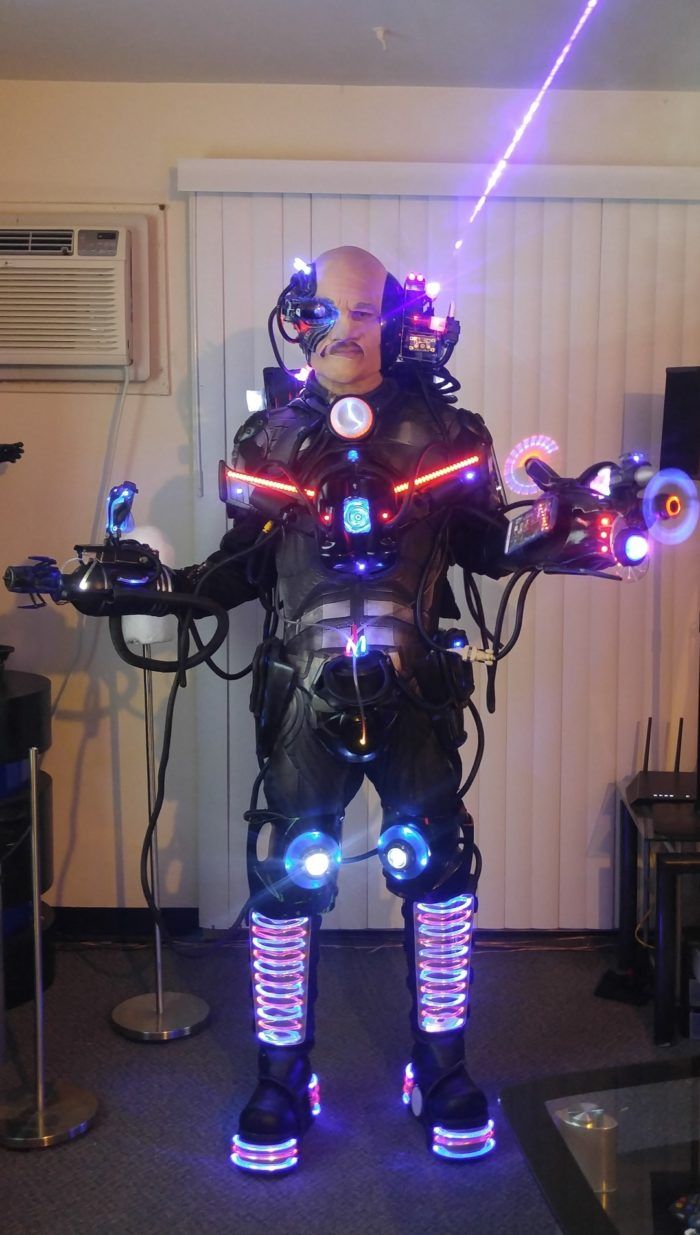 Hello,My name is Kenny, and I've always been a huge fan of technology! I've always been good with wires. I have thousands of random wires I've collected throughout the years) My other talents consists of soldering, modifying components, computers, and game systems, operating systems etc.Star Trek The Next Generation movie series had a race of cybernetic organisms call Borg. They assimilate other species of humans or other aliens into their collective to make them like the rest of Borg. I've always been a huge fan, and I wanted to create a similar idea of how they look in the movies, but modify it to my own design, and ideas.I spent hundreds of hours, and thousands of dollars on this costume and worked very consistently to finish before the Halloween 2015!I have hot glue burns, solder burns, razor cuts, drill bit cuts, and super glue still on my fingers, haha, It can get brutal, but I'm pretty happy with how it turned out!One of my favorite features (besides the laser:P), is that It has a built in drink holster in the crotch area with a straw that comes up through the mask so I can enjoy a cocktail with hands free! I also made a little door hatch that allows you to go to the bathroom instead of taking the whole costume off!THIS VIDEO Demonstrates how the Laser/Blower/Smoker works on the side of the face: https://youtu.be/0V8wC-QlTe0Here is a list of some more details about the Costume I built, and designed. Hope you enjoy! Thanks for looking!Main Features: 226 LED Lights4 1/2″ Heel lift (makes me 6'4″)13 Different Real Moving Robotics!Uses (2) LG G3 Smartphones (Both Magnetic Mounted)Built-in Wireless BluetoothVoice Changer Ready (haven't mounted the microphone yet)Smoke Effects!Real 1 Watt Laser!100 Watts of Powerful Sound!(4x) Speakers!(13x) USB Cables(5x) Plasma Electricity plates(1x) Plasma Electricity ballPOWER:::- iSound rechargable 16,000mAh – 5v USB (4.8amp max)- BTOOP rechargable 15,000mAh – 12V (10 amps max) + 5v USB/ (2.0 amp max) – Black rechargable 8,000mAh – 5V USB (3.1 amp max)- (3x) Innergie rechargable 6,800mAh – 5v USB (4.2 amp max) (12.6 amps total)- (2x) LG G3 Batteries 3,000mAh each – Anker 1500mAh – (8x) AAA Batteries TOTAL: (OVER 70,000Mah all together) (about 22 Amps @ 5v / about 10 Amps @12v)SOUND::::- LG G3 (Attached to gun "left hand" Controls sound effects)- Boss 100 Watt RMS 12v car amplifier (BIG SOUND)- Anker Bluetooth Receiver/Transceiver- (2x) 1.5″ Micro Tweeters speakers PAIR 200 Watts RMS (Installed inside gun "left hand")- Panasonic 2-way Full range Speaker 125 watts (installed on upper back)- Built in 2″ full range speaker inside left hand (secondary gun sound effects activated with trigger inside)_______________________________FULL LIST OF ITEMS ADDED::::_______________________________MASK::::  Connections— (4 USB cables, 1 button, 1 VGA Cable, 1 RCA Cable)(1x) Locutus of Borg Mask (Main Shell)(1x) Blue 1 watt laser (5v)(2x) Motorized Robotic paddle (5v) (one for eye, one for laser)(1x) Kanger Sub Ohm Clearomizer(1x) 5v to 12v step-up module(1x) Blower fan from Sony TV(3x) Small pieces from toy car(1x) body of a beard trimmer(1x) 510 Battery tread holster(12x) BLUE LED's (5v)(12x) RED LED's (5v)(1x) Amber/orange LED(3x) UV LED's (5v)(3x) WHITE LED's (5v) (Blinking)(2x) Chrome panels from Boots(1x) White Tube from plastic water bottle(2x) E-liquid bottle(1x) Mouthpiece from snorkel(6x) Plastic screw sockets (used on mask as blue glow)(1x) Spring(1x) Clear Headphone ear bud(1x) left eye from sunglasses (right eye)(3x) Grapefruit Container lids (inside)(1x) Steel round Bracket from Speaker a stand (inside)(3x) E-cig mouthpiece covers(1x) Blue spiked ball (organic material around eye piece)LEFT HAND GUN::::  Connections— (1 USB Cable, 4 Buttons & Switches, 1 VGA Cable)(1x) Tropicana orange juice Bottle (Main Shell)(1x) Small Toy Gun(1x) LG G3 Smartphone with Magnet (Controls sound effects)(1x) Plasma Ball (5v)(1x) 12″ RED Programmed LED Strip (5V)(4x) Spinning Motors (5v)(13x) RED LED's (5v)(10x) BLUE LED's (5v)(2x) GREEN LED's (5v)(1x) YELLOW LED (5v)(1x) Round Steel Ball (for mounting magnetic LG G3 Phone)(1x) Plastic kitchen spoon shaft (for holstering gun)(3x) Flat metal brackets(1x) ON/OFF Switch for Gun soundRIGHT HAND SEEKER:::: Connections— (1 USB Cable, 3 Buttons and switches)(1x) V8 Juice bottle (Main Shell)(1x) Motorized turning Hexbug Spider (5v) (used for claw)(1x) Ipod Nano video player (5v) (assimilation display)(1x) Motorized Robotic Paddle (5v) (Holds iPod nano)(5x) RED LED's (5v & 3v)(6x) BLUE LED's (5v)(2x) WHITE LED's Blinking (5v)(1x) Spring(2x) Tron action figure thighs(1x) Tron action figure chest(1x) HTC phone battery cover(1x) Plastic Remote control car part (engine chamber)(1x) Toy car wheel(2x) Electric beard trimmer plates(1x) Clear air Tubing(1x) Plastic kitchen spoon shaft (for holstering gun)(1x) Random Round plastic piece (tip of claw)CHEST:::: Connections— (1 USB Cable, 1 Button, 2 RCA Cables)(1x) Toy jet spaceship (Main shell)(1x) Detachable LG G3 Smartphone that attaches via Magnet socket (Has interactive live wallpaper with symbol in center)(2x) Motorized Robotic paddles (5v)(1x) Blue Plasma Plate (3v)(3x) RED LED's(4x) BLUE LED's(3x) Red 12″ programmed LED strips (96 LED's) ( (5v)(2x) Toy Plasic bowling pins bottoms(2x) Chinese Takeout plastic container(2x) Metal Pisces from Computer case(1x) Steel Socket (for connecting Magnetic Smartphones)BACK/SHOULDERS:::: Connections— (1 USB Cable, 9 USB Ports, 3 RCA Cables, 1 power wire "12v")(1x) Plastic silverware tray (main shell)(1x) Detachable iSound 16,000mAh Power Bank (Magnet Mount Installed)(1x) Steel Socket (for connecting Magnetic iSound Power bank)(1x) Panasonic 2-way Full range Speaker (125 watts)(19x) BLUE LED's(1x) GREEN LED(1x) RED LED(1x) Bluray Disc(2x) USB Splitters (4-way)(1x) White plastic Bottom of Dish rack (1x) Printer hinge part(1x) cylinder toy base(2x) Race car track round base(2x) Interior parts of remote control cars(1x) Round Plastic piece(1x) light up barrel from toy gun(1x) Battery box from remote control carCROTCH:::: Connections— (1 USB Cable)(1x) Gi-Joe Duke Helmet (Main Shell)(2x) Blue LED's(1x) Red LED(1x) Multicolor LED(1x) Red 32oz Plastic cup with screwable lid, and plastic straw(1x) Clear Plastic cup holster(1x) Tropicana Orage juice lid(4x) Clear Liquid Tubing HIPS:::: Connections— (1 USB Cable)(2x) laundry detergent Bottles (Main Shell)(2x) 5″ Glowing Fans (5v)(8x) Blue LED'sKNEES:::: Connections— (1 USB Cable)(2x) laundry detergent Bottles (Main Shell) (Also used for left and right hand holsters)(6x) White LED's (3v)(8x) Blue LED's (5v) BOOTS:::: Connections— (2 USB Cables)(1x) Demonia Techno-854UV Boots (Pair) (Main Shell)(4x) Plasma Plates (3v) (Blue) (32x) Red LED's(40x) Blue LED's(18x) Glowing Fiber Optics——————–BUILDING MATERIALS——————–LOTS OF Different types of WIRESSolder and fluxSide Glowing Fiber optics (3mm & 6mm)Electrical TapeDuck TapeBlack cable tubingSpray Paint (Mostly Black, and Neon colors)Hand paintsNutsBoltsWashersScrewsFlat, and "L" Shaped Brackets & FastenersHot GlueSuper GlueRubber BandsEtc….——————–TOOLS——————–Solder IronHot Glue gun (low heat, and high heat)MultimeterUSB Tester (Capacity Current Voltage)Circuit board holderClampsDrillHammerClampsPaint brushesScrew DriversSocet wrenchCaliperSawstape measureCredit cards (for scraping)RulerMagnifying glassPlyersTweezerswire strippersCuttersScissorsXacto knivesRazor bladesHack sawEtc….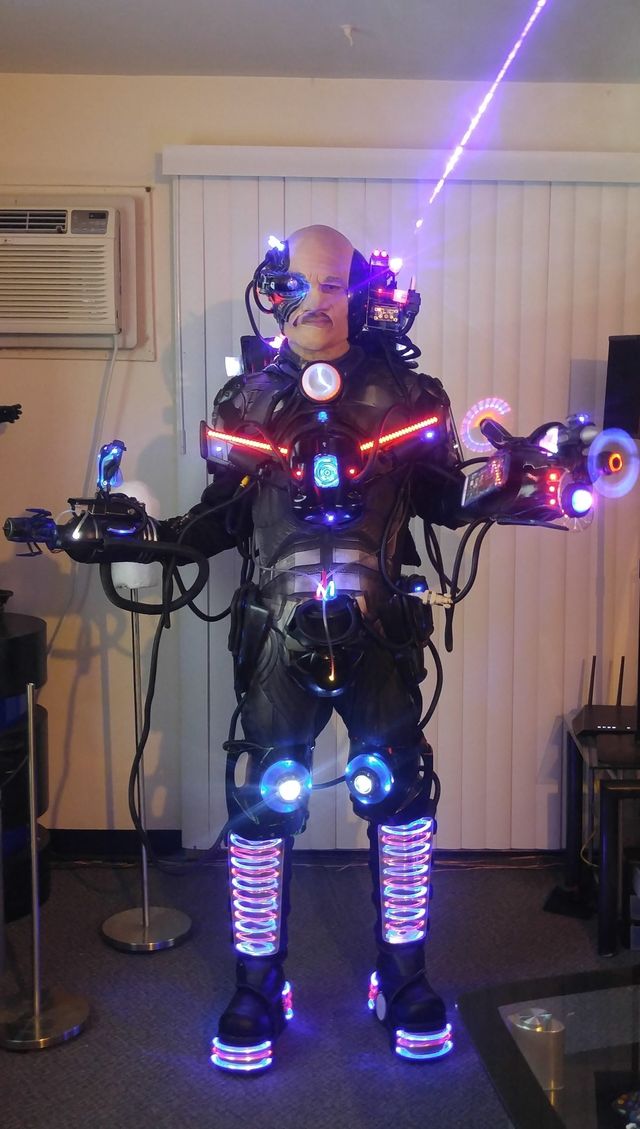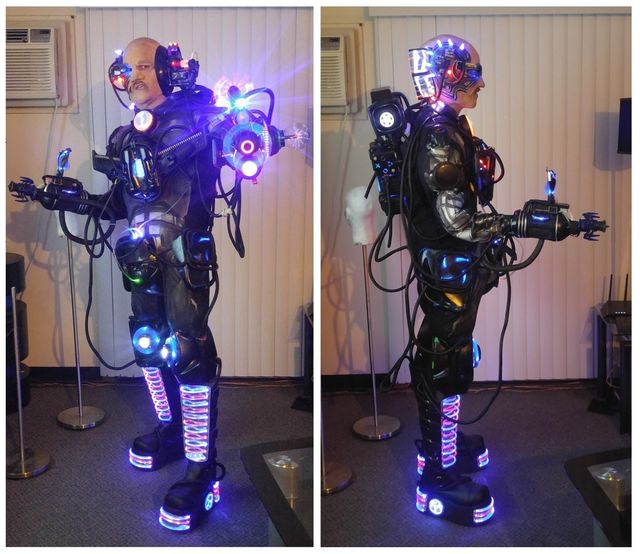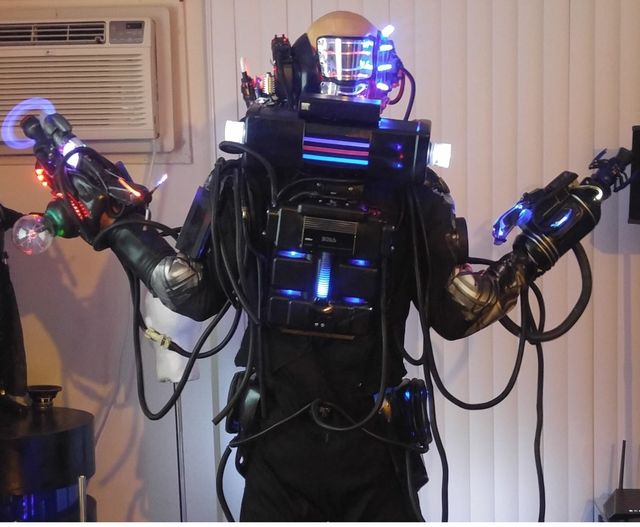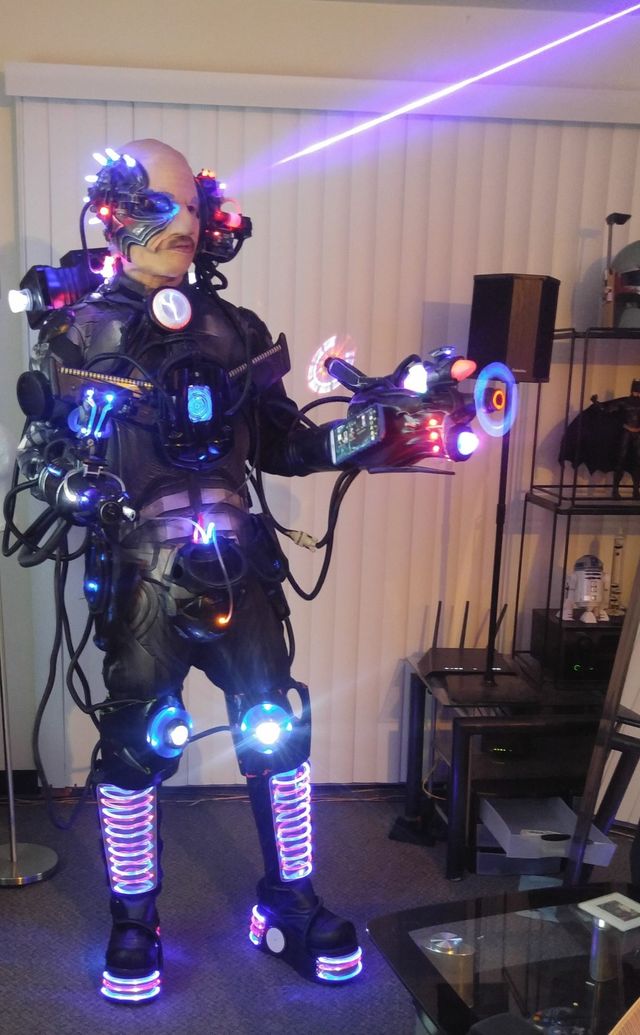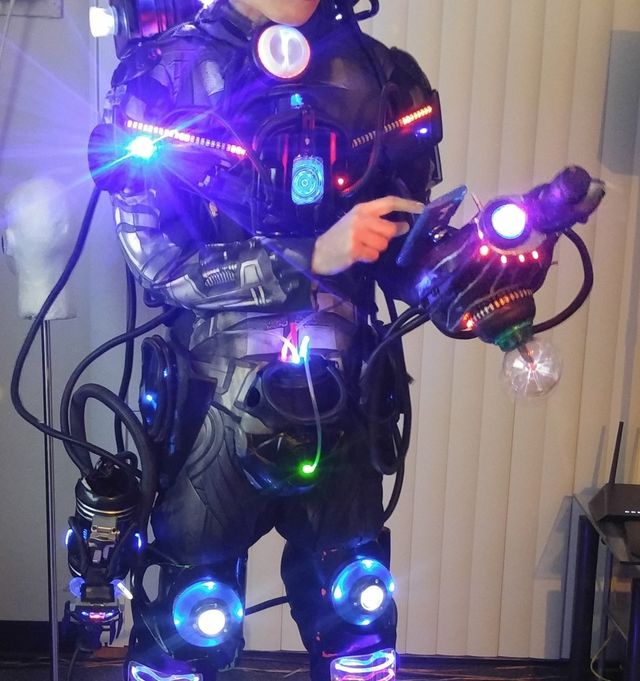 Get the latest including tips, techniques and special offers straight to your inbox.