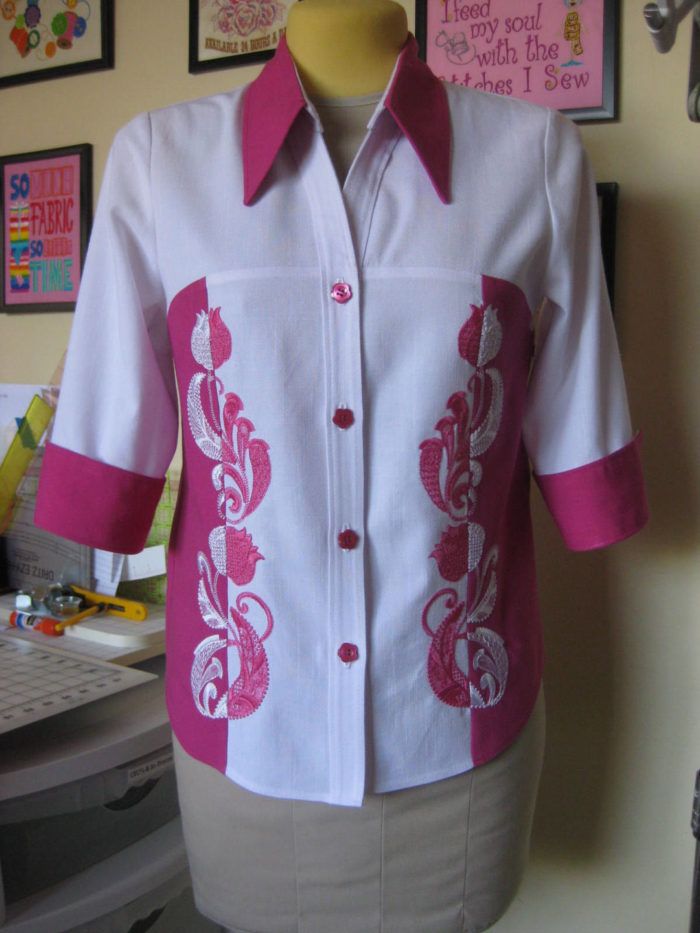 May I present my Color Blocked Blouse.  The bodice front, back and button placket are from Silhouettes pattern #575 (Sonya's Blouse).  The cuffed 3/4 sleeves, collar and collar band were self-drafted using New Look #6407 as the inspiration.  The machine embroidery designs are from Laura'sSewingStudio.com (Fantastic Tulips).  The fabrics used are both linen look, cotton/poly blends from my local Joann's fabric store.  
Many aspects of making this blouse took me out of my comfort zone and stretched my abilities as a garment sewist.  Placing the embroidery designs on each piece of fabric so that each design segment not only matched up when the contrasting fabrics were sewn together but also making sure that the designs were symetrical on both the right and left sides when the blouse was completed, was challenging.  I also drafted the collar band and collar (something I'd not ever done before) and although I had prevously drafted sleeves, I hadn't drafted a rolled/split cuff before this.  Another first for me with this blouse was stitching the buttonholes using my Bernina Deco 340 embroidery machine, which will now be my "go to" method for flawless/beautiful buttonholes.  All in all I learned a lot with this blouse and am proud of what I accomplished.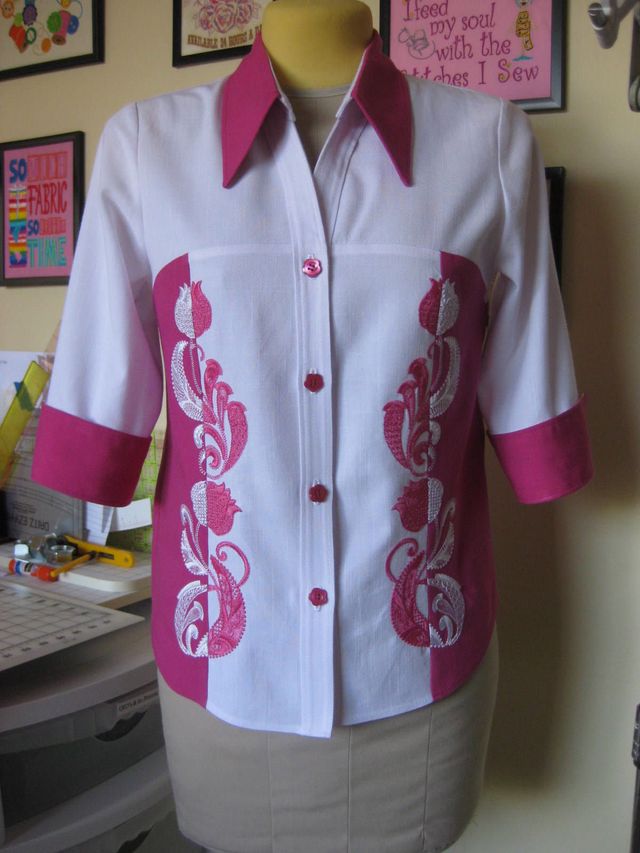 Front View of my Color Blocked Blouse. Note that the designs are symetrical on both the right and left sides. (8 embroidery design elements total on the front)
Side view showing sleeve cuff detail (self-drafted) and close up look of front embroidery.  
There are 2 white embroidery designs on the pink fabric and 2 pink embroidery designs on the white fabric for each front panel and they match up perfectly - yeah!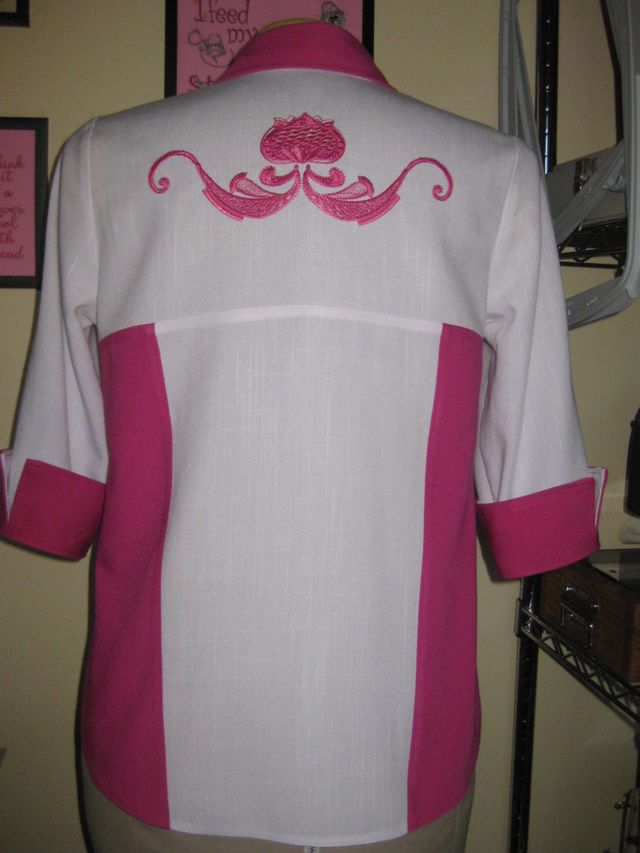 View of blouse back.  The embroidery on the back yoke is made up of 3 embroidery designs pieced together.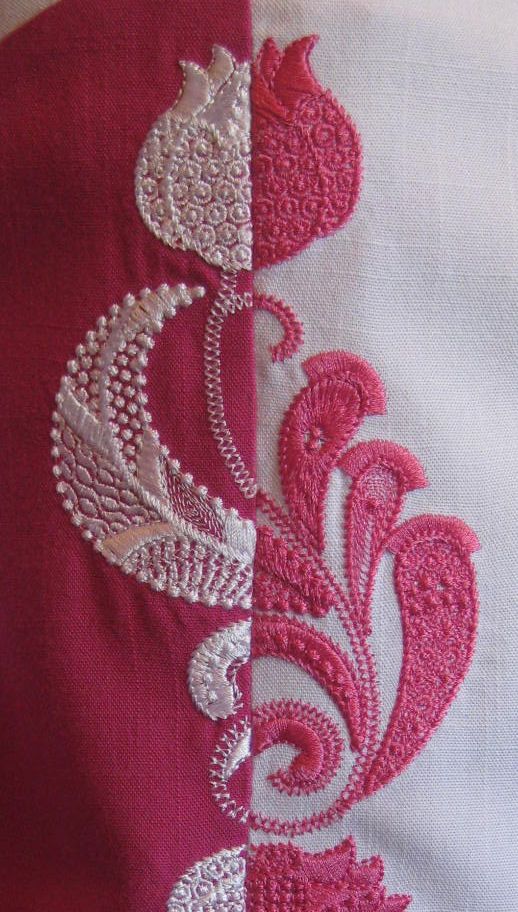 Close Up of Embroidery.  Each thread color was done on the contrasting piece of fabric.  Next the pattern pieces were cut out and stitched together, matching up the embroidered segments.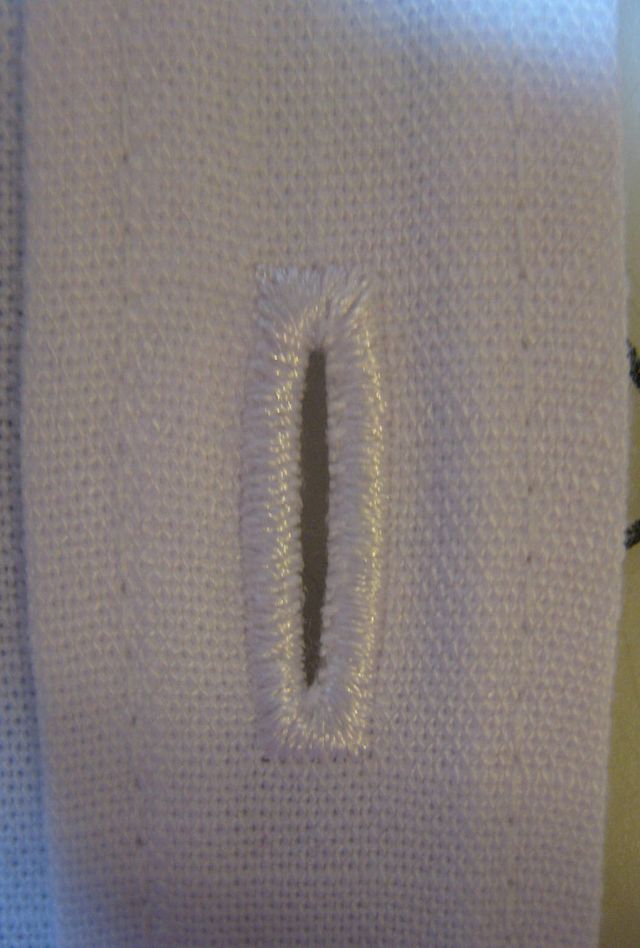 Isn't this the nicest buttonhole you've ever seen?  I'd never done buttonholes using my embroidery machine before but definitely will do so from now on.  They turn out perfect!