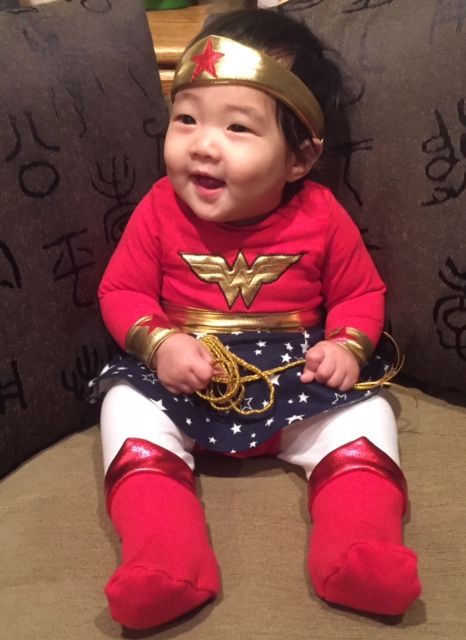 For our 5 month old granddaughter's first Halloween, I chose Wonder Woman for her costume.  This was in celebration of her amazing and safe late pre-term birth, Wonder Woman seemed suitable. Plus her older brother was going to be a Super Hero as well. 
The fabrics of choice were: Stretch cotton jersey for the onesie, leggings and boots. Gold metallic Lycra was used for the WW logo, tiara and power cuffs and belt. Red metallic lycra was used for the stars and the boot trim. Unfortunately, I was not able to source a navy with white stars in a stretchy fabric, so used flannelette. This meant having to divert slightly from the construction of the design and treat the skirt as a separate piece and add a stretchy waistband to match the belt. The flouncey underskirt is made from a remnant of her mom's wedding veil.
Simplicity pattern 8193 was used, with modifications.
Of course, Wonder Woman's outfit would not be complete without her Lasso of Truth. This one was made from a flat gold trim, handbraided and looped for authenticity. Our mini Wonder Woman thought it was especially useful as a teething ring!