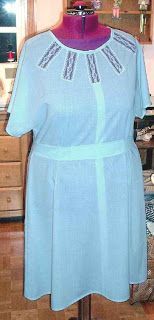 When my uncle dies and I didn't really have anything suitable to wear to the funeral, I headed for my sewing machines after the fact and whipped up these two dresses. The blue is good for funerals and year round wear. It also was my Mother of the Groom dress when my son was married. I got the fabric when our cosest JoAnn Fabrics went out of business. At that point it was $10/yard and at 80% off, I got it for $2/yard.
The light colored dress has green leaves on a white background. I wanted a lightweight dress appropriate for church, especially Easter Sunday. I didn't want it plain but with some sort of trim appropriate for my age at the time. I had an issue of an old Sew Beautiful magazine that had an article on three sisters that all had dresses made out of the same fabric, but with a pattern and trim to suit each girl. One of them had the neckline lace on it and I knew I was sewing the perfect thing. It wasn't much trouble to make and at the same time I felt like I was going to an extra effort.
The appeal of this pattern and the dresses from it, is I have rheumatoid arthritis. I can't begin to do back zippers, and buttons are a pain to do, so finding a pattern that was a pullover in a Woman's Plus Size and a tie to help with fit, was a Godsend. This was a very quick dress to make, as due to my health problems, sewing time is unfortunately limited. There were no special techniques to making the dresses other than the lace at the neckline and that involved following directions in the other magazine and making the lace insertions of an adequate size on the dress. Due to a bad slooped shoulder I also made lingerie gaurds for the first time and realized after the fact the the snap part should be closest to the neck as putting it nearer the shoulder, the tension on the slip strap pulls them open! Both dresses have pockets in side seams.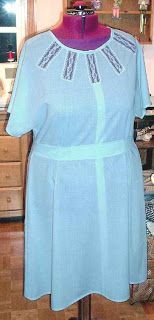 Simplicity Sewing Pattern 2615 Spring Dress with lace trim at neckline.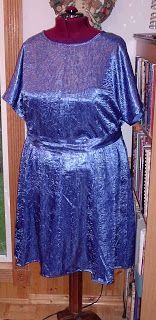 Simplicity Sewing Pattern 2615 Dress in solid crinkle blue fabric.