FIT AND FLARE FLORAL DRESS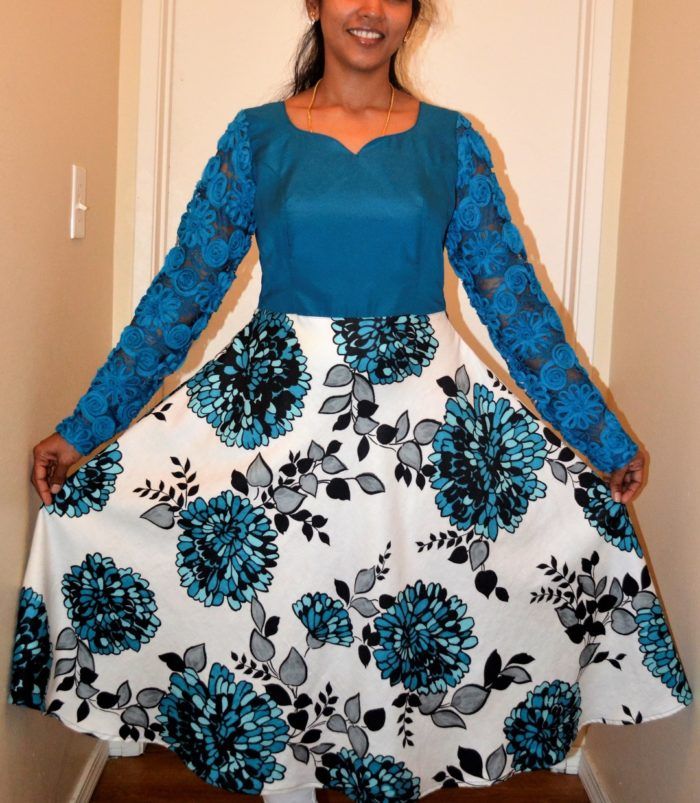 This spring, floral prints and designs inspired me. When I saw the fabric with big teal, light blue and black flowers in white background I thought this is the best fabric for my spring dress. I created this midi dress with teal color bodice matching the teal flowers in the skirt and attached circle skirt.
What is a spring dress without a great shaping and what is a better way than a princess seam to get a good shaping? The bodice has princess seams from armhole to waist. This is a semi lined dress with sweet heart neckline. I did top stitching in the neckline.
I am always a big fan of fit and flare dresses, so it is obvious that my spring dress would have a big flare in the skirt. In the joining of the bodice and the skirt I did the edgestitch, pressing the seams towards the skirt. I did narrow hemming to finish the raw edges of the skirt.
Then the sleeves – I bought the matching teal lace fabric with embossed flowers (had a tough time finding one matching my dress). Even though my perfect spring dress would sport a short sleeve, but the good look of the embossed flowers in the sleeves made me think otherwise and I finished with long sleeves. The dress has concealed back zipper with hook-and-eye closure.
 Wow, I fell in love with the look and feel of the dress!