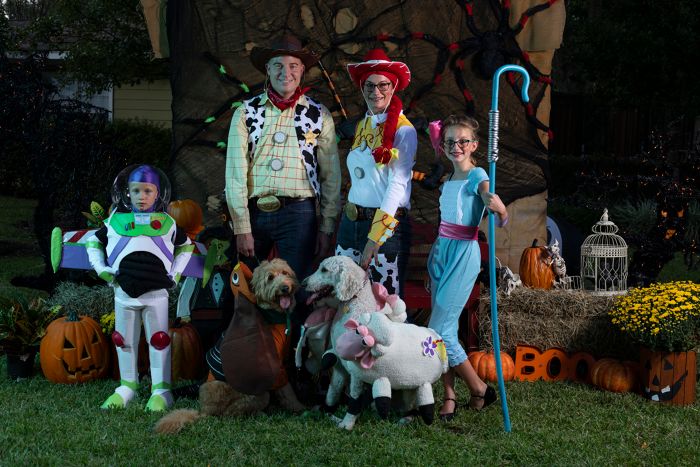 My children and I tend to start brainstorming Halloween costumes during the summer.  Our family was excited when Toy Story 4 came to the theatres in June, and I was extra thrilled when I saw that the new Bo Peep was an independent, strong woman.  As we watched the movie, both kids said that they wanted to do Toy Story for Halloween this year.  The brainstorming began!
My son chose Buzz Lightyear, which was certainly the most creative and challenging costume to create.  The body of his costume is all fabric, with craft foam trim.  I used flex foam inside the white pieces in order for his costume to have a good body and structure.  I made Buzz' boots large enough that my son's sneakers would fit inside.  I cut "ANDY" out of craft foam like a puzzle, to fit on the bottom of the right boot.  For Buzz' helmet, I purchased a large plastic fishbowl, and cut a hole in the front for his face.  Buzz' jetpack created the most challenge.  I wanted the wings to actually pop out and retract.  This took a long time to conceptualize, but I finally got it to work!  There is a string that is attached to a hook on the front of Buzz' pants.  When the string is released, the wings release from the jetpack and pop out.  When the string is pulled back down to hook on his pants, the wings retract.  Success!  My son's favorite part of the costume is the red laser beam that shoots out from his right forearm.  He loved showing people the red laser and watching it dance on the ground.  Children's reactions to Buzz were the best.  Little kids thought he was the REAL Buzz Lightyear.  They were in awe of him.  One little boy wanted to take my son home with him, so "Andy's" toy could live with him instead.  It was sweet.
My daughter was pleased to become the new independent Bo Peep.  She loved that Bo's skirt became a cape, and that underneath, she wore a pantsuit.  It took me many tries to design a pantsuit that mimics Bo Peep and fit my petite daughter.  Her skirt/cape is cotton and felt on the white and pink side, and satin on the purple side.  The flower on top of the skirt/cape is made of a giant shrinky dink.  The shepherd's hook was one of the few items I purchased from a costume shop, which I painted blue.  I wrapped the top of the hook with tile backer rod, which I painted silver.  My dog, Linus, became Bo Peep's sheep.  I designed his costume by creating 2 sheep stuffed animals and attaching them to a sheep "jacket" in the middle.  Watching Linus walk around in this costume was pretty funny.  He did not realize his new size/width, and kept bumping into things!
I designed and made Woody's vest.  His shirt was purchased at a thrift shop, and I added the red grid lines and stitching around Woody's right arm.  Woody's badge, shirt buttons, belt buckle, and spurs are made of craft foam.  Woody's hat was originally made of a straw cowboy hat, which I covered in brown felt.
I dressed as Jessie.  Her chaps are made of cow-print fabric and some white vinyl for the bottom fringe.  I painted the yellow part of her shirt used red cord to glue on her scroll design  Her buttons and belt buckle are made of craft foam.  Jessie's hat is the other item that I purchased from a costume shop.  I made holes around the edges to string through a white cord and added a neck cord to keep it from falling off.  Jessie's wig is actually a stretchy headband, upon which I sewed red yarn around the band and braided down the back.
Finally, my dog, Charlie, was the Slinky Dog!  His costume is made out of t-shirts, felt, and a really thick but lightweight wire from the hardware store.  The man at the hardware store surely thought I was crazy when I purchased the wire, measuring it by wrapping it around my body to determine the right size!
Being the Toy Story ensemble was very fun.  The children we met were especially enthralled by us, and it was heartwarming to see their faces light up.  Everyone loves the Toy Story gang!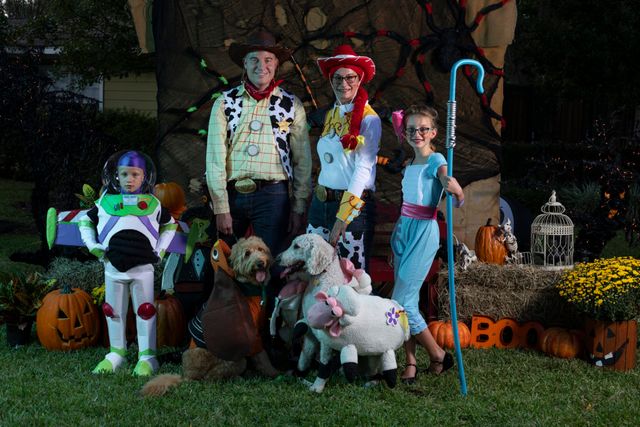 The whole clan! Buzz Lightyear, Woody, Jessie, Bo Peep, her sheep, and Slinky Dog!