Teenage Mutant Ninja Family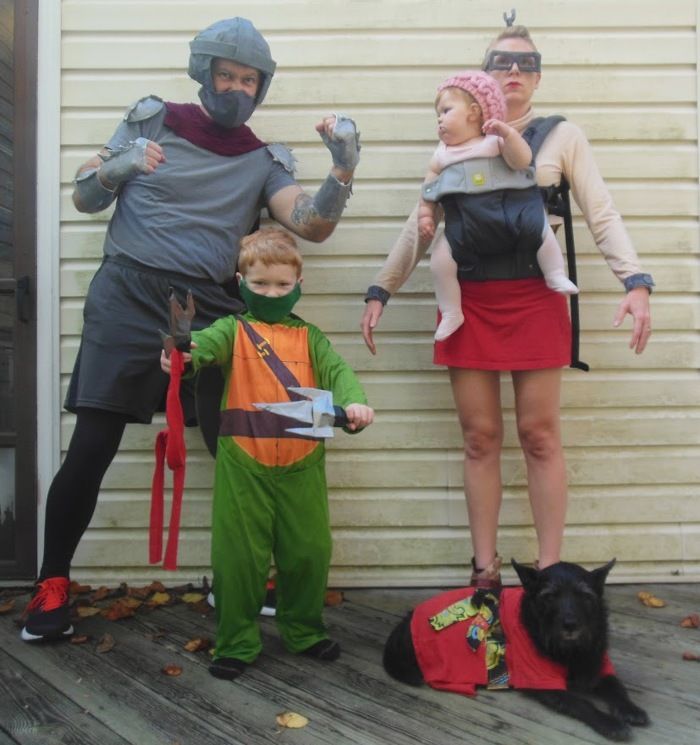 It's been a difficult year. Preschool is cancelled, and we have an infant during a pandemic. Crafting has saved our sanity and kept my son distracted from the fact that he couldn't go to the playground, or school, or even traditional trick-or-treating. So, 2020 was the perfect year to do an ambitious Teenage Mutant Ninja Turtles family costume. My son is dressed as his favorite turtle, Raphael. I sewed him a face mask (for eyes and mouth) out of old T-shirts and crafted sais out of cardboard and duct tape. His ninja turtle costume is for an older child, so I hemmed the legs and arms. Our dog is dressed as Master Splinter. I sewed the robe out of a child's t-shirt and old upholstery fabric. My daughter and I joined forces to depict Krang. The cuffs, antenna, and glasses are made out of an old pair of gray pants, with help from my sewing machine and hot glue gun. Our baby harness completed my Krang robot ensemble. My daughter is wearing a knitted brain hat (instructions to knit this are all over the internet) and a pink onesie.  My husband is dressed as the ideal villain for 2020– the ultimate mask-wearer, Shredder. I ordered a few sets of fingerless spiked "dragon gloves" for maybe $4, which I painted and sewed into shoulder pads and armor. I sewed the face mask out of the same pair of old gray pants. The helmet was the hardest part. First, I used a balloon as a mold to create a paper mâché (just flour, water, and old newspapers) dome. Then I covered the paper mâché in glue and fabric. I covered cardboard in the same fabric for the helmet spikes and painted it all gray. This project took a lot of time, but now I need a new one!
Shredder, Krang, Raphael, and Master Splinter
Get the latest including tips, techniques and special offers straight to your inbox.