Maria Franz; a tribute to Norse Culture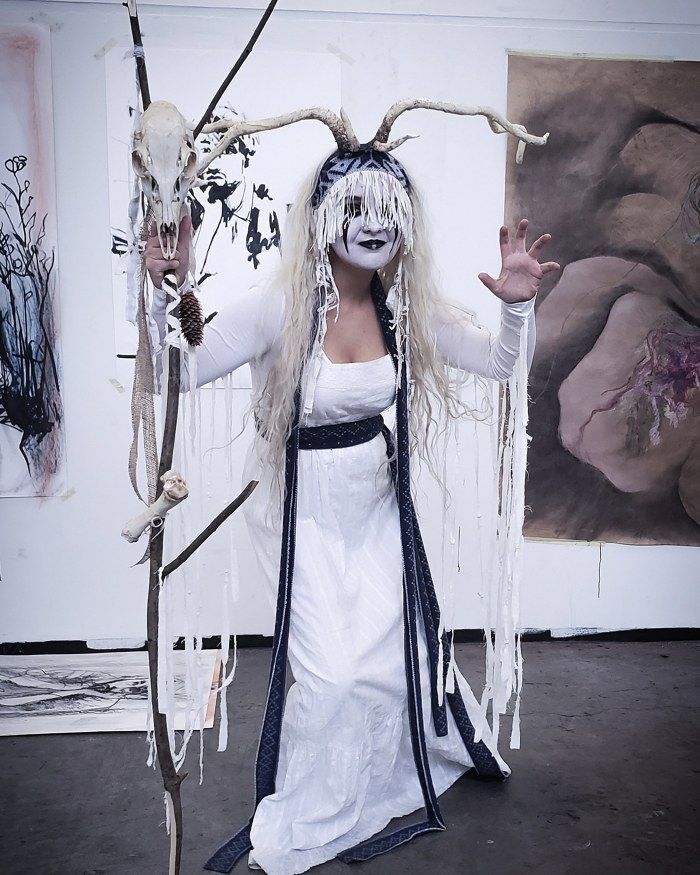 Here's the end result of multiple all nighters and classic rock binges! The costume was a combination of sketching, sewing, painting, and sculpting; all entirely completed by hand.
The antlers were created using an aluminum base with nails and wire for support. A sealed layer of tape was then applied in addition to FIMO clay for added texture and realism. This was then sanded down and painted to achieve a realistic look.
The headband is made of fringed muslin, Nordic print fabric, and tassels of soft leather, twine, and feathers. This was measured to my face and head then hand sewn together.
The top has distressed and knotted muslin tassels along the sleeves in 2cm intervals. This was hand sewn with a French knot for extra security from flowing all day.
The dress features a woven panel on the left side to provide extra upper torso space and movement in contrast to the sturdy natural cotton material.
The staff features knotted, braided, and woven fabrics such as burlap, muslin, and silk. It contains bones and a real deer skull.
Overall this costume took lots of time to create but it was a rewarding experience. I personally understood the connection between textiles and the creator, as someone from long ago would not have access to a sewing machine. It is elegant yet bold and a tribute to Heilung.