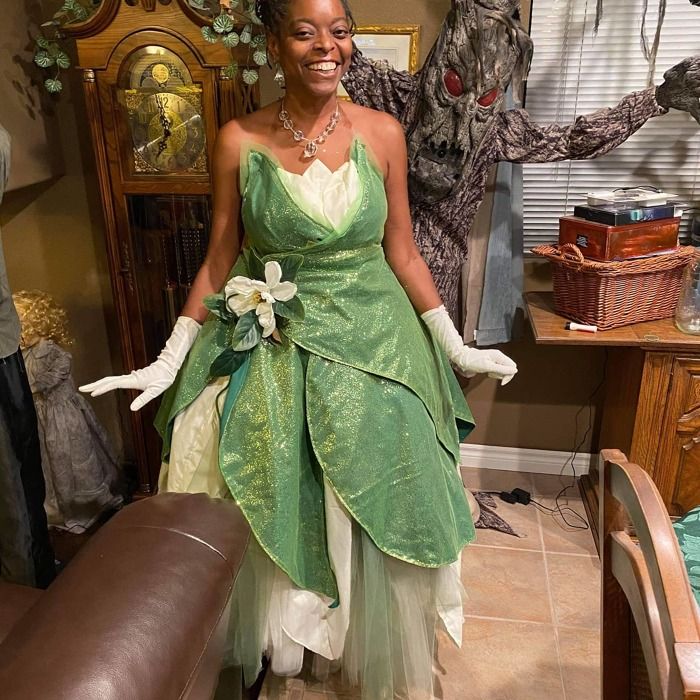 I made a Disney princess costume for my best friend's granddaughter's first Halloween.   It was the first time in my life I created someone else's design.  It was a very fun challenge and I paid attention to details of the image I was working from. I separated the pieces, in my mind, and made my own patterns.
The skirt is in three parts:  The petticoat is about 20 yards of tulle, easily tied around a silk rope.  The majority is cream tulle and a dark green tulle overlay.  The next layer is cream cotton, making the petals.  The top skirt is dark green broadcloth with two layers of light green glitter tulle.  (Glitter is everywhere i went.)  The same fabrication was done for the wrap-around vest top.  I added light green tulle to the top as trim.  The petals insert and crown are the same cotton as the lower petals.  The inserts have a small amount of polyfill to give them shape and depth.  The crowd's petals have floral wire helping them stand. I added bead wire for the stamens, hot glued to the headband.
My jewelry was made from plastic baubles I had.  Between each "diamond" are seed beads.  I used floral wire to make a clasp and to hang the earrings.
The vine of the magnolia at my waist is pipe cleaner.  The only thing not handmade are the flower, it's leaves and gloves.  I did have to tailor the gloves to fit my arms.
I also found a frog at a yard sale and sewed ribbon on for a handbag.
As far as prices go, I found extreme deals at Joanns.  I don't think any of the fabric was more than $3 a yard.  That expensive glitter fabric was in the clearance section and of course I used my coupons.  I believe it was all about $50.  One of the most intricate and cheapest costume I've ever made, which makes it all the more special.
This was a very fun creation challenge!  I love the final outcome.