Freakshow "Looks Kill" Killer Clown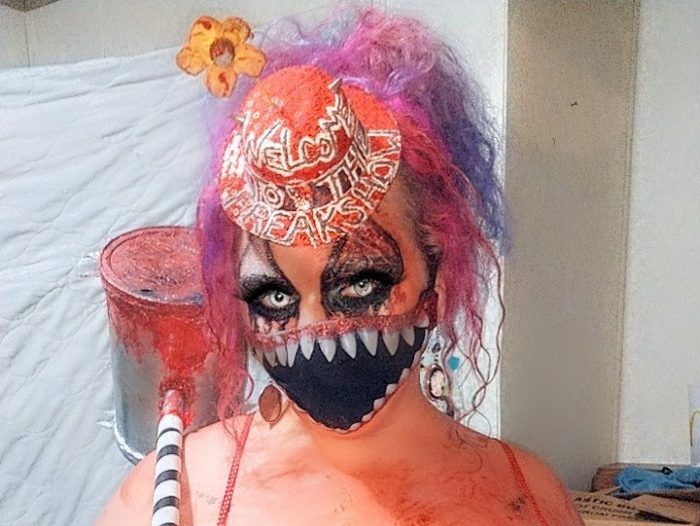 I've always loved the idea of freakshow circus characters and then the season 4 on American Horror Story was themed Freakshow and it resparked my interest. I have always made my own costumes and made them for family, friends, my children, my partner and clients all over the world when referred by others who have bought my costumes, so this year continued the same preparation of costumes that I take every year and start as early as I can to get them done and started after Christmas gathering supplies and creating the idea of my Freakshow character…
I usually always go for some sort of Vampire character because it's always been favorite costume and I make a very stunning vampire and get lots of compliments and win lots of contests with different versions of it every year and i have custom contacts and custom fit fangs, but this year Covid-19 hit making a mask ordinance for our town mandatory, which makes if difficult to show off customized fangs and for anyone to even know what you are dressed up as without seeing the fangs under a mask, so I figured this was the perfect year to change it up and do something I've always wanted to try…the Freakshow Killer Clown I titled myself as "Looks Kill" and made it to have split personalities and two different looks, so I had a masked look for Corona virus and mask ordinance and a second look for pictures and scary reveal effect.
First I designed the dress based on a circus style 50's type A-line dress with classic patterns from the circus/freakshow that most people today still associate to it, so it would be noticeably recognizable to most others just based on looks and I went with black and white stripes and a red with white polka dot fabric and a sort of ring master look with classic 3 black button tux style top with fold over fake collar type sweetheart neckline and for this
I followed a basic dress pattern just adding my own customizations that I liked for myself such as the tulip style hemline on the black and white striped fabric layered over a straight hemmed red and white layer of the dress while using the contrasting polka dotted fabric to add a classic style waistband effect to make it more of a classic circus looking dress and then added a red ribbon bow I made, to the strap of the dress that I painted to say "FREAK" & "SHOW" on each side of the bow tails and then tacked a cut out of a skull from an old t-shirt I had saved for a craft later that came in handy for this. I took an old black bow tie and painted it with white out and with a black paint pen wrote "FREAK" across the front of it.
I made the small hat with cardboard, sequined red fabric, a string of tiny lights with off and on switch and also painted the "WELCOME TO THE FREAKSHOW" on it and added little silver spikes to look like devil horns and then a classic little daisy flower I splattered with paint to look bloody and added a tiny skull to the center of the flower and attached it to a wire that I could bend and popped it through the top of the hat securing it with hot glue on the inside then wrapped edge with lights and glued the switch inside the hat and added clips underneath the brim to fasten to my hair.
The glovelets I took a pair of tall striped soccer socks and cut off the tube end and painted every third stripe red and sewed black ribbon on one side I could tie into a bow and then cur out a thumb hole.
The mallet weapon I made from an empty cheap coffee can and a wooden dowel rod. I hot glued the dowel inside the can through a small hole I made on the side of the can, I added tons of glue inside so it wasn't coming apart. Glued the lid on the can and spray painted it silver, then added swirls of blue and silver glitter on the ends. One end needed to look used for bashing skulls, so added red paint and gel blood and pulled strands of my own hair out and matted it into the paint and gel as it dried for a more realistic effect you could see. I wrapped the dowel in black electrical tape then glued a red ribbon around it to look striped and match my dress. I made 12 little foam spikes and glued and painted them in rows of three on each side of each end of the coffee can for a scary mean effect look and they can be smashed down and will still return to shape making them harmless with the look of being dangerous and scary.
The mask I made with fake fingernails that I cut down to points and then clipped the very tips off at an angle, since I wanted my teeth to be pointy but broken and used looking. I got a plain black Covid-19 mask and super glued each tooth down in a row across the top and bottom of the mask, I then shaped it a little around my mouth and hot glued the extra fabric down in back to hold the shape I wanted around my mouth I then took a hot glue gun and glued around the edges of the masks with thick layers of hot glue to make the "lips" around the teeth making sure i glued around the edges of all the teeth. I then took a little latex on a q-tip and went over the hot glue and with my finger I textured it as it dried and became sticky. I then dipped my finger in gel blood and ran it around the formed lips on mask and a clear fingernail polish with red glitter is what I sealed it with for a clown like glittery effect and shiny lip gloss look.
I wore colored plano creepy contacts I bought online last year. I buy several colors and styles each year for my family and friends or resale with my costumes to choose from the next year. I chose to wear white contacts with the blood splatter effect on them to look like my eyes were sprayed with blood as I bashed in skulls with my mallet on a kill spree, which I found was very effective for the look I was going for with both the masked and unmasked look. I drew out triangle shapes above both my eyes and on one side I shaped out the triangle with latex and tissue paper building up a scar effect above one eye, I painted the center of triangle with black and red costume paint then stipled a small amount if latex above and below my eyebrow making sure not to get it into my eyebrow and added Vaseline over it to protect it. I texturized the latex with the q-tip for a burned or ground up meat effect like it had been carved on from my face by torture. Then took a needle and thread from my sewing kit and sewed the edges of the latex triangle above the one eye after it dried to make a rag doll clown effect of trying to sew myself back together. I crisscrossed the thread sewing across the triangle back and forth in weaved pattern for a scary effect and tied it off clipping it at the knot I tied off. Then went over the entire latexed triangle with the same clear coat glitter polish I used on the masks lips and over the eyebrow which can be taken off easily with polish remover later without hurting the eyebrow but still gives the look of glossy burned flesh with glitter clown makeup. Above the other eye I used makeup glitter glue with a makeup brush and let it dey til sticky then took my Mac glitter from my cosmetic makeup and dipped my brush in glitter and tapped it into the glitter glue all over the entire triangle I had drawn above my eye for a beautiful clownish sparkle. I then lined out both eyes with a liquid eyeliner pen and darkened in my eyes and added eyeliner lines for a girly sexy female clown makeup look. Added glitter lashes with black lash glue.
I used a speak no evil skin coveted mouth face tattoo as the background of the makeup added to my mouth and only wet the tattoo on half of it and few spots on other side so it would come off in matted looking pieces I could paint over and not look like my mouth was grown shut since look I wanted was sewn shut and cut back open instead. I wanted it to look as if when my mouth was closed it was still sewn shut but if I spoke it looked like I had cut open the yarn used to sew it shut. I took black black eyelash glue and formed X's on my cheek and across my entire mouth. As that dried and got sticky I cut out different sized strings of blue yarn to fit each side of each X. I used blue to match the blue glitter of the mallet and add more color to my clown look and it stood out and made it more scary. I added the yarn to each X on my mouth and took an eyeliner pen and made black dots at each intersecting V point the yarn made to look like sewn puncture marks I later added gel blood to and around the yarn for a bloody effect after adding a little red lip gloss over entire section of laced up mouth as a background base to look wounded before adding the blood. I had to go back and clip edges of yarn around my lips because the cut open look of it had stray little hairs that got in my mouth if I licked my lips or drank anything which I could not deal with, so I trimmed them all short as I could where I still had the effect of mouth still sewn shut when closed and sealed them down to my lips flat and sealed my lips with a matte and gloss stay put lipstick before adding more gel blood and paint and that helped to keep the look all night and not be driven crazy with hair in my mouth, which is an important step for anyone trying this idea!
I ratted up my hair, which was already dyed pink and blue, but I sprayed in more blue hair spray to add the purple color in as well over some of the pink and make it a darker look, which anyone can use if your hair isn't dyed fun colors already to achieve clown like hair. I pulled it up on top of my head and made a part in my bangs where I could attach the clips of the hat that I had turned the lights on for already. Attached the hat and sprayed it all with glitter hairspray. I threw on some patterned fishnet pantyhose and my saddle oxford lace up booty heels for the old time 40's-50's Freakshow Circus time period look, sprayed myself from head to toe with glitter hairspray for a fun sparkle in the dark clown effect and WHA-LAAAA the look is completed and super scary!!!!
Throw on the mask and its two scary evil looks in one and also keeps you safe during a Coronavirus Pandemic, yet still have a great look when removing the mask to eat, drink, or party at home indoors! 🙂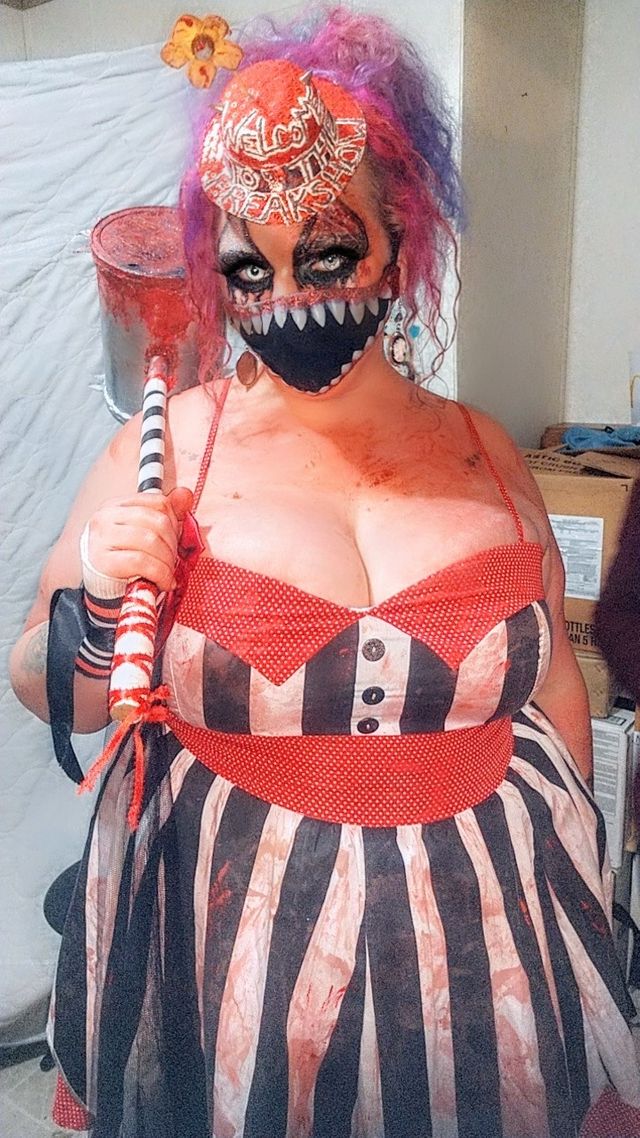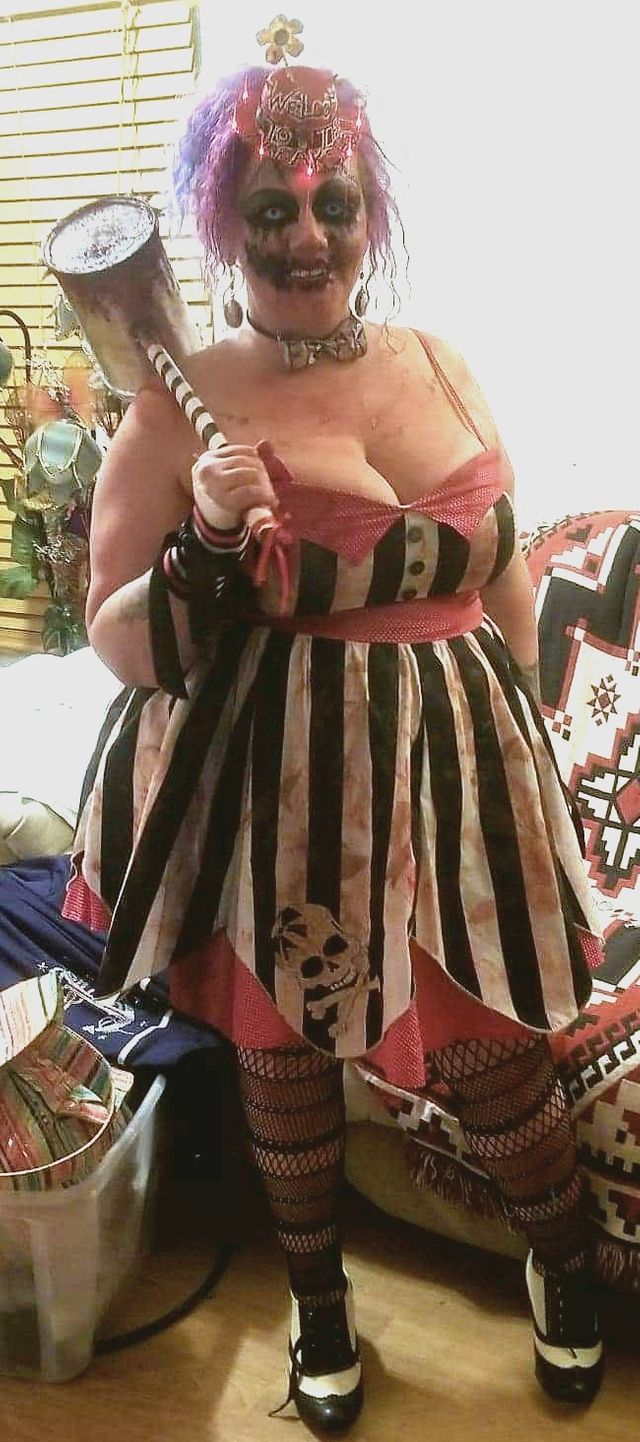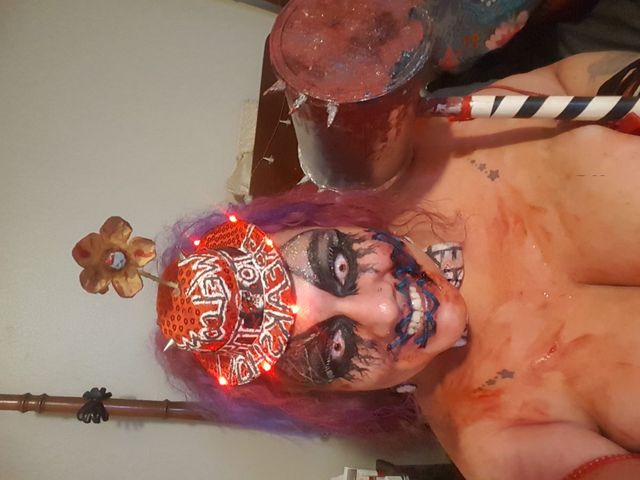 Welcome to the Freakshow.