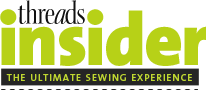 Just look for the

to see which videos, articles, patterns, and more are for Insiders exclusively.
Threads Insider Member Page Here's where you'll find out about the latest premium content exclusively for Insiders, including special offers and discounts. Plus check out exclusive new content, patterns, videos, and more! Be sure to bookmark this page so you don't miss a thing. Not an Insider yet? Click here to start your FREE 14-day trial.
What's New for Members
Hand-Embroidered Understitching Make the functional fantastic with a hidden embellishment.
Create the Perfect Sewing Space Three professionals share what they love about where they sew.
How to Sew Gussets To improve range of motion, use this vintage technique.
25 Ways to Save Time & Money in the Sewing Room Designer and stylist Ruth Ciemnoczolowski shares her tips.
Slow Sewing for a Better Experience Author Patricia Keay champions slow sewing—a new, old-fashioned way to savor the creative experience.
Create an Easy-to-Alter Waistline By changing the construction order on a skirt finished with lining to the waist, it's a cinch to make adjustments later.
How to Make a Bias Design Revealing the magic that happens at 45 degrees.
Four Ways to Make Your Favorite Dress Give your favorite pattern a fresh look.
Make Details and Embellishments for Simple Garments Three techniques for embellishing with fabric.
How to Work with Sheer Fabric Layer see-through fabrics with abandon for brilliant combinations.
Flattering Shoulder Tips Achieving a flattering shoulder shape regardless of the current style.
Threads Magazine - Issue 167 - June/July 2013 Threads Insiders get the very first look at the June/July 2013 issue of Threads magazine. Subscribers will be receiving their print copies soon, but be the first to check out what's inside this new issue.
Lightweight Jersey Knit Dress Take a look at an interactive 360-degree view of the jersey knit dress from Threads #167.
How to Add Sleeves to a Sleeveless Top Three pretty options give a sleeveless top extra style and coverage.
Fitting Tips with Professor King Kenneth D. King shares tips and tricks for getting perfectly fitting garments.
How to Add a Twisted Bias Strip Panel A bias-strip insertion adds eye-catching detail.
How to Make a Half Bias Jacket Lining Support a jacket's structure using a vintage tailoring technique.
How to Create A Slimming Look with the All-In-One Pocket Make your tummy look smoother without having to give up bread!
Make Endless Pieces with One Base Pattern A base pattern makes it easy to whip up a wardrobe of unique, well-fitting garments.
How to Make Bounded Buttonholes With edges wrapped in fabric, these buttonholes are bound to last.



80+ videos from top sewing experts

Access to our Insider pattern database

Digital access to recent issues of Threads magazine

Monthly giveaways, contests, and special offers
This Month's Giveaway
This month 3 lucky people will receive a copy of our popular Threads Sewing Guide book.

Insiders - no need to enter - you are automatically entered every month. All others click here to enter.

Come back in June to find out who the lucky winners are.
see last month's winners
April - Classic Elite Quick Knits Book
Darlene Shelton - Clifton Forge, VA
Susie Pope - Seattle, WA
Sandra Johnson - Winthrop, ME
March - Socktopus Book
Debra Nordmeyer - Houston, TX
Mary Donch - New Rochelle, NY
Eleanore Snow - St. Simons Island, GA
February - Teach Yourself to Sew Season 3 DVD
Mary Walsh - Alexandria, VA
Mildred Quinn - Bronx, NY
Ardelle Nicholson - Germantown, MD
January - 2012 Threads Archive DVD
Cynthia Wisdo - Wappingers Falls, NY
Karen Bott - West Allis, WI
Lynn Pearce - San Francisco, PA
December - The New Prayer Shawl Companion Book
Gretchen Heinlein-Wilson - Herriman, UT
Linda Collins - Charlton, MA
Deborah Warren - Addison, TX
November - Fitting for Every Figure Book
Carol Markus - Studio City, CA
Jane Acord - Eureka Springs, AR
Tina Saunders - Erie, PA
October - Kaffe Quilts Again Book
Cindy Fink - Eagan, MN
James Burkholder - North Canton, OH
Patricia Dorwin - Noblesville, IN
September - 2012 Lovely Knits for Little Girls book
Charlene Colon - Fayetteville, NC
Lynn Coleman - Normandy Park, WA
Pilar Ruffin - Cleveland, OH
Lourdes Oti - Wilton Manors, FL
Cassandra Ewell - Broomfield, CO