Pattern Review: DP's by DP Studio Loose Trousers with Waistband Le 3003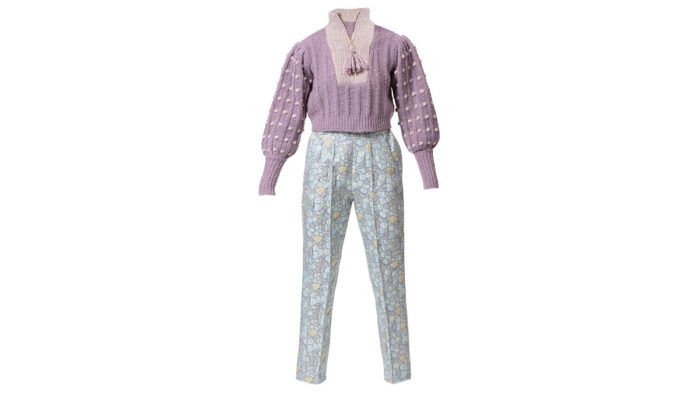 DP's by DP Studio: Loose Trousers with Waistband Le 3003
These are casual pants with a relaxed vibe. They have a partial elastic waist with a flat front section, front waist darts, slant pockets where the pocket bag is cut as one with the back pant leg, forward side seams and optional elastic around the leg opening. The design has a few inches of ease, which is appropriate for the style. There are no notches and few match points: just one for the pocket corners and a couple for the waistband. All line up. Seam allowances are 3/8 inch wide, and all seams matched in length. Our tester found this pattern well drafted. Instructions says to reinforce the pocket corner with a zigzag stitch. Our tester says further reinforcement is needed with some interfacing, as this is a stress point and the weakest part of the pocket. The pivot at the pocket corner is a unique detail that requires thought, otherwise the sewing is straightforward. If you can read French, the instructions are helpful. The only confusing section was step 3, nos. 2 and 3, aligning the pocket sections and sewing them. The pattern calls for 60-inch-wide fabric. Unless you are willing to buy twice the yardage, 45-inch-wide fabric will not work, because the back leg pattern piece is about 25 inches across. Personalize the design with cargo pockets, or add a tuxedo stripe along the side. Depending on the fabric, these pants can work for casual or dressy occasions. Our seamstress recommends the following:
Cut the waistband pieces on the fold. It isn't clear on the cutting layout.
The instructions written in English are sometimes difficult to understand, but the illustrations help.
The pattern suggests a wide range of soft and stiff fabrics, such as crepe, jersey, silks, Tencel, chambray, denim, wool, and velvet.
(Sized French 34–48 [US 2–16, UK 6–20] for hips 33.9–46.5 in. [86–118 cm])
—Tested by Eve Kovacs, Woodridge, Illinois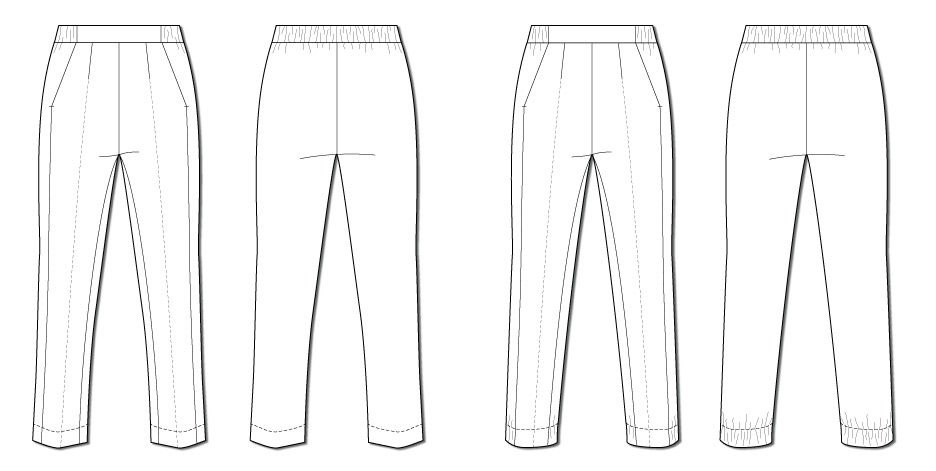 Sewing tip: If your fabric is stable, heavy, or stiff, eliminate the interfacing on the back waistband, as it is elasticized.
This review was originally published in Threads #215, Fall 2021. Have you made this pattern? If so, be sure to share pictures in our Readers Closet gallery.
Illustrations by Steven Fleck.