Reader Question: Flattering Pants Pockets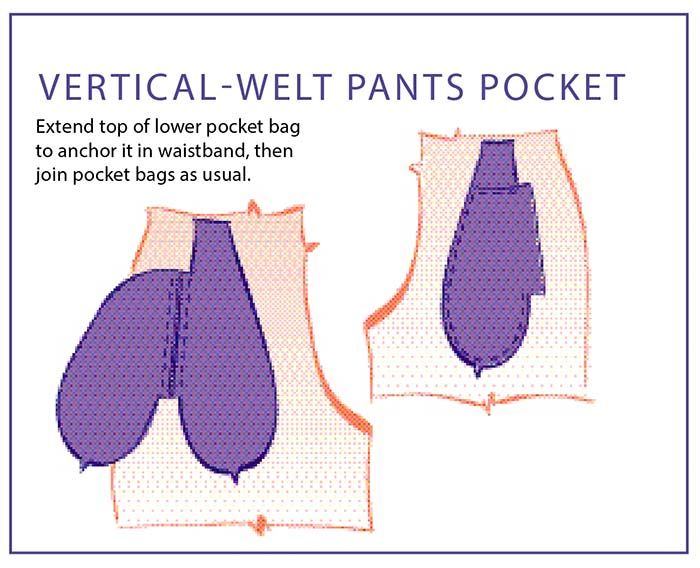 Flattering Pants Pockets
I love the vertical-welt pockets in many tailored ready-to-wear pants, because they're so flattering. Is it hard to sew these pockets?
—Sophia DeLuccia, North Wales, Pa.
Fred Bloebaum replies: I agree that vertical-welt pockets in pants are the way to go. They create a flattering vertical line and, by shifting the pocket bag off the side seam, effectively reduce bulk at the hips. 
A welt pocket in pants is sewn the same way as one for a jacket. You can use a pocket-bag pattern piece designed for a side-seam pocket, with one alteration: In order for the pocket bag to hang from the waistband, and not the welts, extend the top of the lower pocket bag so it will be caught in the waistband seam, as shown at right. After sewing the welts and pocket bags in place, stitch the two pocket bags together, following the outer edge of the shorter pocket piece.
You can add a double-welt pocket just where you want it on almost any pants pattern. A location of about 13⁄4 in. from the side seam and 2 in. from the waistline is a good place to start. Draw the placement line on the pattern piece, and hold it up to your body to check the proportions in the mirror.
Each welt on a standard welt pocket is 1⁄4 in. wide. But you can vary the welts' width to suit your taste—personally, I prefer the skinny 1⁄8-in. pocket welts.
Start your 14-day FREE trial to access this story.
Start your FREE trial today and get instant access to this article plus access to all Threads Insider content.
Start Your Free Trial
Already an Insider? Log in