Step-by-Step Process for Better Fitting Pants
Reference lines tell you where and how to adjust the crotch curve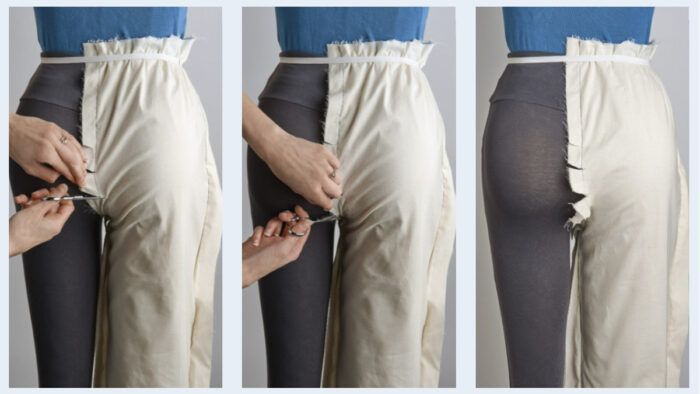 Most of us who sew women's pants struggle to get a great fit. There are so many variables in the body and the pattern that it's difficult to decide where to focus the fitting work when fitting pants properly. In my experience with female clients and students, I've learned that getting the pattern's front and back crotch curves to reflect the body is a crucial step, but it's only part of the equation.
I will give an overview of the process I use for fitting pants, and then focus on how to correct the crotch curve fit. The method I use, working with a muslin marked with horizontal and vertical guidelines, makes fit problems easy to diagnose and solve. Follow my steps, and you'll achieve a smooth and flattering fit that's also more comfortable.
The basic steps to pants fitting are conceptually straightforward. However, some experimentation is required to finesse a satisfactory result. Remember that this is a process. As you work through the steps, you'll learn about your particular fitting challenges, and about how commercial patterns often diverge from the reality of the female figure. You'll also discover versatile patternmaking and draping techniques that can reconcile the pattern with your personal shape. All this information will increase your confidence as you fit subsequent garments.
---
Create the test garment
A marked pants muslin is the basis of the fitting process. Make one that eliminates guesswork.
Select a slacks pattern
I begin with an everyday slacks style. This style has a crotch seam that grazes the body; the pants gently define the body, with the fabric either falling straight from the buttocks or slightly cupping the buttocks. The leg is straight or somewhat tapered. This is a good design for working a…
Start your 14-day FREE trial to access this story.
Start your FREE trial today and get instant access to this article plus access to all Threads Insider content.
Start Your Free Trial
Already an Insider? Log in