Sewing Tools for Measuring Accuracy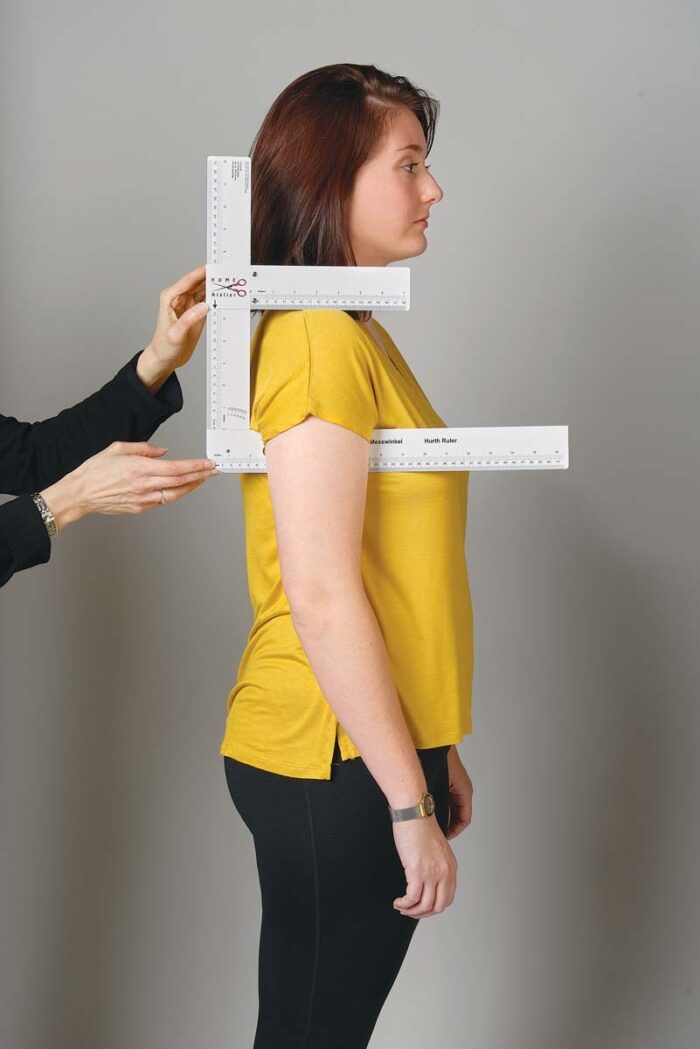 Sewing requires measuring. The more accurate your measurements, the better your results, whether you're making garments, curtains, slipcovers, bags, or quilts. From purchasing yardage to marking the final hemline, you'll make use of some type of measuring device. There are many to choose from, and you'll see a range of them here. If you're a gadget lover, you'll find some intriguing specialized tools. Minimalists may prefer to limit clutter in their sewing space by sticking with a few multipurpose tools.
When selecting measuring implements, think about the tasks you do most often. If you use patterns straight from the envelope, you may need just a few items: a measuring tape to measure the body, a long ruler (18 inches or more) to ensure patterns are laid out on grain, and a small gauge to check seam and hem allowances. To refine patterns for an improved fit or to update the style, equip yourself with a clear, flexible ruler marked with an 1/8-inch grid, and a fashion curve, for making accurate adjustments. Those who draft patterns from scratch typically use L-squares, right-angle triangle rulers, and curved rulers, in addition to the basic straight rulers and measuring tapes. Quilters have even more options.
Whatever you choose, remember that it's not the tool, it's how you use it. Try a few of these cool rulers and see which ones make your sewing easier, accurate, and efficient.
Straight Rulers
A straight ruler is essential for all types of sewing and patternmaking. Rulers come in sizes from 6 inches to a yard (or meter) long, and in widths from 1⁄2 inch to 6 inches. Consider keeping an assortment in your sewing space for different jobs.
Rigid rulers
Rulers made of acrylic, aluminum, or wood create a firm, nonflexing edge against which to measure yardage, roll a rotary cutter, or fold a crisp edge. A rigid yardstick is helpful for measuring "in the air," as when you're marking a hem on a garment worn by someone. If you have difficulty gripping small objects, look for a ruler with a raised spine (see the bottom two rulers).
Transparent, Flexible rulers
Typically marked with a 1⁄8-inch grid, these rulers are indispensable for patternwork. Use them to measure adjustments pinned in a test garment, then to transfer those changes to the pattern tissue. A 2-inch by 18-inch ruler is versatile; the 1-inch by 6-inch version is a favorite of Threads editors. Note that the little ones have a way of disappearing, so keep a couple around.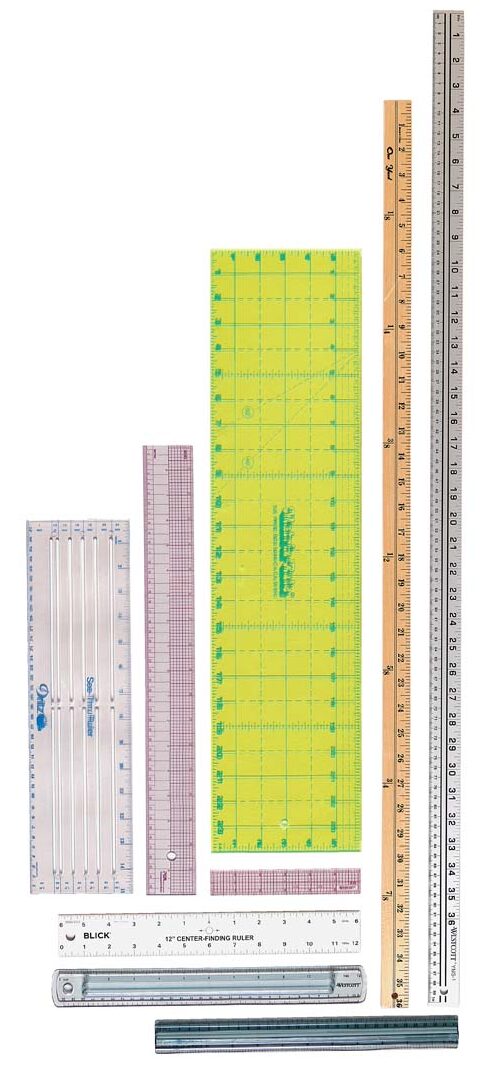 Squares and Triangles
For establishing a fabric's grain so that pattern layouts are accurate, or squaring perpendicular lines in pattern drafting, a ruler with a right angle is handy.
L- and T-Squares
L-squares come in different sizes, but a 14-inch by 24-inch one is a good choice for patternmaking and for working with fabric. In addition to the standard inch increments along both legs, a classic tailor's ruler includes a nifty set of scales that can be used in drafting or any other task that calls for reducing a full measurement by a certain fraction. The scales enable you to easily find 1⁄6, 1⁄4, 1⁄3, 1⁄2, and 2⁄3 of a full measurement (and more) without calculating fractions.
Like the L-square, the T-square helps you to establish and maintain perfect 90-degree angles in fabric and patterns.
Angle maker
This adjustable tool measures and locks any size angle, so you can copy and transfer an inside or outside angle without squinting at a protractor or guessing. You'll also find this handy for measuring shoulder slope, a key aspect of fitting.
Right-Triangle rulers
Right-triangle rulers have one 90-degree angle and may have two 45-degree angles—useful for bias layouts and cuts—or a 30- and a 60-degree angle, which helps quilters.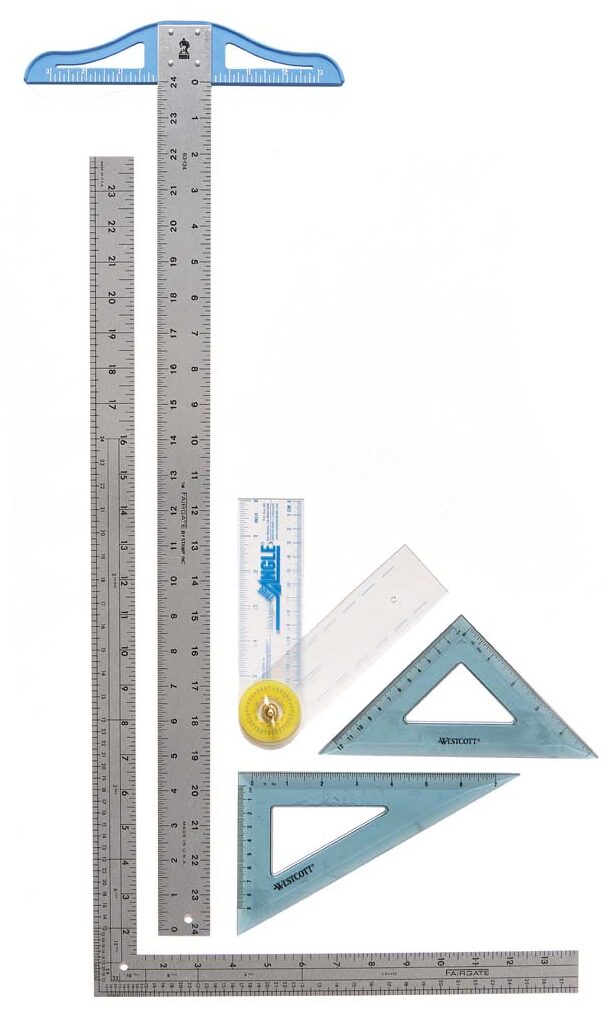 Body-Measurement Tools
Look for flexible rulers and tapes to determine body dimensions. Some measuring systems make use of a straight ruler, too, to find specific dimensions such as crotch or armhole depths.
Tape measures
A tape measure is the most familiar device for measuring the body. There are a few upgrades to the standard measuring tape, but the most important quality is a stable tape material that won't stretch over time. Choose from a 60-inch-long tape, which is geared to 60-inch-wide fabrics, or opt for one that is 120 inches long.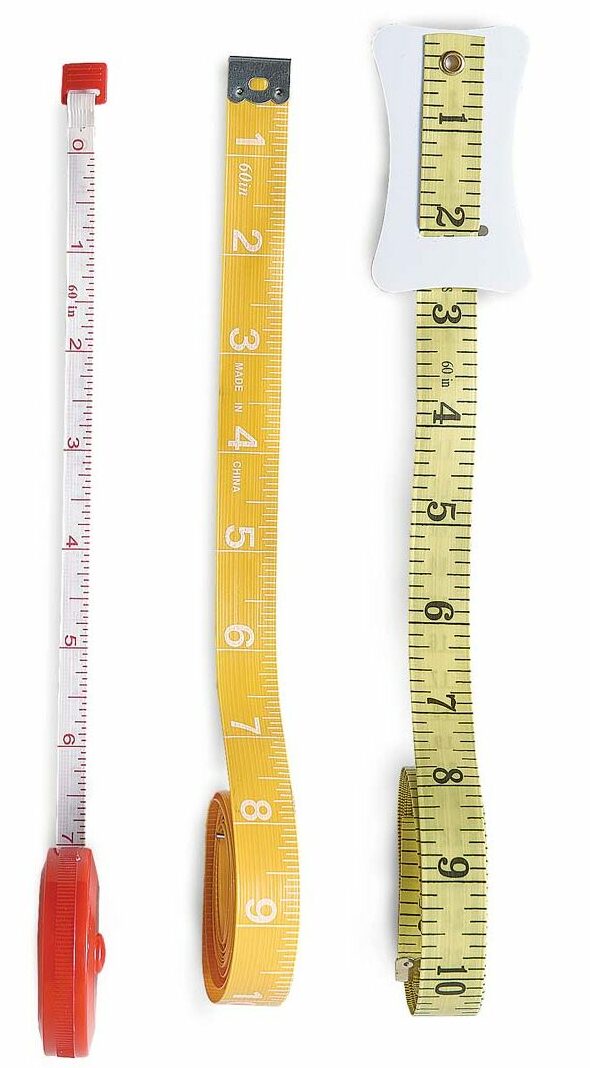 Hurth Ruler
The Hurth Ruler enables you to determine depth, width, and circumference measurements easily. This flexible, hinged ruler with a sliding, perpendicular arm makes it possible to take accurate two-dimensional measurements on three-dimensional bodies. For example, you can find the armhole or hip depth, or neck diameter, without guessing (visit Cochenille.com and search for Hurth Ruler, or search on Google.).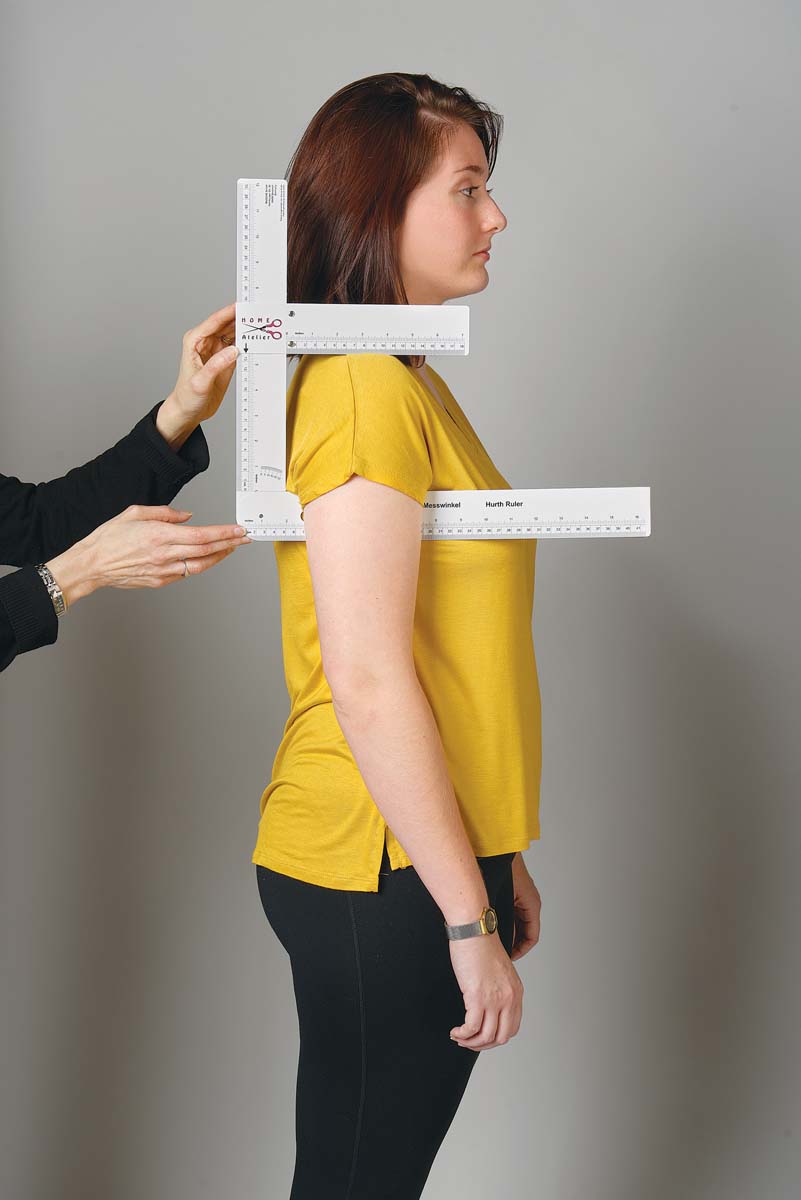 Curved Rulers
Because the human body is made up of curves, most sewing patterns have curves, too. To adjust commercial patterns or to draft your own designs, you'll need one or more curved rulers.
These rulers are called design curves, designing rulers, and French curves. They are available in a wide range of sizes and shapes. For most patterns, a tool that includes a long, gentle curve for the hip, plus a smaller, tighter curve for necklines and armholes, is sufficient. Most design curves are marked with some unit of measure. These units can be used to measure a curved seamline, but they are also useful references for copying a curve exactly. Simply note the curve's end points so you can duplicate it.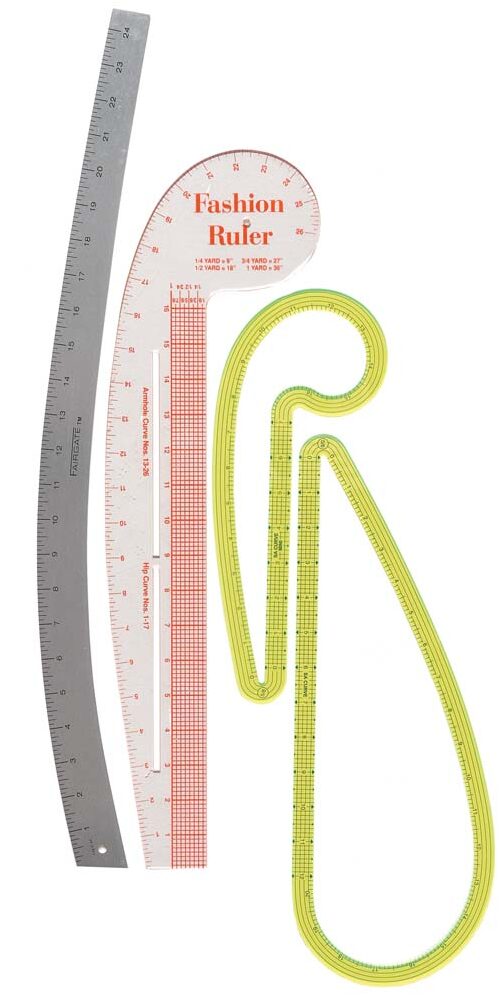 Circle Tools
To draft a circle skirt, a full cape, yo-yos, circular flounces, or any pattern piece that's a full or partial circle, you need a compasslike device. Here are a few options.
This transparent gridded ruler has small holes at 1⁄2-inch intervals, and a 1-inch scale with zero at the center. Stick a push-pin through the zero hole and a pencil point at the desired radius, and rotate the ruler to draw a circle.
The Ring Ruler is an adjustable plastic ruler you can use to quickly trace circles with diameters from about 3 inches to 6 inches (squeezing it tighter for smaller circles is difficult and may strain the plastic). It's marked with diameter and corresponding circumference measurements, sparing you from doing the math. This tool would speed up the drafting of round appliqués or small flounce patterns.
The Helix Circle Ruler simplifies the drawing process with a rotating center nut, so you don't need a push pin. It includes small circular holes in diameters from 1⁄6 inch to 9⁄16 inch, ideal for indicating button placements on patterns.
A standard protractor can be traced for drafting small circles or creating scalloped edges. Use it to measure angle sizes or, in a pinch, as a mini French curve.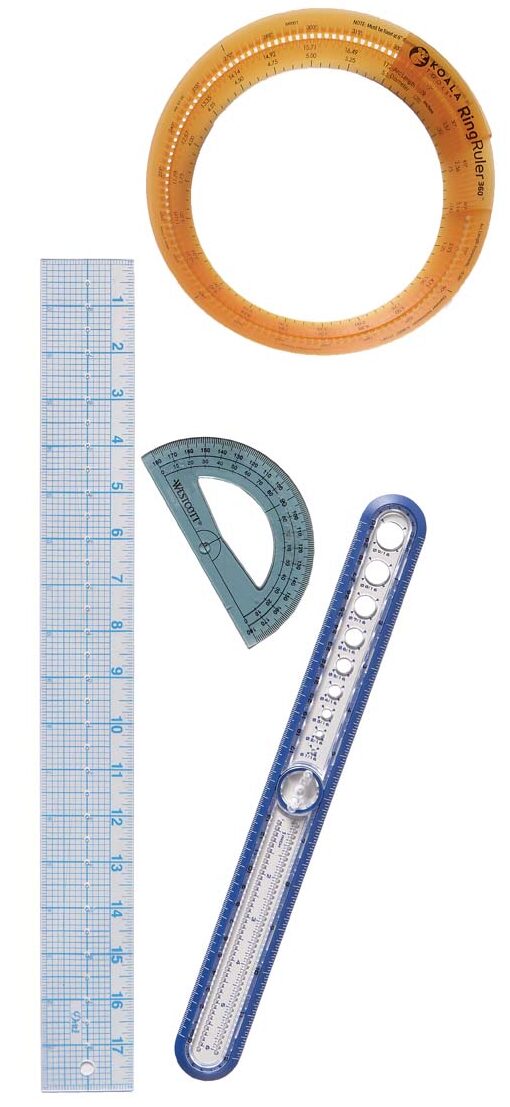 Small Gauges
For accurate sewing, you need to take or mark small measurements. Keep one or more of these gadgets at your side.
The Dritz Super Seamer (A) is a ruler made of acrylic and marked at 1⁄8-inch increments. It's exactly 1⁄2 inch wide and 1⁄4 inch thick, so even without looking at the markings, you can use it to add accurate seam allowances to pattern pieces.
Clover's 5-in-1 Sliding Gauge (B) is a multipurpose tool with a locking slider on a short ruler; it can be used as a small compass for drafting circles or scallops.
The classic sewing gauge (C) in metal with a small slider is similar to the 5-in-1 Sliding Gauge; you can use it as a compass, too.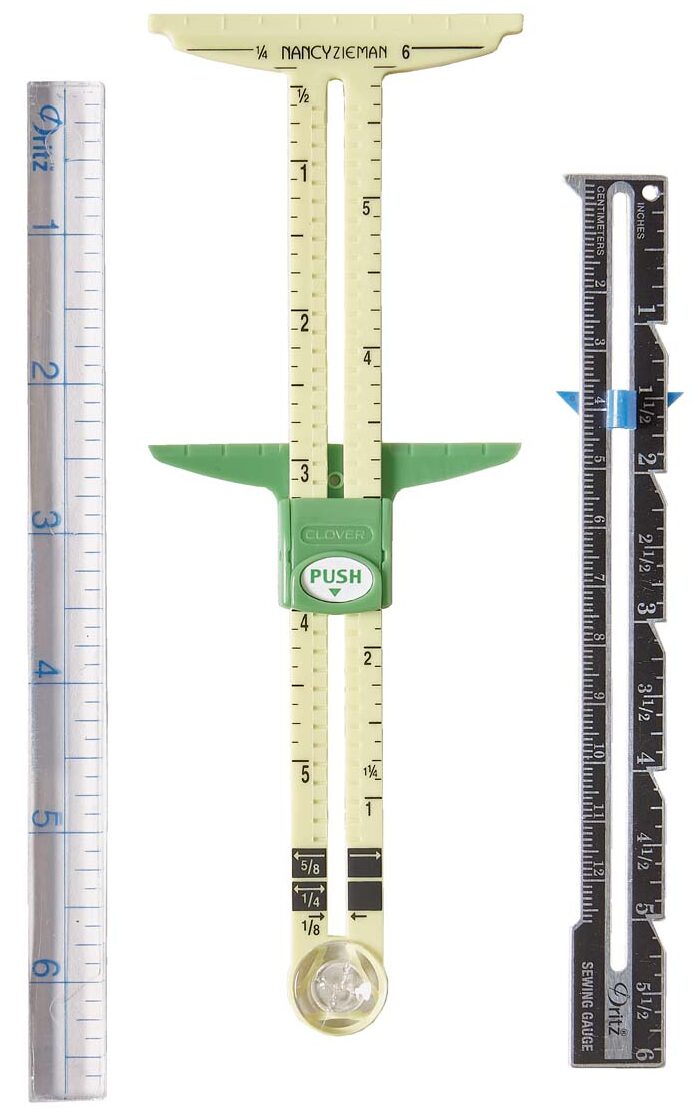 Editors' Choice
Our contributing editors love the following tools and think you will, too.
The curve runner
Contributing Editor Louise Cutting, known for her precision sewing techniques, recommends this rolling ruler to check the length of curved seamlines. When drafting patterns, she uses the rolling ruler to verify that collars and necklines, or sleeves and armholes, will be compatible (Etsy.com).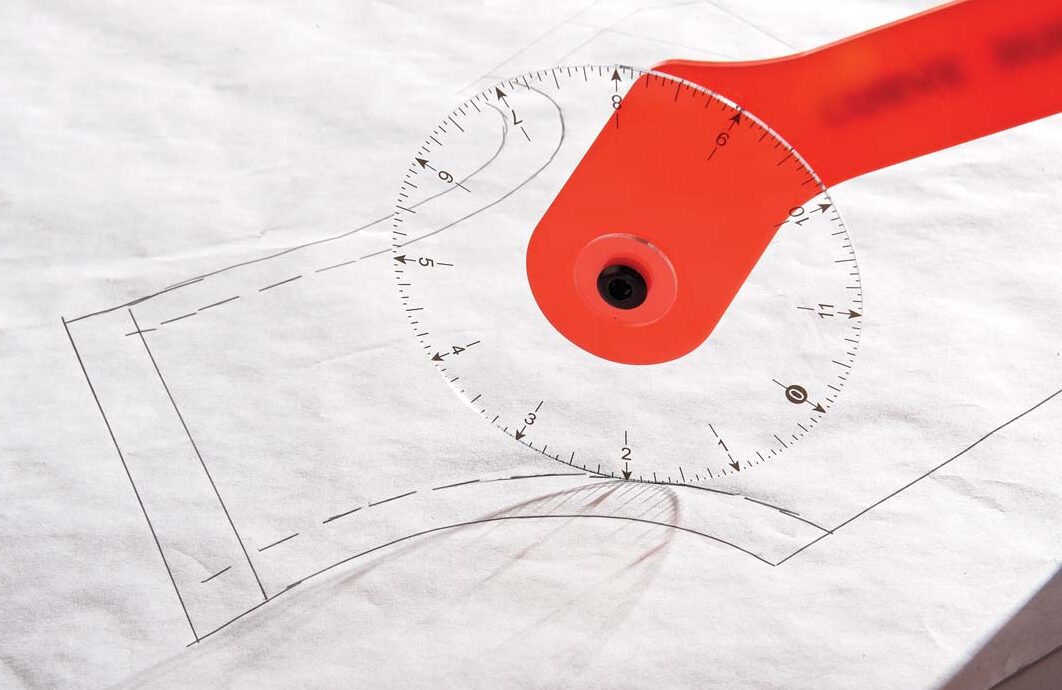 Drafting compass
This little drafting tool is a favorite of Contributing Editor Judith Neukam, who uses it to draw circles and as a gauge for transferring lengths. She spreads it to the desired length, locks it into position, then can transfer this length easily. Try it for spacing buttons, buttonholes, and other closures evenly.

"Any Curve" Pattern Ruler
This vintage drafting ruler, originally issued by Talon, is a mainstay in Contributing Editor Kenneth D. King's sewing studio. He says it really does include all curves on it. Although it's no longer made, you can find it on eBay.com, Etsy.com, or perhaps at a local tag sale.