Sewing Thread Style, Finish, and Weight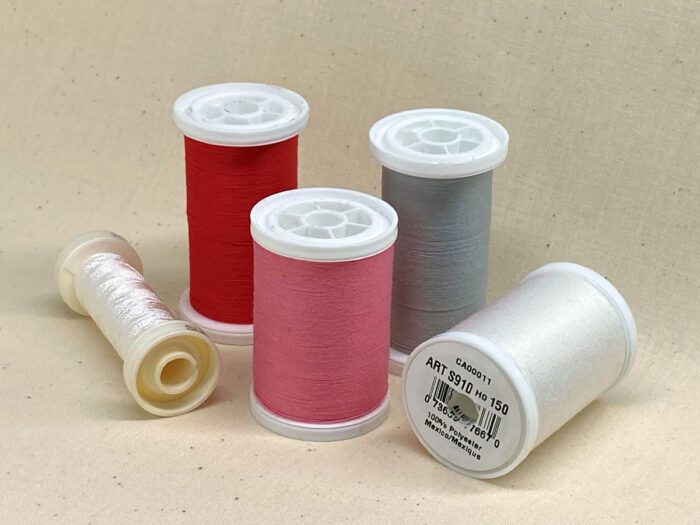 Thread is a thin, continuous cord made by either spinning staple thread fibers into single strands—or yarns—and then twisting two or more of them into a plied sewing thread, or by an extrusion process that forms one or more long, continuous filaments. 
Staple fibers:
Natural fibers, which vary in length from 1 to 2 inches, or synthetic fibers, cut to definite lengths of 4 to 5 inches, which are spun together to form yarns. Longer staple fiber lengths increase the quality and strength of the thread.
Continuous filaments:
Extreme lengths of polyester, rayon, nylon, or silk extruded mechanically (or by silk worms) as a single monofilament or as several strands in a multifilament. Filament circumference can be a shape other than round. For instance the trilobal filament has three sides for improved light reflection.
Ply:
As a noun, any one of the several yarns composing a thread. As a verb, the act of twisting those yarns together to form a thread.
Core:
A central polyester or nylon filament around which staple fibers or micro metallic ribbons are wound to form a thread.
Spun:
Spinning is the process by which staple fibers are twisted into single yarns, which are then plied together to form thread. Spun threads are soft, somewhat fuzzy, and have good sewability.
Textured or texturized:
Texture is added to continuous multi-filaments by crimping them to entangle the parallel filaments and create softness, bulk, and elasticity.
Twist:
The direction in which yarns are plied together to form threads. Most spooled threads are twisted clockwise (called Z or left twist) for optimal machine performance.
---
Finishes Smooth Your Work
Before thread is wound onto the spool it's given an invisible helpmate. For example, serger threads get a finish that enhances high-speed sewing; machine-quilting threads are treated to flow smoothly through the tension guides.…
Start your 14-day FREE trial to access this story.
Start your FREE trial today and get instant access to this article plus access to all Threads Insider content.
Start Your Free Trial
Already an Insider? Log in