Pattern Review: Style Arc: Parisian Classic Look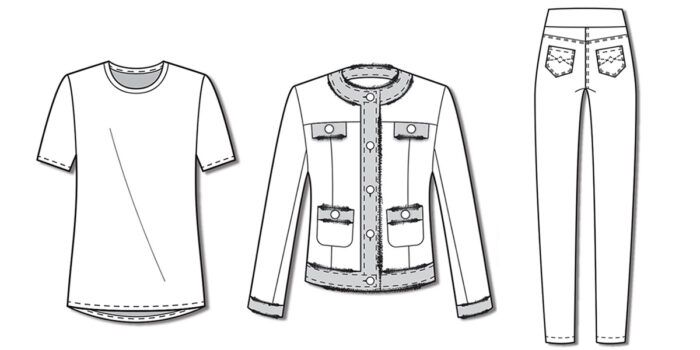 Style Arc: Parisian Classic Look
Create a striking capsule wardrobe with this three-pattern bundle consisting of the Gigi Jacket, Gem Knit Tee, and Blakley Stretch Jean. The semifitted jacket is fully lined and has front and back yokes, front princess seams, faux pocket flaps, patch pockets, and two-piece sleeves. The neckline, front edges, hemlines, and pocket edges are trimmed with exposed facings; a frayed edge treatment is optional. Our tester found step 7, which instructs you to sew on the center-front bands, to be out of order. This step cannot be completed until after steps 10 and 11. The T-shirt is short-sleeved with scoop neckline finished with a narrow band, and a shaped hemline that is longer in the back. The pants are a form-fitting, pull-on, ankle-length jeans design that combines the comfort of leggings with traditional jeans details. The jeans have a 3-inch-wide waistband that sits just below the natural waist, mock front pockets, a faux fly front, two-piece back yoke, and back patch pockets.
For the jacket, choose wool crepe, bouclé, or tweed.
Select lightweight knit fabrics for the tee.
The pants require stretch woven fabrics such as stretch denim or stretch twill.
(Sized 4–30 for busts 30.3–58.25 in. and hips 32.6–61 in.)
—Tested by Karen Konicki, New York City, New York
Style tip: Emulate a classic French jacket by adding a trimmed sleeve vent to the back sleeve seam.
Illustrations: Steven Fleck.