Prepare Fabric Properly
Straighten the grain and prewash to start projects right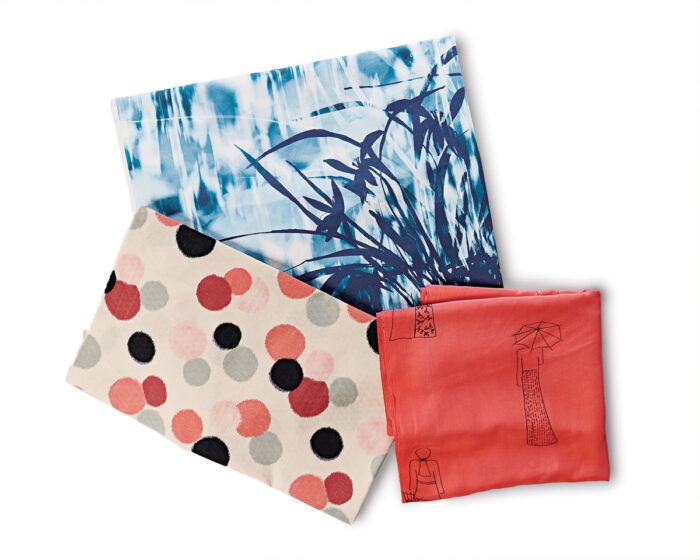 You've purchased a lovely piece of fabric, and you want to sew something wonderful with it right away. Wait! Step one of any garment construction process is making the fabric ready to cut and sew. Don't forget to prepare fabric for sewing by checking and, if necessary, straightening the grain; assessing the textile's colorfastness; and preshrinking it. In fact, all the components of a garment need to be preshrunk, including interfacings and linings. (Back in the 1950s and '60s, before polyester zippers and twill tape, even those notions needed to be preshrunk.) This sounds like a lot of steps to take before you get to sew, but each one ensures that problems won't arise in the finished garment.
Assess the grain
Begin fabric preparation by creating accurate, straight, cross-grain edges. Then use these edges as the basis for evaluating and correcting a skewed grain.
Two ways to straighten the ends
| | |
| --- | --- |
| Establish a cross-grain line by tearing. Make a short clip into the selvage. If the fabric has a short staple fiber, such as cotton, tear across the grain, starting at the clip. Repeat for the other side. Save a torn-off strip. | Find the cross-grain by pulling a yarn. For fabrics that don't tear easily, clip the selvage and pull a cross-grain yarn. The fabric puckers slightly. Pull until the yarn breaks. Cut along this puckered line. Pull another yarn at this point and continue pulling and cutting to the opposite selvage. The fabric end is parallel to the cross-grain. Repeat for the other side. Save a cut-off strip. |
Correct skewed grainlines
Start your 14-day FREE trial to access this story.
Start your FREE trial today and get instant access to this article plus access to all Threads Insider content.
Start Your Free Trial
Already an Insider? Log in