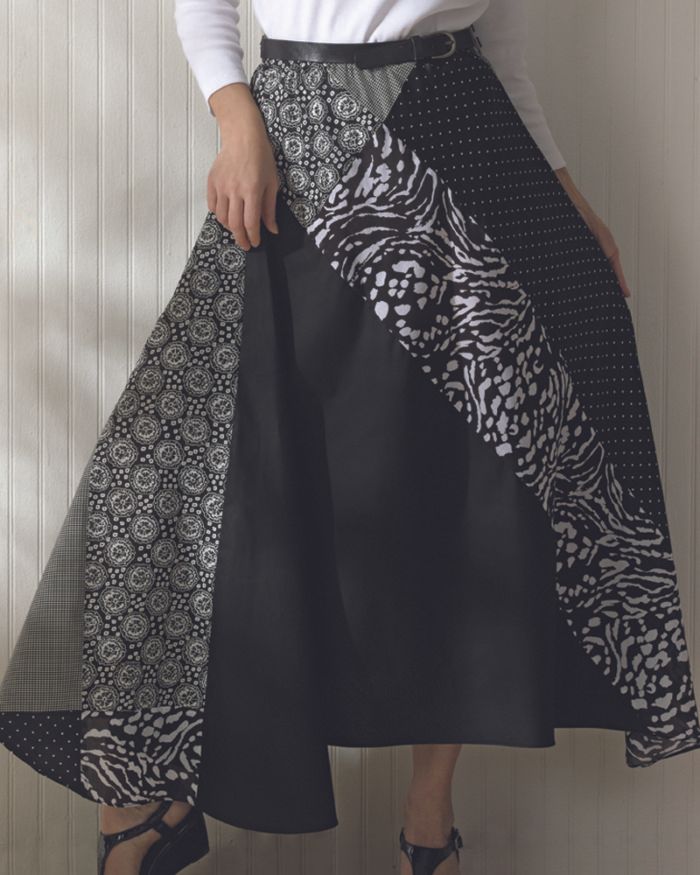 Julianne Bramson was inspired to create this flowing and flirty, perfect-for-summer skirt by her love of bias-cut garments, which are universally flattering and have a timeless style. You will be able to learn how to make the perfect bias skirt in this article from Threads issue #161.
Five fabrics are used-four rectangular fabric strips, and one square fabric piece cut into two large triangles- to create an artistic, pieced look. The garment front and back display three dominant fabrics and two accent fabrics, giving you two looks in one; wear either as the front or back.
The creative sewing process is like assembling a puzzle-the four rectangular fabric strips are sewn into two sets, one each for the garment front and back. Small triangles are then cut on an angle from each set and sewn to the opposite set. The newly cut edges become the skirt's waist and hem. The large fabric triangles (cut from the remaining fabric square) are attached to complete the skirt's shape, and the front and back are sewn together. This unique construction process makes piecing multiple fabrics look purposeful, interesting, and artistic. Unlike most bias garments, the seams don't stretch out of shape while you sew, since they are cut on the straight of grain.
Once practiced, this skirt can be made quickly and uses only small fabric portions, which makes it a great stash-busting project. You'll use your creative abilities while coordinating the various fabrics and assembling this unique bias skirt "puzzle."
Start your 14-day FREE trial to access this story.
Start your FREE trial today and get instant access to this article plus access to all Threads Insider content.
Start Your Free Trial
Already an Insider? Log in