Thistle Cottage Studio Students Continue to Amaze!!!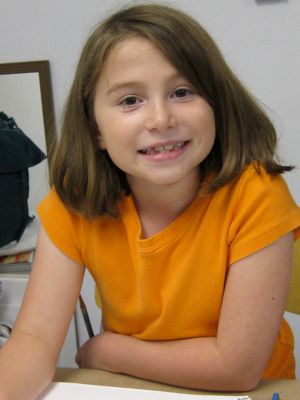 Thistle Cottage Studio Blog
Thistle Cottage Studio has a lot to be thankful for, as we say goodbye to 2010! We've seen students come and go, but we've also seen many of our students stay, and continue to develop their fashion design skills. Our long term students of 1 and 2 years, reach levels of proficiency that are truly astounding for their age groups!!
When Artistic Director, Elsie Collins began sewing at the age of 10, at her mothers side, she recalls, "I was making doll clothes for Barbie, as I learned to run the toy sewing machine, that clamped to the edge of a table. Today, her students are even younger!! The ever popular Mommy and Me program, on Sundays (from noon to 3pm), has seen students as young as 7 years old! Children under 9, must be accompanied by an adult guardian. Class sizes are kept to just 3 or 4 at the most, to insure plenty of one on one quality time!!
Our long term students, Aileen and Emily, ages 7 and nearly 8 years old, pictured here, have just finished their first dress projects, and, well you tell me–they did a FABULOUS job!!! If these young ladies are doing this kind of work at this young age, just magine what they'll
be doing in 10 years!!
Our Wednesday after school students, Michael and Erika, ages 10 and 12 respectively, have just finished their first lined skirt projects for their very proud Moms!! Even learning how to put in a zipper!! We'll be adding those pictures as soon as we can get the Moms back to the studio to model! Michael was over the moon this Christmas when he got a new sewing machine, which he knew he was getting. What he didn't know was, that he was getting a Bernina!!! He even got the beautiful lucite work surface table to go with it!!! The running joke was that if you stop believing in Santa, you get underwear!! Maybe it still is true!!!
Pictured here, Michael shows off his new treasure!! Bernina is THE Rolls Royce of sewing machines, made in Switzerland, and I can tell you that, there is NO finer machine to sew on, and I've sewn on all of them!!! Aileen, Emily, Michael and Erika are currently working on their Closet Monster projects, which we covered in an earlier post, and are taking it easy with this one, and just some having fun!! They really can relax this time around, as it is a no-mistakes project!!! Finished Closet Monster pictures to follow soon!
Thistle Cottage Studio is also now, in its' third season of involving our 11 to 14 year old students in the Providence Performing Arts Summer Arts Scholarship competition. Open to any RI student, and applications are now available to download from ppacri.org.
Deadline for submissions is March 4th, 2011. The annual arts competition is open to students in any medium. TCS has had three winners in two consecutive years, and we fully expect to have more winners this year!!! Our applicants this year will include, Michael Taylor-Hill, Anakhayla Mobray, Alexa Brooks-Major, and Ruby Schnirman. Michael and Ruby are currently studying Drafting I, and will be designing their first projects of the year, geared towards their entry submissions.
It is not too late to reserve your space in our fun and stimulating fashion design classes!! Whether you are 7 or 70, our classes will excite and engage your creativity!! We also encourage all of our students to "think like a designer", and several of our students are also learning fashion sketching!
Thistle Cottage Studio also offers classes in costume design for students interested in theater. We will be planning a field trip very soon, in conjunction with Hope high School, to tour the historic Slater mill Textile Museum. Students will see working mill machines from the beginning of the Industrial Revolution in gthe early 1800's, and learn how cotton was processed and woven, right here in Pawtucket, on the Blackstone River!! This particular tour will be open to our enrolled students, and their parents, as space is limited per tour. A nominal entrance fee will apply. The date and time is to be announced soon.
If you are interested in any of our classes, and tour, or are also interested in the PPAC Summer Arts Scholarship competition, please give Thistle Cottage Studio a call for an application and details,
at 401-231-4343. For a full menu of courses, please see our ads on RI craigslist.org ,under "classes". Classes are offered twice a day from noon to 3pm, and after school sessions from 3-6pm–or 3:30-6:30pm, for anyone who needs a little extra travel time. Weekend classes are available, and we are closed on Monday and Tuesday.