Reader's Closet: Tiny Dancer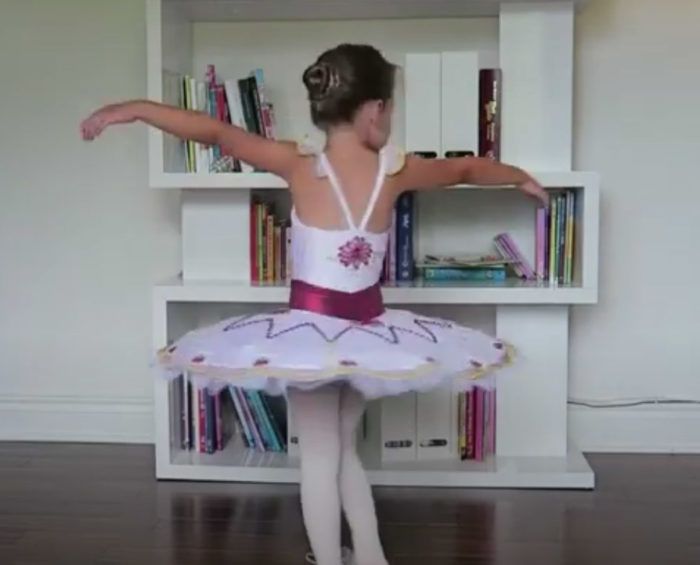 This Reader's Closet garment comes to us from Ontario, Canada, where French born Patricia M. sews for herself and her lovely young ballerina. 
A little bit about me: I'm from France, living in Ontario, Canada, where I work as an Aircraft Maintenance Engineer. I have sewn the past 4 years almost everyday, just for fun. I have an Instagram where I show all my sewing progress on Instagram in French and English PatriciaSewFrenchCouture, and the last past month I started an YouTube channel but only in French: PatriciaSewFrenchCouture.
My daughter loves to dance ballet. She watched the movie Ballerina/Leap, and she loves the tutu Felicie wears in the finale. After that, she decided to be a ballerina for Halloween. It was scary to sew a tutu that stands out straight!
After a little research I found a pattern from TutusByDani. The pattern was very well explained. The easy part was to sew the leotard and the gathering of the tulle.
The hardest part, and it took a lot of thinking, was how to decorate the plate of the tutu and the leotard.
I found a fabric with embroidery, I cut the flower to use it where I want.
I used my ScanNcut to make the red trim to look like the "Felicie" dress.
The top of the leotard was the most complicated because the applique has to follow the stretch of the fabric, but all the flowers are not stretchy fabric.
It took me a lot hours to finish it, but I love it the result. I will say I m a proud mommy watching her dancing the all day with it.
---
Thank you for the submission, Patricia! Check out more of Patricia's work on her Instagram PatriciaSewFrenchCouture where she showcases garments she's sewn for herself and her daughter, including a super adorable Snow White costume. If you understand French (and how I wish I did!), check out her YouTube Channel PatriciaSewFrenchCouture!