Sewing Machine Needles: An Overview


Learn to recognize the many types of standard, decorative, and special-purpose machine needles. This overview helps you understand the different features of basic and specialty needles. Discover what each is best for, and how to troubleshoot problems.
Standard needles
The configuration of these needles is based on the particular fabric to be sewn.
Universal needle
Uses: Safest needle choice for most fabrics.
Configuration: Has slightly rounded point and elongated scarf to enable almost foolproof meeting of needle and bobbin hook.
Troubleshooting: When fabric is not medium-weight woven, consider needle specifically suited to fabric. For example, size 18 universal needle works on heavy denim, but size 18 jeans needle works better.
Ballpoint and stretch needles
Uses: Ballpoint needle for heavier, looser sweater knits; stretch needle for highly elastic fabrics, like Spandex, or Lycra.
Configuration: Both have rounded points that penetrate between fabric threads rather than pierce them. (Stretch-needle point is slightly less rounded than ballpoint.)
Troubleshooting: Test-stitch knits with ballpoint, stretch, and universal needles to see which doesn't cut yarn and yields best results. If ballpoint skips stitches, try stretch needle.
Microtex and sharp needles
Uses: Sewing microfiber, silk, synthetic leather; precisely stitching edges; and heirloom sewing.
Configuration: Has an acute point.
Troubleshooting: Essentially trouble-free, but fabric may require a Teflon, roller, or even/dual-feed presser foot.
Leather needle
Uses: Excellent for sewing natural leather.
Configuration: Has slight cutting point (almost like an arrowhead).
Troubleshooting: On synthetic leather, unless it's very heavy synthetic, cuts rather than pierces stitch hole and can tear leather. Most synthetic leathers require Microtex or sharp needle.
Denim (jeans) needle
Uses: For heavyweight denim, duck, canvas, upholstery fabrics, artificial leather, and vinyl.
Configuration: Has deeper scarf, acute point, and modified shaft to sew without pushing fabric down into needle-plate hole. Goes through fabric and meets bobbin hook better on dense woven fabrics.
Troubleshooting: If stitches skip when sewing very heavy fabrics, try larger needle and sew more slowly or walk needle through fabric (by turning hand crank).
Handicap/self-threading needle
Uses: Enables easier threading for sewers with vision problems.
Configuration: Universal needle with slip-in threading slot at the eye.
Troubleshooting: Always pull sewn piece back away from needle before cutting thread so needle doesn't unthread. Needle works well on woven fabrics, but may occasionally snag knits, so test-sew to check for fabric and needle compatibility.

Decorative needles
The configuration is designed to wed thread to fabric for surface embellishment.
Topstitching needle
Uses: Topstitching.
Configuration: Has extra-acute point, extra-large eye, and large groove for heavy thread.
Troubleshooting: Use smallest size needle that accommodates your thread to avoid punching large holes in fabric.
Embroidery needle
Uses: Machine embroidering or embellishing with decorative thread.
Configuration: Has light point (neither sharp nor ballpoint) and enlarged eye to keep decorative threads from shredding or breaking, and prevent skipped stitches.
Troubleshooting: If thread still shreds on dense or heavily stitched design, use larger size needle or Metallica needle.
Metallic (Metafil and Metallica) needle
Uses: Sewing with decorative metallic threads.
Configuration: Has universal or standard point; large, elongated eye; and large groove to allow fragile metallic and synthetic filament threads to flow smoothly.
Troubleshooting: Metallic threads are very sensitive to problems in machine: Tiniest burr on thread path or needle can cause problems.
Quilting (stippling) needle
Uses: Piecing, quilting, and stippling.
Configuration: Has special tapered shaft to prevent damaging fabrics when stitching multiple layers.
Troubleshooting: Move fabric smoothly without pulling on needle when free-motion stitching to prevent breaking needle.

Special-purpose needles
These needles are used only with front-to-back threading machines with zigzag features. Make sure your throat-plate needle hole is wide enough to accommodate needle's width, and zigzag width function is set at zero to prevent sideways movement.
Hemstitch (wing) needle
Uses: Hemstitching or heirloom embroidery on linen and batiste.
Configuration: Has fins on sides of shank to create holes as you sew.
Troubleshooting: Stitch is more effective when needle returns to same needle hole more than once. If needle pushes fabric into needle hole, put stabilizer under fabric.
Twin (double) needle
Uses: Topstitching, pin tucking, and decorative stitching.
Configuration: Two needles on single shaft produce two rows of stitches. Measurement between needles ranges from 1.6mm to 6mm, and needles come with universal, stretch, embroidery, denim, and Metallica points.
Troubleshooting: Be sure throat plate allows for distance between needles.
Triple needle
Uses: Same uses as for double needle.
Configuration: Cross bar on single shaft connects three needles to sew three stitching rows. Comes with universal point in 2.5mm and 3mm widths.
Troubleshooting: Same as for double needle.
Spring needle
Uses: Free-motion stitching with dropped feed dogs.
Configuration: Has wire spring above point to prevent fabrics from riding up onto needle, eliminating need for presser foot.
Troubleshooting: Before using, practice free-motion stitching with heavy regular needle, paper, and dropped feed dogs. Don't pull paper/fabric; instead gently guide it through stitching. Wear safety glasses for free-motion work, since needles often break.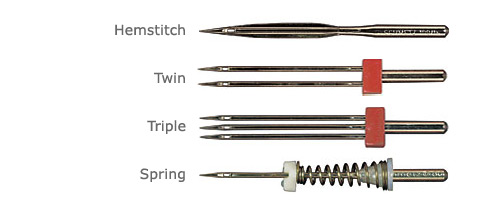 Related article:
How to Choose the Right Sewing Machine Needle

Photos: Sloan Howard; drawings: Karen Meyer
Get the latest including tips, techniques and special offers straight to your inbox.