Threads #186: Check Out Our Latest Issue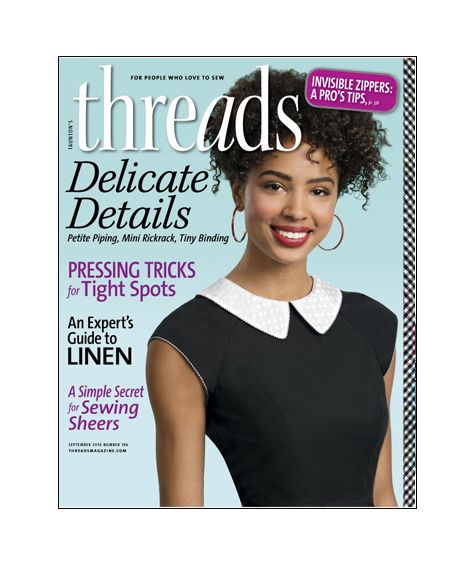 NEW! Threads #186 (August/September 2016)
The August/September 2016 issue hits the newsstand July 12. This Threads issue will show you how to prep fabric, create fast and easy folded purses, get a better fit on the shoulders, neck, and back, and more.
Don't miss these insightful extras
Threads #186 can be purchased in our store or downloaded directly to your mobile device. Check out some of the web extras and other tips from this issue now.
Learning the basic hand embroidery stitches is the first step to sewing elaborate Yemenite Jewish embroidery, as we learn in Threads #186. With these five great video web extras, you'll be all ready to go.

The couching stitch is useful for applying heavy or decorative threads that are too thick or textured to pass through a fabric's weave.

The web, or spider-web stitch, is a needle-woven stitch that makes a beautiful center for an embroidered medallion.
Hand embroidery can elevate the style of any garment. Watch now to learn how to create one of five basic embroidery stitches: the blanket stitch.
The fly stitch is a basic embroidery stitch. Watch to learn how to create this stitch.
Hand embroidery is a traditional embellishment technique that is within the reach of any sewer. Watch to learn how to create one of the five basic embroidery stitches: the chainstitch.
Contributing editor Judith Neukam shares the proper sequence for adjusting patterns.
Have you received or picked up a copy of Threads #186? If so, what are your favorite articles or techniques from this issue?