To Our Moms: Thank You For Inspiring Us To Sew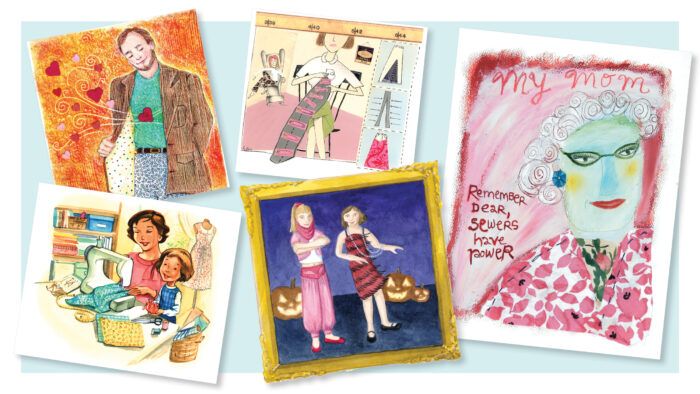 For many years, Threads magazine has included a reader-written essay near the end of each issue. These sometimes humorous, sometimes heart-warming stories are found in the Closures department. We've compiled a special collection of these Closures essays that honor mothers. As Mother's Day 2021 approaches, we wanted to express gratitude to so many moms for inspiring us to sew.
More than a hobby
The Closures essays offer a look at how we connect with our sewing interests. For much of the Threads community it is a personal and important connection. To construct hand- or machine-sewn garments gives creative people an opportunity to express themselves.
For many sewers, the inspiration to sew came directly from Mom. This collection of classic Threads Closures essays shares that experience through uplifting family stories. It's always the right time to let moms know they are important and they are our inspiration—not just on Mother's Day.
Personal Mom stories
In "Specially Designed by Mom," a son fondly remembers his mother's creativity. His recollections are sparked by a wonderful jacket she made that he wears for many years.
"Sewing Room Envy," brings back a time when many women did not work outside the home, and family life centered around the mom and her domain, the sewing room.
Mothers and daughters do not always see fashion and sewing in the same way. However, in the story "Mom to the Rescue," a mother happily connects with one of her daughters over trendy sewing projects.
Of all the things moms sew, costumes leave an indelible impression in children's minds. The author of "Making Masterpieces," recalls the ingenuity and hustle her mother applied to finish amazing costumes just in time for Halloween.
Sewing skills can be a kind of inheritance passed from mother to daughter. In "A Sewing Legacy," the author shares her story of rediscovering sewing after her career years, and the additional pride her mother felt.
Do you have a sewing story to share?
Closures essays are written by Threads readers. If you have a touching, funny, or interesting tale to share about sewing or needlework, let us know.
Email it to [email protected] and you could be our next Closures author.