Tips for your order wedding dress in China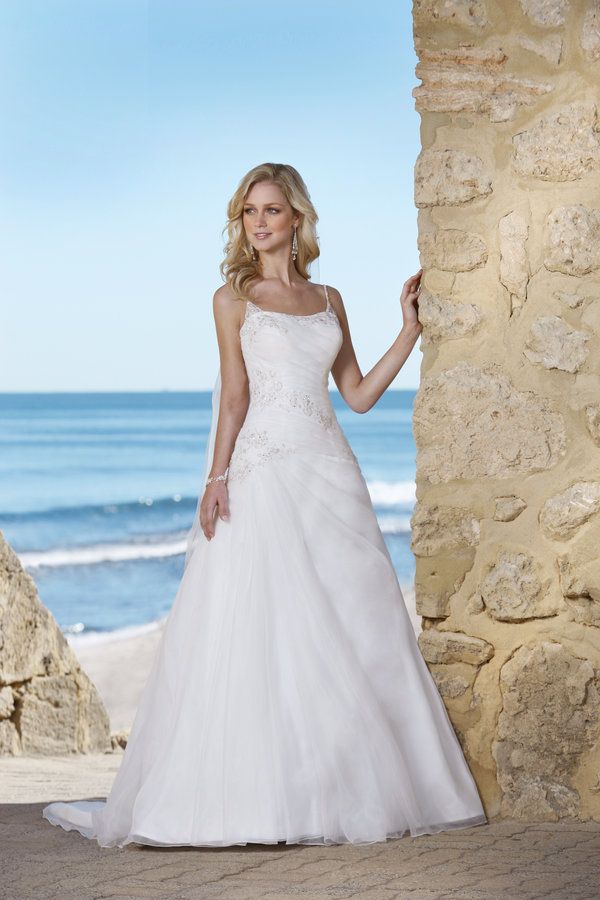 Probably, you have seen the wedding dresses advertised in the web and that you can save hundreds or thousands of dollars on your wedding dress by buying direct from China. Are you willing to gamble your money on the most important dress of your life by buying an unseen dress from an unknown source? Before you click the buy button, please make sure you know WHAT you are buying.
One thing definite is that there are some amazing deals on wedding dresses. Some are from major bridal manufacturers and are bona fide bargains, some are cheap imported "knock offs" of designer gowns. Don't risk being disappointed when your dream gown arrives and it isn't what you are expecting and looks nothing like the picture on the web site.
As the old cliché goes – Buyer beware, if the deal is too good to be true, it probably isn't a deal! You cannot buy a great wedding dress for $31.45. Its not possible and it's not going to happen. You will receive exactly what you've paid for, a $31.45 dress.
The internet is inundated with imports from the Far East. They probably are not the manufacturers of the original wedding dresses you've seen in the bridal magazines and on the racks in bridal salons. They are not made in the same factories as the original gown. These are "knock off" dresses. The quality is inferior, the fit is inferior, the designs are either outdated or modified from the original or may look nothing like the original. The fabric or embroidery or beading may be different. There are bridal salons that will put the knock off dress next to the original dress so you can compare what you will actually receive when you order direct. It's an eye opener. Think of it as the difference between Nordstrom's and a big box retailer.
Some images you see online belong to the major bridal manufacturers. They've designed, manufactured and marketed the design. The knock off artists illegally use photos from the original designers catalog or web site. That's a violation of copyright laws. You are led to think that the gown is a major brand name, but its not. The knock off artists are stealing.
There is a good chance that you will not only pay an inflated shipping fee from China to the USA, you are also liable for customs fees once your purchase hits the USA. Customs fees are nonnegotiable. You won't know the amount of the fee until the dress is delivered. You pay the customs fees or you don't get your gown. Add that onto the bargain price, and ask yourself, "Am I saving money?"You need to know some things.
A big difference in the quality of bridal fabrics is serious matter. There are different grades of satin, silk, etc. The fine fabric you seen on the gown on the rack is not going to be the same. Inferior fabrics will be lightweight and show more wrinkles. They may also water spot when the dress is steamed and pressed and are very difficult to press.
There also is a serious difference in the cut of the dress that will affect the fit of the gown. Quality dresses have boning in the dress to keep it up. It may also have an inner elastic belt to keep the dress in place and to pull in the waistline. Some quality dresses will have a completely built in inner bra. They are masterpieces of design. Don't expect to get that in a bargain knock off dress.
Quality dresses will have a built in crinoline that is encased between layers of fabric so the crinoline doesn't scratch your body. You won't need to wear an additional crinoline with your dress. An inferior dress may have rough crinoline without a lining so that the crinoline rubs your skin. You'll have to buy a crinoline to keep your stockings and skin from scratching. That's another added expense.
Quality dresses will be lined in a satin or similar fabric so that it is not see through. This is important especially if you are buying a sleek gown fashioned of chiffon or charmuese. An inferior dress will have a cheap taffeta lining and as a result, you can probably see through the dress. You'll have to do a lot of shopping to find a long slip to wear under this sleek dress, they just aren't that readily available and may not do the job. You may have to take the dress to a seamstress to have it relined, more added expense.
Quality dresses will have small intricate embroidery, fine lace and hand sewn bead work. The bead work will be authentic crystals. A knock off dress may have glued on sequins instead of beads, cheap lace, garish embroidery and plastic "crystals".
Be aware of any company that guarantees you a custom made dress to your measurements and deliver it in 4 weeks from China. They can't guarantee you the exact time, because there is no way to determine how long the dress will be held in US customs. There is no way to expedite anything through customs.
Check out the feedbacks on your sellers. Many of the sellers sell on independent web sites and on Ebay. Ebay has feedback for a reason. It will tell you the integrity and reliability of the seller.
Although you might think it's just a dress with a single day in your life, you want to be beautiful and feel beautiful on your wedding day. It is the most important dress you will need to acquire in your life. Add the extra cost with your dress and will then decide whether you and is willing to play with your wedding dress.
Your are been suggested that it is a smart idea to wedding dresses from china, you will not only get the high cost performance original gown ,fashion style, top quality cloth, VIP customization service will also expect the best impression on you!