Textures: From Photo to Fabric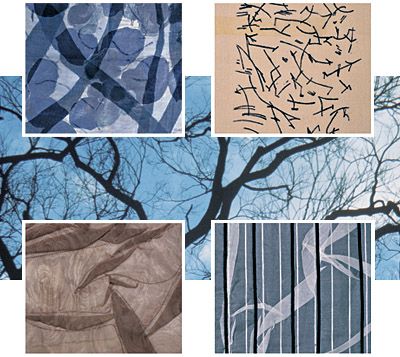 by Lois Ericson
from Threads #86, pp. 70-75
I've been focusing on texture and surface design in my sewn creations for several decades. My process usually starts with something visually exciting. I make a sketch or a photo of it, then translate my excitement into a textile treatment or sewing technique, which I can use in my garment and embellishment designs.
A recent trip to Japan gave me the opportunity to record many interesting textures with a camera. While most of the people on our tour were taking pictures of a temple or shrine, I was taking close-ups of textures. ("Is Lois taking a picture of her shoe?" I overheard someone ask. "No," I said, "it's the rock next to my shoe I want.") When I got home and saw my slides projected on a screen, I was thrilled: I could easily visualize at least two or three textile options for each one. I had enlargements made so I could use them more easily in my studio.
Working from a photo
So how do I go from a photo to a sewing idea? I'm not usually trying to reproduce or make a picture of my source material or even to evoke the scene or object I've photographed; I'm looking for a fresh, new take on the questions "What shall I sew next?" and "How shall I sew it this time?" I'm looking for ideas about how things go together and what makes them look good or more interesting. For example, the patterns made by tree branches against the sky in the photo below inspired me to play with angular, chaotic linear shapes in stark contrast against a plain background. My translations didn't have to look like trees; I just wanted to get a similar effect using fabric, sewing machine, and thread.
Of course, you don't need to go on a trip to find good material, but a new world to look at can certainly open up your eyes. As I played with my pictures from Japan, I was continually struck by marvelous images previously unnoticed in my familiar surroundings at home.
When I play with an idea, I don't plan too much. I want my experiments to be spontaneous, and I try to push them as far as possible past my first ideas. I love the process of figuring out how to make something work. I'll try as many different approaches as I can think of, drawing upon all the other techniques I've explored and hoping to stumble upon new techniques.
It's usually very clear what has attracted me to an image, but I have occasionally noticed that what I was first attracted to isn't what I wind up being most excited by or finding the most fruitful for further exploration. For example, I liked the color shifts on the stained bamboo in the photos above, but I eventually realized that the bamboo's structure and shapes were more intriguing.
Below you'll find selections of my favorite images from my trip to Japan, along with a few of the experiments each image inspired. May you be similarly inspired, not necessarily by my pictures but to start mining the amazing textures in your own world for the powerful sewing ideas hidden within them.
Tree silhouettes
I liked the way the bright blue sky reveals the positive and negative shapes created by overlapping tree branches. For my first translation (top left), I cut out a tree shape and placed it on a fusible knit; then I pressed a leaf-printed sheer on top—very easy and not too inspired.
Next I abstracted the image using wrinkled silk organza and soutache braid (bottom right). I pressed the wrinkles as I wanted them and placed them on striped fabric, holding the whole piece together with soutache braid.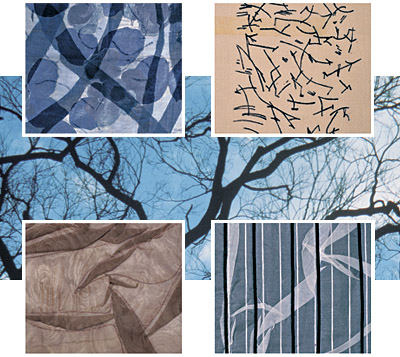 Then I tried a sheer home-decorating print, pressed wrinkles into it, fused it to a knit interfacing, and outlined the wrinkles with metallic thread (bottom left). A plus for the wrinkling technique is that it gives you a definite and instant pattern to follow for stitching.
A very different effect, inspired by the same sky-and-branch photo, was to draw a twig-like design and silk-screen it to a sheer and a solid fabric (top right).
Pile of sticks
A Japanese carpenter was repairing a fence, and the large photo below was his pile of sticks. I loved the pattern they made. I first made tubes of fabric in various shades of taupe, brown, and beige. By the time I had several layers overlapping, they proved too heavy for a possible vest front I had planned.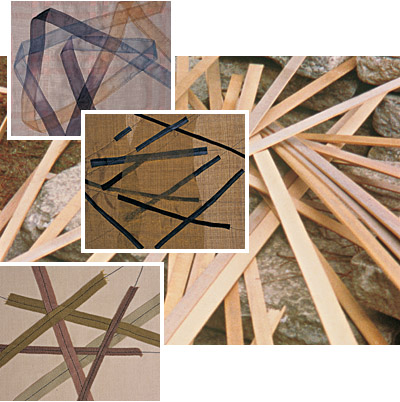 Pieces of randomly placed sheer ribbons (top inset) and strips of leather softened with a gold sheer overlay (middle inset) worked better. But I liked the lovely colored twill tapes I found in Japan best (bottom inset).
Stone street
I was attracted to the subtle arc-like pattern as well as the perspective in my photo of the cobblestones (below). I first made tucks in two directions using a heavy cotton, which resulted in a reversible texture (top inset). Pattern stitches by machine are also an option.
Next I used shaped woven strips with a sheer overlay (right). I cut the lengthwise strips into a fan shape and the crosswise pieces in curves, pinning the lengthwise strips to a piece of cardboard or foamcore at the top and weaving across with the crosswise strips (see Threads No. 63, pp. 44-46 for more details).
Then I tried layering a sheer over chenille fabric, stitching in the pattern of the stones, cutting out the sheer to reveal the stones (left). I think I would have liked this better if I'd used a flat sheer.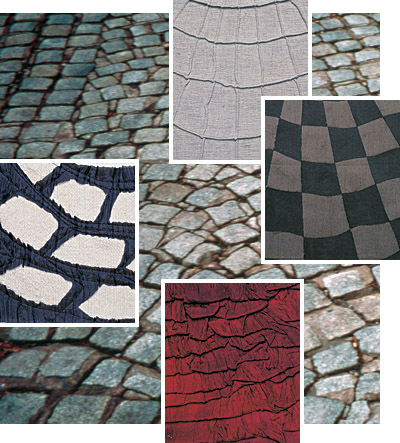 Eventually the stone street became an abstract texture in red silk (bottom). I dyed china silk, twisted and pressed the wrinkles in, then carefully pleated it with the wrong side up so I could fuse the back to a thin fusible knit.
Bamboo
This bamboo wall (below) was naturally stained. In response, I wet silk noil and hung it barely touching silk dye in a tray. The ends of the silk picked up the dye, which crept up the fabric. I then made tubes of the fabric (bottom left inset). When I dyed some natural-colored linen in the same way, the dye didn't blend as well, so I brushed on a little dye on each linen strip to suggest a transition from one color to another.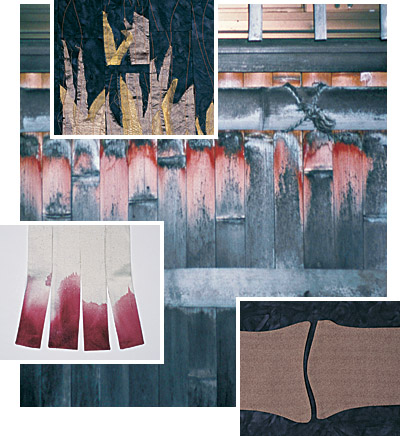 Next I tried strip piecing: I cut a few metallic sheers and sewed them to dark cotton strips (top inset). The joints are simply horizontal pleats.
Turning to the shape of the bamboo, I made two faced strips in the shapes of a bamboo stalk, leaving a gap for the joint (right inset). I left the top of the lower strip partially unstitched to the background fabric to form the opening of a patch pocket.
Sculpture with round hole
In a beautiful sculpture park, I noted a stone piece with carved calligraphy and a round hole that revealed layers when observed from an angle. My first response was fairly realistic. I mimicked the layered holes by facing a hole and several curves each with a contrasting fabric to define their edges. Then I layered them beneath the hole and created a calligraphic strip with a strip of printed fabric (left inset).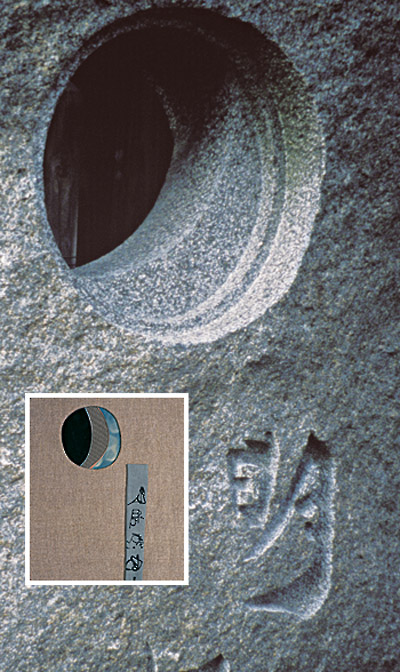 In future experiments, I plan to play with the calligraphy by making up my own alphabet or characters and silk-screening, stenciling, or drawing them on fabric.
Lois Ericson writes and designs in Salem, Oregon. For more about her Design and Sew patterns ($12 ppd.), contact her at Box 5222, Salem, OR 97304 or at her Web site (designandsew.com).
Photos: author; inset fabric photos: David Page Coffin