Protect Your Handbag Investment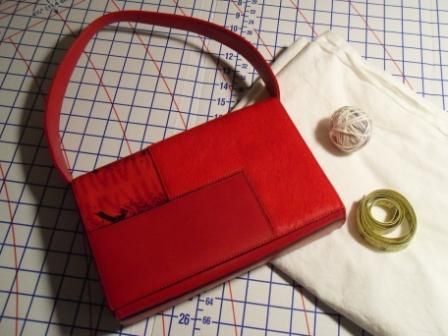 A good handbag can be a thing of beauty – and with proper care, a joy for just about forever.
What I love about these accessories (I've accumulated my share over the years) is that they offer a combination of utility, color, design, and fine materials. No matter what you weigh on any given day, or how fast you had to run out the door, a great handbag is always to be depended on. They can be very expensive, but favorites are worth it when you carry them over and over again.
A muslin or flannel bag keeps a handbag from gathering dust and collecting scratches. Many fine handbag makers provide covers for their creations, but not all. I like to make simple drawstring covers for bags that need them, and I thought I'd share how to do it.
Here, I'm making a muslin cover for a structured Kenneth Cole bag I bought in the late '90s. I've always liked its vibrant true red hue and the Mondrian-esque quality of the flap with pony skin and lizard-embossed sections. The original cover was the size of a king pillowcase and synthetic, so I decided to make a cover specifically for this bag.
Measure a generous cover
You want to create a simple drawstring bag that is quite roomy and airy, not a snug slipcover. I add at least 4 inches of ease to both the width and length.
Use white or un-dyed 100 percent cotton muslin or flannel. Pre-wash the material with a no-dye, no-fragrance detergent.
The cover is a bag formed from two identical fabric pieces. They are sewn together at three edges. A drawstring channel is sewn around the top.
Cover width: The handbag is 10 inches wide and 2 1/2 inches deep – so 12 1/2 inches is one half of the bag's circumference. Add at least 2 inches of ease and a 1-inch seam allowance. Rounding up, the cover fabric width is 16 inches.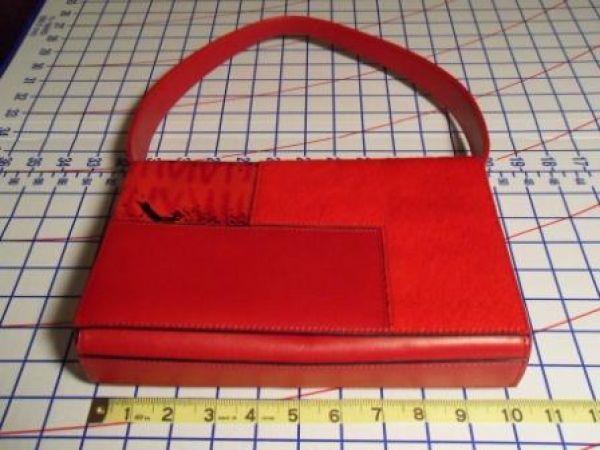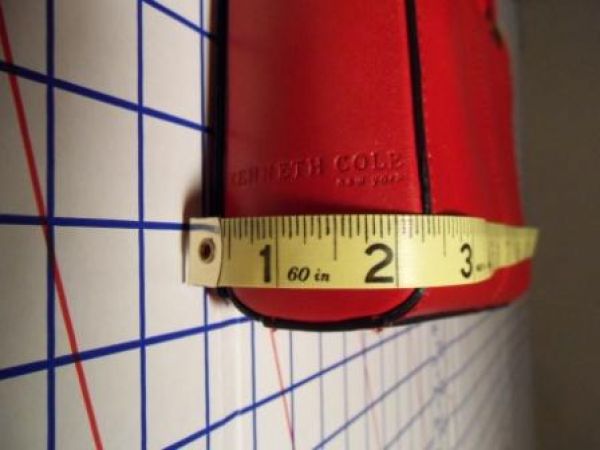 Cover length: The handbag is 15 inches long from the base to the top of the strap and 2 1/2 inches deep – 17 1/2 inches. Add at least 2 inches of ease and a 2-inch seam allowance (extra to accommodate the drawstring channel). Rounding up, the cover fabric length is 22 inches.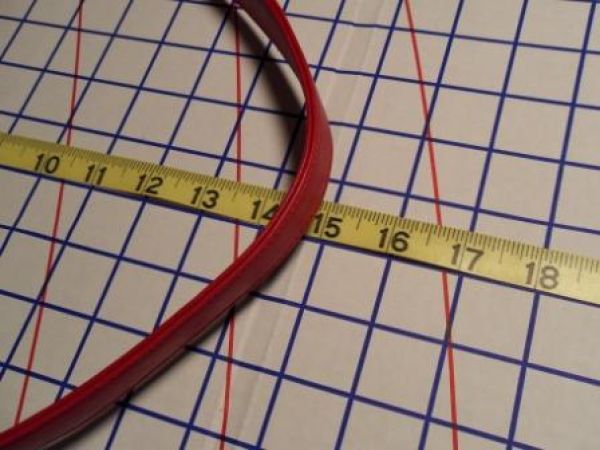 Sew it up
I suggest using colored thread. It's fun and a shade similar to the handbag's color will be a quick visual clue when you look in the closet.
If you have an alphabet embroidery function on your sewing machine, you may wish to sew information about the bag – year bought, maker, key description words – right on the muslin before you assemble the cover.
With a 1/2-inch seam allowance and right sides together, start at the bag top and stitch the side, bottom, and other side seam, pivoting at corners with the needle in the fabric.
Press all the seams open.
Optional step: It is not necessary, but I like to shape the cover to mimic the structure of the bag. To give the cover a flat base, align the bottom seam precisely over the side seam on each side and press the corners to points.
Across the bottom seam, center the bag's width plus 2 inches (in this example, the result is 12 inches). Mark the beginning and end of this width on the bottom seam. Sew perpendicular to the bottom seam across the marks, through all layers.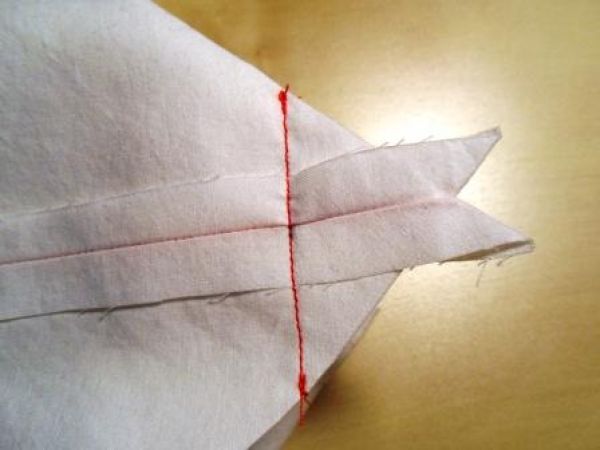 Trim to a 1/4-inch seam allowance.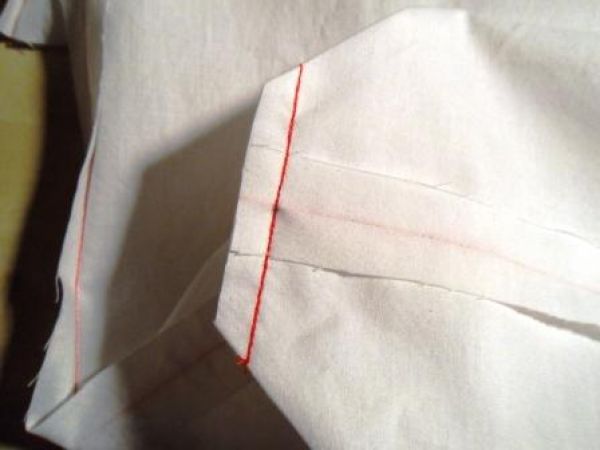 Stitching 3/8 from the seam, sew the pressed open side and bottom seam allowances to the cover fabric. (I do this as a little decorative detail and to secure the side seam allowances in place within the drawstring channel.)
Make the drawstring channel: Fold 1/4 inch to the wrong side around the cover's top. Fold again, 5/8 inch from the new edge. Use a wide zigzag stitch and sew around the top, between 5/8 and 3/4 inch from the edge, so that the zigzag securely catches the fold against the fabric.
Run the drawstrings: Turn the cover right side out. Bar tack the side seams' tops. Use a seam ripper to open a few stitches between the bar tacks and the zigzag stitching on just the right side of each side seam.
Cut a two lengths of cotton string that are each at least 6 inches longer than the cover's circumference. Push one in the small opening; run it through the channel and back out the same opening. Knot the ends together. Repeat with the second string through the opening at the other side seam's top.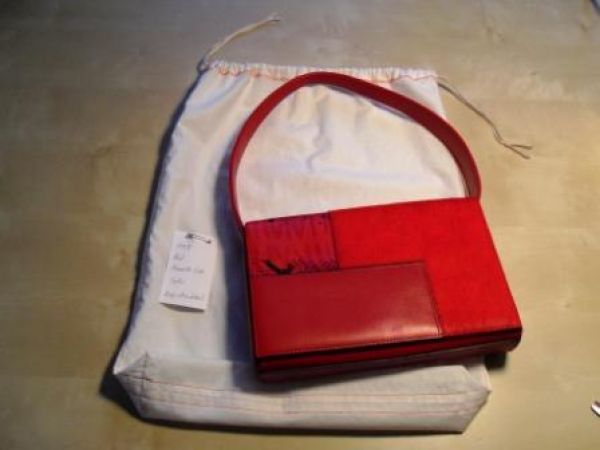 You're done! Just label your cover. (I safety-pin a card with a brief description to the cover.)
Create a silica gel packet
Leather is an organic material and in damp conditions, a fertile ground for mold, fungus and mildew. A bit of silica gel will keep the air dry inside your handbag. It can also prevent tarnish and corrosion on handbag hardware.
When you buy a handbag, keep any silica packets you find inside. Store the packets in the handbag cover when you are carrying the bag. When you store the handbag, place a packet within the main compartment and another in the interior zipper pocket most bags are constructed with.
If the packets have disappeared – as they often do! – it's a simple matter to make your own. Silica gel crystals are also used for drying flowers and are available at many craft stores or online. A 1.5 pound tub should cost less than $10.
Be sure to keep the crystals and the packets out of the reach of children. Although silica gel is not poisonous, it can have very unpleasant effects if swallowed or breathed in, because it absorbs so much water from its environment.
To make your own desiccant packet, use a scrap of muslin or flannel about 4 inches square. Fold it in half diagonally, wrong sides together.
Using a zigzag stitch, sew a seam 1/2 inch from the raw edges on one side. Two sides of the triangle are sealed – the fold and your seam. Spoon in a scant tablespoon of silica gel at the open side. Hand-baste the opening shut to keep the gel inside the triangle.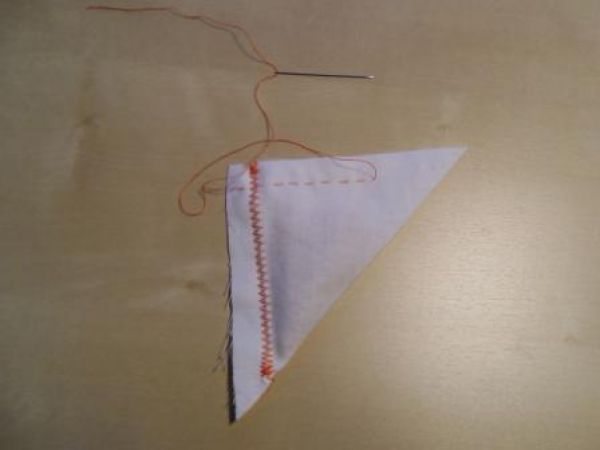 Sew over your basting with a zigzag stitch to complete the packet.
Before you store
Always empty your bag. As much as I love finding money in a handbag I haven't used for a while, it's not good for your bag to be put away with items inside. Pens can leak, lipsticks can melt, and spare change – well, I don't like to think about it, but it actually doesn't smell very good. Shake out your bag and/or vacuum inside to remove any dust or debris.
Make sure the exterior of the bag is clean. I'm can't recommend any particular leather treatment because handbag finishes are so varied. Check with your handbag's manufacturer or the staff at a fine shoe store. They should be able to make specific recommendations about cleaning or treatment products. I do believe it is always a good idea to use a soft brush on suede bags to refresh the nap before you put them away.
Don't stuff a structured bag, as that could distort its shape. Do fill soft, slouchy bags with loosely smushed white tissue paper to prevent creases.
Thanks so much for reading! I think that people who appreciate craftsmanship, design and luxury materials – as Threads readers do – must share my interest in conserving garments and accessories. I would be enjoy hearing your thoughts and tips to organize and preserve important items, so please share!