Video: How to Mark a Dart for Accuracy and Quality with Any Sewing Project
Learn how to mark a dart three different ways.
Victoria North and Judith Neukam
In this chapter from the Teach Yourself to Sew series, expert Judith Neukam explains what a dart is and demonstrates how to mark dart locations on your fabric. She takes you through three methods: tracing; sewing tailor's tacks; and clipping and pinning. With these methods, you'll be able to transfer darts accurately from the pattern to any type of fabric.
The Teach Yourself to Sew series is for beginning sewers or anyone who wants to brush up on their skills. We demonstrate basic sewing techniques, share tips, and give step-by-step instruction for beginner sewing projects.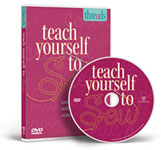 Click here to purchase the Teach Yourself to Sew video series on DVD.
TEACH YOURSELF TO SEW Season 1
Get the latest including tips, techniques and special offers straight to your inbox.